A break from the heat
It's finally "cool" enough again that I was able to take the kids to the park for a bit yesterday morning and again this morning. We took the bikes over. Kaylee's doing pretty well pedaling and steering, although every once in a while she suddenly decides she's scared. Matthew does ok with his too, but he needs to get out somewhere where he can really take off and just "go" to get more practice, and unfortunately, there's just no way for that to happen when Kaylee's with us.
We only lasted about 40 minutes out yesterday, partly because it was hot, and partly because we were the only ones there, and I think the kids got bored. They did enjoy yelling across the open field and hearing their voices echo back from the houses on the other side. I hope none of the people in those houses were sleeping. :-b
Today we stayed longer (about an hour and a half), mostly because a small playgroup showed up after we'd been there a while. Kaylee didn't really interact much with any of the kids, but there were a couple of boys who were around Matthew's age, and he had a blast running around playing with them. Once Kaylee started asking to go home, I gave Matthew a five-minute warning, which turned into over half an hour when Kaylee changed her mind. So we stayed until I'd had enough of the heat. It's 15 degrees cooler than it had been, but 85°F with only a very occasional breeze is still 85°F. And I'm an air-conditioning-spoiled wimp! LOL
As we came up to the house and were putting the bikes in the garage, I noticed this absolutely gorgeous butterfly in one of our bushes. Kaylee was scared of it (in her defense, it was huge and flying around very erratically and quickly), so I took the kids in and I grabbed my camera and came back out and managed to get a few shots. It wouldn't stay still for more than a couple of seconds, and my camera focuses very slowly, so this is the only one that turned out at all.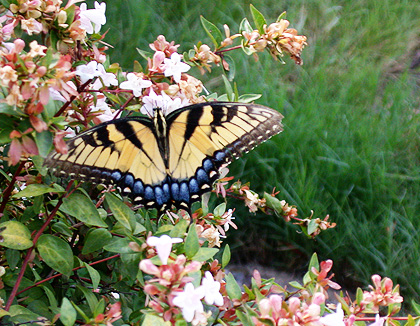 Guess that's it for now! Happy Tuesday!