I *heart* this layout.
Still feeling a bit under the weather, but I'm quite a bit better than I was. So I've been spending the last few days getting caught up on laundry, blogs, and boards, and doing a little work on
my website
, since I got a nice subtle hint from Mark's uncle that I hadn't done it in a while. :-b I made a few minor updates to my
links page
, updated my
RAKScraps kits
page and
added one
for my Scrapdish kit. And, since I post my layouts on there in chronological order, I went back and made a list of all the pics I need to scrap to get "caught up". I was surprised at how many pics I'd skipped over to do all my various sponsor layouts. I've got at least a good 30-35 layouts to go to be completely caught up (including the trip we just took), and obviously that's going to take some time at the rate I scrap, but I'm trying to fill in enough gaps to do a partial update of the site. So… I've been scrapping Christmas!
It's a little hard to get in the Christmas spirit when it's 98°F outside. LOL I've done a spread of Christmas morning, one of Kaylee's and my activities during the day, and a page on Mark and Matthew that day. And I'm not happy with any of them. So I'm going to let them sit a day or two (or three) and come back to them.
But I did do one layout that I'm actually thrilled with how it turned out! :-) I had this picture of Kaylee in the Cinderella wedding dress that she got for Christmas that didn't really go with any of the other pics, and it wasn't the greatest pic, but she didn't have the veil on very long, and it was the best shot out of the three I had, so I decided to put it on its own page.
I was whining to
Tania
the other night that I'm so used to doing one-kit layouts for the sponsors, that I don't know how to mix and match anymore. So, knowing I didn't have any appropriately themed kits (at least as far as I remember), I decided to just run searches on my files and throw stuff in and see what looked good. I
really
enjoyed putting this together, but, wow, what a lot of time-consuming details. Many tedious hours later, this is the result…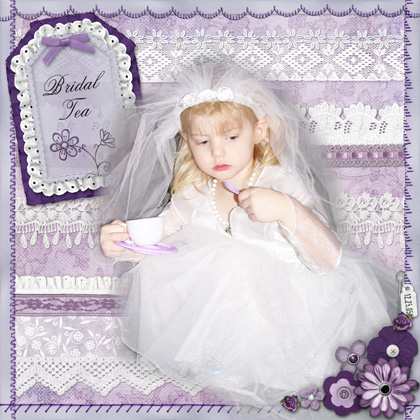 Click
here
if you want to see the really big version.
And here is what I think is a record for me as far as a credit list…
(This was put together from a deep hard drive dig, so many of these are no longer available, but I've listed the original source if I know it. Almost everything has had at least some minor tweaking to the color; I've noted the ones that I've completely changed the color on.)
Border
- ribbons: Mari Koegelenberg's "Blissful Blossoms Sample" (TheDigiChick)
- stitching: Mo Jackson's "Mo Sews - Stitches Part One"
Background paper: Michelle Coleman's "Candy Coated Mini" (blog)
Lace, from top to bottom:
- "Daisy Lace" by Shari (SBB downloads?)
- Julie Mead's "Wedding Bouquet" (e-scapeandscrap.net), recolored
- Rina Kroes' "Miss Molly" (SBB downloads)
- Tracy Sims from original P4D BCA Mega Kit
- Rebecca DiGrazio's "Hydrangea" (RAKScraps prize), recolored
- Eyelet lace by TLC Janna (SBB downloads)
- Maria Kim "RAKScraps Feb. '05 Mega Kit", recolored
- Amy Knepper's "Gracie's Garden - Forget-Me-Nots" (Scrapdish)
- Julie Mead's "Wedding Bouquet" (e-scapeandscrap.net), recolored
Tag
- vellum base shape by me.
- stitching: Mo Jackson's "Mo Sews - Stitches Part One"
- bow: Steph730 (SBB downloads)
- doodle: Fee Jardine (with Kristy Nerness) "For The Girls" (Plain Digital Wrapper), recolored
- eyelet ruffle: pieced from lace frame by Ronna Penner (SBB downloads?)
- purple ruffle: Mo Jackson's "Annie's Bunnies", recolored
Flowers (left to right):
- Mo Jackson's "Ashley Five", recolored
- Tandika Star's "Crate Flowers" (Digiscrap Designer)
- Katie Pertiet's "Felt Flower Freebie" (Designer Digitals challenge), recolored
- Holly McCaig's "Pretty Petals" (blog), center recolored
- Holly McCaig's "Lil Petals" (blog), recolored, center from "Pretty Petals"
- Priscilla Halliday (RAKScraps), button and stitch by me
- Mo Jackson's "Ashley Five", recolored
Date Stick Pin by Holly McCaig (Holly McCaig Designs).
Fonts: Ville de Geneva ES, Hootie!
See, I told you it was long. ;-)
So this little experience made me think that I needed to consider using Picasa or some such program to keyword tag all my digital scrapping files to be able to fully utilize what I have and do this more often. So I ran a little check to see how many files I have. Couldn't be more than two or three thousand, right? As of this moment, that folder contains a mere 76,529 files…
Uhm, yeah. I'll get right on that. :-b