Still hot. School update. Jeanine's birthday sale.
I think I need to just make up a new blog template that starts every post with "It's so stinkin' hot today." :-b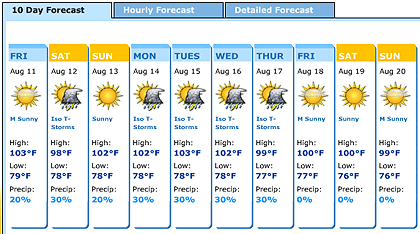 How sad is it that the days that don't break 100°F look "cool". Too bad they don't
feel
cool when you're out in it! I think it makes it worse that with the kids being in school, it just seems like we should get to have fall weather, even though fall is still technically a long way off, and usually doesn't really hit here until around Halloween anyway. Let's just hope those thunderstorms actually happen. Everything is soooo dry. And I've heard that the lake where we get our water is incredibly low. We've been on "Stage 3 Drought Restrictions" since early June, with no end in sight.
Anyway, Matthew's "meet the teacher" went fine. His regular teacher just had a baby and still has five weeks of maternity leave left, so he'll have a sub until then, but they were both there for that. The kids have two whole days of school under their belts now and are on their third. Matthew came home yesterday complaining. "We had to do so much more work than the first day!!!!" He went on and on and
on
about all the stuff they had to do. Oh, the torture of being a second-grader. ;-)
Kaylee had great days at school. She was all smiles and excited when I picked her up. Yesterday we needed to stop for gas on the way home. I stopped at a pump that was in the shade and put down my window so that it wouldn't get too hot in there for her while I was pumping (we have pay at the pump). When I got back in, she asked if she could have her window down, so I put it down for her while I was getting situated. When I got ready to pull out and drive the four blocks back to house, I asked her if she wanted it up. No. Okay, well just let me know if you want it up. We pull out of the shade and she immediately starts panicked
screaming
for me to put it up because it's too bright (we have tinted windows), so I do. Then five seconds later she changes her mind and wants it back down. I tell her I'm not putting it back down, since she just told me she wanted it up, and this is a precedent I don't want to set. No way am I going to be putting her window up and down every five seconds every time we drive anywhere. She continues yelling/screaming/sobbing to put the window down. We get to the house and she's still freaking out and doesn't want to get out and go in the house. It's 90-something degrees out. No way am I going to stand in the garage and argue with her, so I calmly drag her out of the SUV, and we go in the house, where she continues her fit. I tried to get her to calm down, but when she gets like this anything I say to her just makes her madder, so I finally just had to walk away and go about my business while she followed me around sobbing until she finally calmed herself down. I swear this girl is going to be the end of my sanity. :-b
In other news, yesterday was
Jeanine's
birthday!! Jeanine is the owner of both
RAKScraps
and
ScrapDish
and is just an awesome person and a total sweetheart!! She juggles a load that makes my life look like a day at the beach and constantly amazes me with all that she manages to do. (And she's so incredibly modest that she would hate it that I said that!) Here's the card I made for her to post at RAKScraps.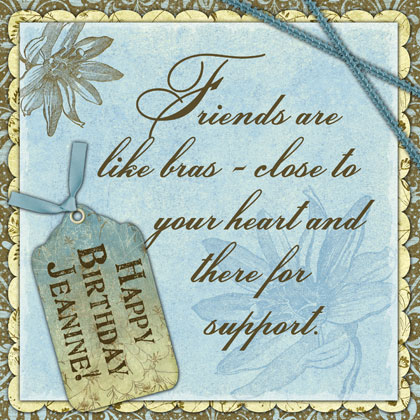 I found the quote on ThinkExist and just thought it was too perfect, since Jeanine is always such an uplifting friend. :D The kit is Jeanine's awesome "Essence" at ComputerScrapbook.com. And it's on sale!
Go grab it right now
! In fact, all of her stuff is on sale at SBB and ScrapDish too and there's a coupon for even more savings! Check out the
sale info on her blog
!
I've been working a lot on the elements sets (yep, decided to go that route with this instead of a kit), and have them partly done. I just need to go back and redo the first part now that I've figured out how I want to do it! It's all taking way longer than I originally anticipated, and I'll probably wind up making about 2¢ per hour on it, but I refuse to give up on it now! LOL
Alrighty. I have a little bit of business to take care of before I run off to pick Miss Thing up from school. Wish us a tantrum-free day! :-)