A whole week?
Bad blogger. Let's see… what have we been doing for the past week?
There were a couple of more mornings at the park. The kids had fun playing with the assorted kids who were there from day to day. Gets a little hot and boring for me, but that's the way it goes I guess. Took the kids on a longer bike ride (with me walking along with Kaylee) to the back of the park. Kaylee did
not
like the speed she picked up going down the gentle inclines, so I had to hold onto the bike and slow her down when we got to those parts.
There was also a day of running errands, the highlights of which were a visit to the library for another full load of books for the kids, and a stop at Target for new backpacks for the kids. Matthew got a navy blue one with skater-related "graffiti" on it. That one was his first choice, then he tried to change his mind several times, but all of the others had functional problems such as design which made it darn near impossible to open some of the zippers, so he ended up with door number one. Kaylee picked out a Strawberry Shortcake one, which she chose based solely on the sparkly play pom-poms that came with it. She's been using them a lot and is very cute doing her "cheers" which mainly consist of counting loudly and slowly while striking different poses. LOL
While we were out, I also picked up Elsie Flannigan's "52 Scrapbooking Challenges" at our local scrapbook store. I haven't had too much of a chance to look at it yet, but what I did see seemed pretty cool. I also have Cathy Z's first book on its way from Amazon. Should be here on Thursday. My hunt for Ali Edwards' first book turned up empty tough, and the places online that were supposed to get it back in haven't. Marked checked some other local stores, and looked on eBay for me, but then found a good deal at an out-of-print book dealer he's worked with before, so it's ordered and is hopefully on its way! Woo hoo! Major brownie points for Mark. :) Next time a really great book comes out, someone slap me upside the head and tell me to order it right away before it goes out of print! LOL
Over the past few days, I also finished up my August Mega Kit contribution and all my August sponsor layouts and reviews, nearly two weeks ahead of schedule! Go me! Here are the ones I can show you now: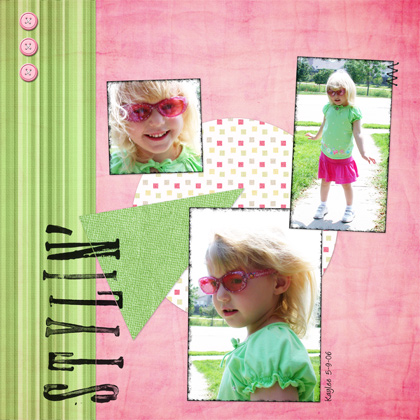 Credits: Kit is "Bloomn' Fun" by Lynnie Smith available at DaisieCompany, partially recolored. Hand Stamped Alpha by Michelle Coleman at Scrap Artist. Inked edge action by Atomic Cupcake. Stitches by me. Font: Angelina.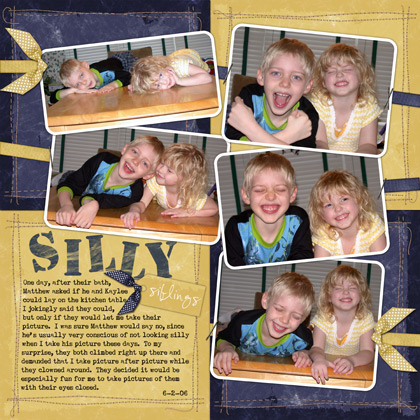 Journaling: "One day, after their bath, Matthew asked if he and Kaylee could lay on the kitchen table. I jokingly said they could, but only if they would let me take their picture. I was sure Matthew would say no, since he's usually very conscious of not looking silly when I take his picture these days. To my surprise, they both climbed right up there and demanded that I take picture after picture while they clowned around. They decided it would be especially fun for me to take pictures of them with their eyes closed. 6-2-06"
Credits: Kit is "Soldier Boy Combo Kit" by Elizabeth Lane, available at Scrap Outside The Box, partially recolored. Staple by me. Fonts: Susie's Hand, LD Remington Portable.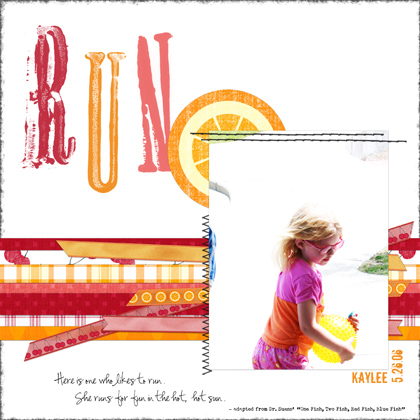 Journaling: Here is one who likes to run. She runs for fun in the hot, hot sun. - adapted from Dr. Suess' "One Fish, Two Fish, Red Fish, Blue Fish"
Credits: Kit: "Sweet Summer Cocktail" by Ginger Thibodeau at Scrapbook-Elements. Hand Stamped Alpha by Michelle Coleman at Scrap Artist. Inked edge action by Atomic Cupcake. Stitching by Shabby Princess and Mo Jackson. Fonts: Downcome, Susie's Hand, LD Remington Portable.
The last one is my favorite. I just love how the photo came out when I played with it, and I think the look carried over to the rest of the layout really well. :)
The reason I cranked through and got that stuff done early, was so that I could have time to work on something new to sell, so I got started on that yesterday. I'm having a lot of fun with it, even though what I'm doing is rather tedious. I haven't decided yet if I'm going to turn it into a full kit, or if it's just going to be elements. The inspiration came from something I was wearing that I was very annoyed with. Are you curious yet? :-b
Last night was my TOPS meeting. They were painting the church where we meet and had all the doors and windows closed, so the fumes were horrid! So we just had a weigh-in and cancelled the meeting part, which meant I got an early start on my grocery shopping and was able to get back home early to work more on my designing! I did have an incident at the grocery store. I had picked up a small jar of crushed garlic. It slipped between the bars of the cart and crashed to the floor, breaking off the bottom. There weren't any employees around to help, so I just picked up the jar and pieces of glass (most of the garlic stayed in the jar) and put it in the nearest trash. I didn't think I got too much on my hands, but as I was standing in line to check out, the smell started getting stronger. I reeked! I can only imagine what the checker and the guy in front of me in line must have been thinking. When I got out to the car, I used some wipes to get as much off as I could, then washed my hands about four times when I got home, but the smell just wouldn't go away. So I looked online and found something that said to rub your hands on a stainless steel utensil under cold running water. Mark looked at me like I was insane, but I figured it couldn't hurt, so I grabbed a big serving spoon and gave it a try. It worked! Took all the smell right out! So there's your handy odd tip for the day. :)
Even though I didn't have time to do another layout right now, I decided that I just could not pass up the huge kit Scrap Artist is giving out as a participation prize for their anniversary challenges, so I did this one this morning. It's for the belly-flop challenge – scrapping bad pics. Every single one of the pics I took of the kids riding these go-carts came out blurry, and I was on the fence about whether I was going to scrap them at all, so they seemed like the perfect choice. I realize the layout is tiny here. You can see it slightly bigger at Scrap Artist. Go
here
, and then click on the image to see it bigger.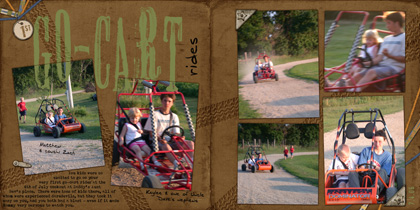 Journaling: You kids were so excited to go on your very first go-cart rides at the 4th of July cookout at Daddy's Aunt Bev's place. There were tons of kids there, all of whom were experienced daredevils, but they took it easy on you, and you both had a blast - even if it made Mommy very nervous to watch you.
Credits: Kit is Rough N Tumble by Eve Recinella. Tire-track overlays by Kim Jensen (me) from August Mini-Kit in ScrapDish Day Old Donuts. Hand Stamped Alpha by Michelle Coleman at Scrap Artist. Fonts: Downcome, j.d., LD Remington Portable, Hootie!
Ok, I need to get some stuff done around the house and work some more on my "kit" and entertain the kids a bit. Later… :)