Chatter, new kit. :)
Hi again. Going to try to get back in the habit of getting on here more than once a week. Twice a week would be a start, right? LOL
Let's see – Monday I had Matthew's parent-teacher conference. It went well. His regular teacher, Mrs. W, is back from her maternity leave, and is very cool. Seems really nice and relaxed. The sub was also nice, but seemed a bit rigid, and I got the impression from some things she'd said that Mrs. W would be the same way, but that doesn't seem to be the case at all. Anyway, it's pretty much the same story it always is – he's rockin' the math, not so much on the reading, but he's definitely gaining ground in that area. He needs to work on his handwriting, which I mentioned is not helped by the fact that he wraps his thumb around his other fingers instead of using it to help control the tip, so she will be working on that with him at school as well. His main downfall, as always, is not being able to focus, 'cause he's just too much of a chatterbox, but apparently he's got plenty of company in that regard in this class. LOL She told me about some strategies she's trying though, and they seem to have gone over well with Matthew, so hopefully, that won't be too big of a problem this year.
And then Monday night was also my usual TOPS and errand night. Trying to get to my TOPS meeting was interesting. Apparently, Monday night was the high school there's homecoming parade, so they had all the streets blocked off around the church where we meet. I ended up parking about 3 blocks away. Since it was dark by the time the meeting let out, a couple of people who had managed to sneak their cars past the barricades drove all the rest of us to our cars. LOL
Monday I found out that Matthew's picture day was going to be today. (In all fairness, they probably sent something home earlier that I just missed reading – they send
so much
paper home). Well, when I was out shopping Monday night, I forgot all about it, so Tuesday morning while Kaylee was at school, I ran over to Target and got Matthew a new shirt. Most all of his stuff from last year still fits, so he hasn't gotten anything new lately. I checked the sizes in the shirts he's been wearing and they range from small to large, so I picked him up a medium. Had him try it on when he got home. He was positively drowning in it! So I called Mark and had him pick up a small one on his way home from work. It's still a little big, and I think it will shrink some when I wash it, but Matthew wanted to wear it that way. I think it's only going to be a traditional head and shoulders shot anyway, so it should look fine. And I'm sure it will be accompanied by the very large fake camera smile that Matthew was practicing in the mirror this morning. LOL
I also finished up that autumn kit on Monday, but didn't actually get it into the store until Tuesday. I decided to just not worry about being creative on the name, and just went with one that described the look I was after – Rich Autumn. Here's the preview: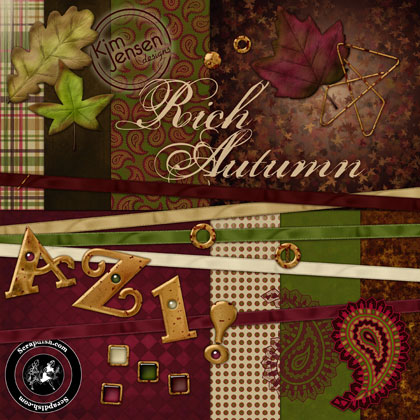 I put an introductory price of 30% off, so if you want it,
go grab it now
! :)
The original inspiration was
this
and
this
(this guy's whole portfolio is amazing), but I decided the greens and reds were too bright and saturated to work for most people, so I just kept going deeper and richer until I came out with the above. :-) I am totally in love with that crimson paper especially, and I came "this close" to pulling it out and using it as the start of a Christmas kit, so don't be surprised if you see something somewhat similar pop up in that direction. LOL
So anyway, after I got that posted and my ad sent out, I spent the rest of the day prize-wrangling for RAKScraps, and have been working on that more today, in between playing rounds of Disney Princess memory card games with Kaylee, in which she makes up the rules as she goes along. LOL
Finally, I was tagged by
Tania
.
Here are the Tag rules:
List seven songs you are into right now. No matter what the genre, whether or not they have words, or even if they're not any good, but they must be songs you're really enjoying now. Post these instructions in your blog along with your seven songs. Then tag seven other people to see what they're listening to.
As I think I've said before, I don't really listen to a whole lot of music. I treasure my quiet time. But I do listen while driving, and once in a while I'll turn on a Yahoo feed late in the evening, so here are some of my current favorites, a couple of which I'm not sure I should be publicly admitting even having listened to, let alone them being faves. LOL
1. KT Tunstall - Black Horse & The Cherry Tree
2. Natasha Bedingfield – Unwritten
3. Shakira – Hips Don't Lie
4. The Pussycat Dolls – Buttons
5. Evanescence – Call Me When You're Sober
6. Dirty Vegas – Days Go By
7. And lastly, anything Kaylee sings, which she's been doing a lot lately. Last night after dinner we were treated to a medley of Itsy Bitsy Spider, Twinkle Twinkle Little Star, The Wheels on the Bus, and If You're Happy And You Know It. Too cute!
I've always been a good little girl and done all my tags, but I think I'm going to be a rebel today and not tag anyone. I'd love to see anyone's answers though, so if you'd like to do this, considered yourself tagged. ;)
Alrighty, I've been working on this post on and off all day, so I guess I'd better put it up before it gets any longer! LOL