Magic report, new kit.
Hi! Just peeking in quickly. The magic convention went really well overall. Mark hardly stopped running all weekend. The shows were wonderful. It's been a long time since I laughed that hard or that much. My dad declared it some of the best live entertainment he'd ever seen in his life. We got to sit right up front for all of them as a perk for all Mark's hard work.
I got pulled up on stage Friday night for a trick involving a selected card and a bow and arrow. I really hate being the center of attention, but I wasn't as nervous as I thought I would be. Good thing I didn't know at the time that there were 1100 people in the room (the stage lights were so bright I couldn't see past the first row), or I probably would have run and hid. It was all a lot of laughs, and, of course, the guy never shot at me. Matthew was very relieved afterwards that I was ok. LOL
Matthew got pulled up Saturday night in a smaller show for an absolutely wild trick which involved a circle of men protecting him while the magician lunged at them crazily, trying to get to the cards Matthew had stuffed in his sock. Too funny. He also was called up very briefly Sunday night to attempt to pet a very wiggly "dog" made from a cloth napkin. It sprang away as soon as Matthew reached for it, and Matthew jumped two feet. :)
And, nope, no pictures of any of it, since flash photography wasn't allowed.
Kaylee and my mom had a great time here at the house, and all the gifts I picked up for her were a big hit.
My folks are visiting through the rest of this week, so I'll still be scarce for a while. I have been quickly skimming blogs, but not taking the time to comment while they're here. Hope to be back to that next week. :)
I did manage to get the finishing touches put on the kit I'd been working on.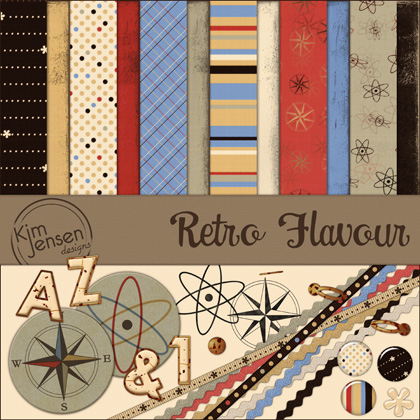 in the store here
Wanna see the inspiration?
Click here
. I just loved the colors and the whole sort of nostalgic retro feel. And I just had to go with the Canadian spelling of "flavour". LOL
Alrighty, time for me to get to bed, since I have to get the kids up early for school tomorrow. G'night! :)