Sunday again.
Another week gone by! I don't even remember half of what I did this week. I know I spent a lot of time designing. Got my
RAKScraps
October prize done. Here it is: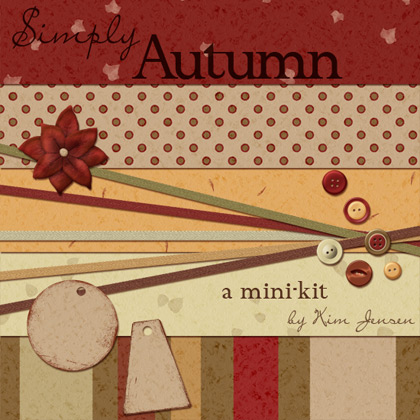 I worked some more on the kit to sell that I started, oh, about three weeks ago, and I think it's close to being done. I was going to add more to it, but since I kind of lost my momentum, I think I'll probably just fix up a couple of the elements that aren't quite right yet, finish up the previews, and let it go at that. I still need to name it though too. It's another autumn-themed kit and every name I think of that seems oh so totally original to me is already taken! LOL Maybe I ought to have one of those kit-naming contests here and put all three of you who read my blog to the test! ;-)
I've mostly finished up my part of another kit, but I don't think I'm supposed to talk about it yet, so that will just be a super-micro-teaser. LOL
I still need to get going on my RAKScraps October Mega Kit contribution, but that will probably have to wait a couple of days, since the October prizes from the team are due tomorrow, so I have to get all those rounded up and organized.
Speaking of the RAKScraps team, we added new members this week as well! It's so fun to be getting more people in there. I love the fresh excitement all the new people bring, even if it does come mixed with a lot of chaos in the beginning as they learn their way around. :-)
Ok, Outlook is telling me to go to bed again. It cracked me up how many of you found that amusing last time I mentioned it, so I'll just say that I looove my quiet time in the evening after the kids are asleep and often get my second wind and get so wrapped up in what I'm doing that I don't notice the time, and I stay up waaay too late. Then I end up paying for it dearly in the morning when I have to get up to get the kids off to school! That darn bus is here at 7am, and after that I just have time to come back here and eat a bowl of cereal before I have to take Kaylee to school. And try as I might, I just don't function well on less than about 6½ hours of sleep, and really, I should be getting more like 8. So stop laughing at me! LOL Ok, I'm laughing at me, so I guess you can too!
G'night! :-)