Spinning my wheels. And a kit and a layout.
So it looks like I fell back to that once a week thing. I'm having a hard time finding time to blog… and the mental capacity to form coherent thoughts to put together if I did make time. The last week is mostly a big blur with very little to show for it. I think there was a bit of laundry in there. I did some designing, but ended up shelving most of what I did. I backed up a bunch of files – 5 or 6 DVD's worth and still need to do more. I spent some time making a dent in my font organizing, but I'm not really sure why, since with the very little bit of scrapping I do these days, it's not like I'm likely to be using any of them in the near future. Mark got bitten by the organization bug on Saturday and started hauling some of his stuff out of Kaylee's closet (that's going to be a big project), so I spent some time on Sunday sorting through the heaps of clothes we found in there. Some I knew were in there that were very, very long ago donations from Mark's sister, stuff that her girls had outgrown that is about Kaylee's size now. But we also found two boxes and a large bag of the kids' baby/young toddler clothes that I thought we'd gotten rid of a long time ago.
Anyway, I have a couple of things to show that I actually did more than a week ago. First off, ScrapDish just put out our first ever monthly collaborative kit. It turned out really cool. Here's my part: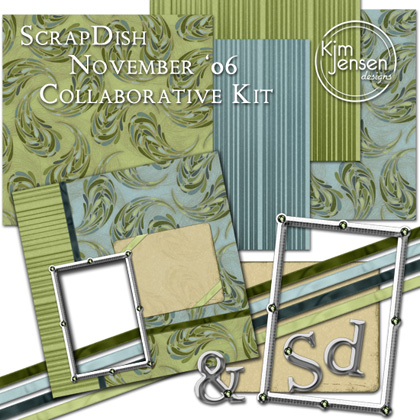 And you can see the whole thing, available in a few different configurations (ON SALE!),
here
.
And the other thing is a new layout I did using my
Retro Flavour
kit for my new designer profile page at ScrapDish. Wasn't I cute? ;)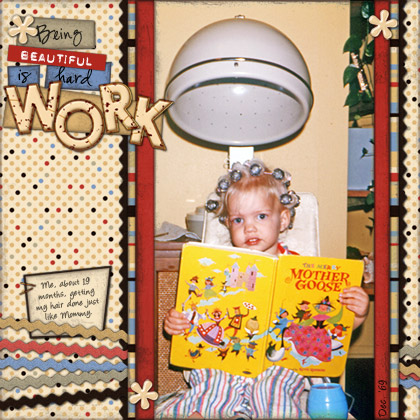 Journaling: Me, about 19 months, getting my hair done just like Mommy.
The designer main page is
here
, click on my pic to see my full page. Jen did a great job on these. So fun! :) The pics of me alone and me with the kids were taken a couple of weekends ago. I have a few more of the kids from that day that I'll try to go ahead and post soon, since I'm not exactly cranking out the layouts these days. :p