I scrapped! More Valium.
I've barely scrapped at all since I left the sponsor team last summer. I've gotten terribly rusty. Not that I was ever fast to begin with, but it's amazing how hard it is to get anything to flow after being out of it so long. Anyway, so we had a very nice day yesterday, and I took Kaylee to the park and brought along my new DSLR. I'm not really comfortable with it yet, and I picked a really hard subject to get in focus (or even in frame for that matter), even in auto mode, but I did get a few decent shots, so I put together a layout. I've tweaked and played and fiddled with this since yesterday afternoon. Well, ok, yesterday afternoon was basic assembly; today was tweak & fiddle day, and now I just need to call it done. :p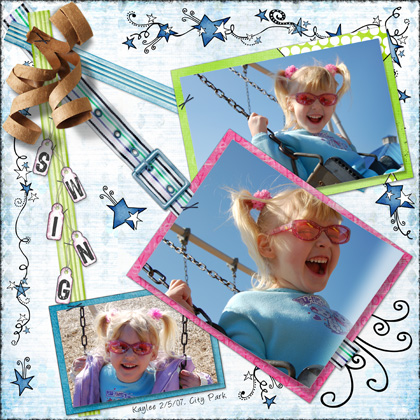 Papers - Carrie Stephens (Baby Cakes) • • Ribbons, belt - Carrie Stephens (Celebrate Everyday) • • Cardboard curl - Kim Jensen (Cardboard Bits - Sproingy) • • Doodles - Lisa Whitney (A Beautiful Mess) • • Staples - Melany Violette • • Tags (altered) - Gina Cabrera • • Strings - Lianne Carper (All Wrapped Up) • • Inked edges - Atomic Cupcake • • Curl shadow created in Eye Candy, hand edited • • Photo bend done manually • • Fonts - Angelina, 4990810
I actually hadn't started out to use anything of mine in it (other than the subject LOL), but I just thought the cardboard curl would be perfect there. And I know bends are trendy right now, but I hadn't planned to do one of those either. Then I needed something else with a little dimension to balance out the curl. I just wanted a slight bend, and that's the part of it I'm still not quite sure about. I'm going to try to keep my mitts off it now though. I do have a version with a stronger bend in it, so I may change my mind in the morning, but there it is for now. :)
So, you may remember me having to give Kaylee Valium for a dental appointment last year (2 fillings). Well, now it's Matthew's turn. He's got a baby tooth that just will not come out no matter how much he tries to wiggle it, and the permanent tooth is almost 100% grown in right behind it. So we gave him the first dose tonight, and he gets the second one in the morning before the appointment. He had a few super-silly moments this evening, but he gets that way sometimes anyway when he's too wound up, so hard to pin in on the drug. Hopefully, all will go smoothly. He's not allowed to go to school, since he has to be closely watched and could have dizzy spells, but depending on how he's feeling afterward, we may take advantage of the day off to go get him some new shoes and clothes and maybe be-bop around a bit. Kaylee had a meltdown after she had her cavities filled, so we'll just have to see how Matthew does.