I'm officially a Photoshop geek & new product!
I feel like January rushed by on fast-forward while I was strolling along at a leisurely pace. I was not ready to get to the end yet! I like things less busy, since it seems like I can make time slow down closer to my pace. I never seem to accomplish nearly a month's worth of stuff in that amount of time.
The most exciting thing I did
this
last month (other than going to Chuck E. Cheese for Matthew's party, of course LOL) was fly down to Austin for a one-day Photoshop seminar taught by
Bert Monroy
. I decided to join
NAPP
this year and was browsing around their site. I saw the seminar and jokingly mentioned to Mark that I should go. Next thing I knew he was booking me a hotel and plane ticket and arranging to work from home so he could watch the kids! Not sure if he was being incredibly supportive or just really anxious to get rid of me for a couple of days. ;)
It felt very strange to fly again. I flew an average of about 2-3 times a month for 4 years for work, and it got to be completely routine. But the last time I flew was actually a vacation in the summer of 2001, so the routineness had worn off. And I didn't even think about all the more "recent" security measures. So strange to see everyone taking off their shoes for the security screenings. Anyway, I went down the night before the seminar, and an old friend from work picked me up at the airport and took me to dinner. I hadn't seen him since we were down
there on vacation
in 2004. It was great to catch up on our families and the people we had kept in touch with from work.
The seminar was
very
cool. I guess I'm more advanced than I thought, because I already knew a lot of what was covered, but there was some new stuff too, and just watching Bert Monroy work was well worth the trip. Totally amazing. If you ever used to watch Tech TV's Screen Savers you probably saw him. I've been a huge fan of his ever since the first time I saw him on there. All his work is done 100% from scratch in Photoshop, Illustrator, or other similar software - no photographs, no scans, etc. The
level of detail
is amazing. He opened up several of the original files for us and zoomed in on individual little things that no one would
ever
notice in a print or any other public version, but all those little things come together to really sell the images. I thought I was detail obsessed, but this guy leaves me in the dust. Have I used the word amazing yet? I explained it to Mark as being the way he feels about watching a really incredible magician perform, and from the look on his face I knew I'd chosen the perfect analogy.
Photoshop World 2008
here I come. :) (No time or budget to do it this year.)
So, abruptly changing the subject since I can't think of a good segue, I have new product out. Mark has been teasing me about all the cardboard and such that I've been hoarding to use for my designs. It started when I broke down all the boxes that our new bed came in back in October and put them in the garage instead of tossing them…
(Hang on… gotta reboot. My tablet now thinks it's a mouse, and it's driving me insane. If anyone else has this problem and knows how to correct without rebooting, please let me know.)
(Ok, I'm back. :-p)
So anyway, I have a very large stash of cardboard accumulated now, and I decided to go ahead and do something with it, so I started playing. After peeling the backing paper off a very large section of heavy-duty corrugated cardboard, I noticed that the paper tended to curl up on it's own. Cool! And so, I created…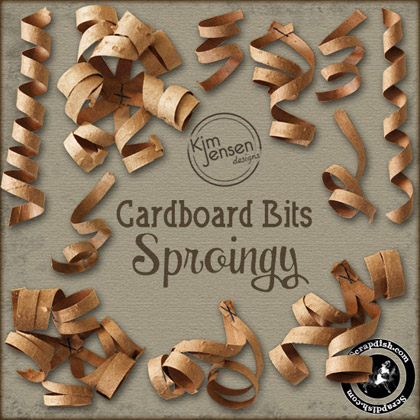 And then I got to thinking about how you couldn't put something like that in a real scrapbook, and so…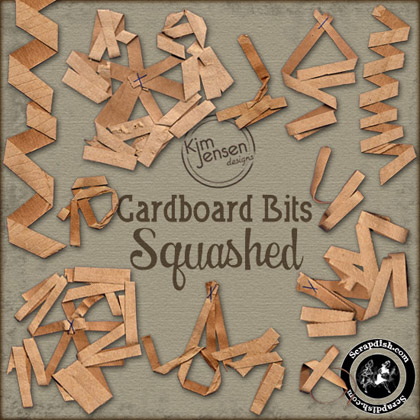 And then I went with something a little more standard and did some shapes. They're really big, so you could use them to mat photos or even use some of them as a base for a whole page. And the grade of cardboard I used for most of them is a larger wave/crinkle/whatever-you-call-that, so you could scale them down if you wanted to and still have great detail.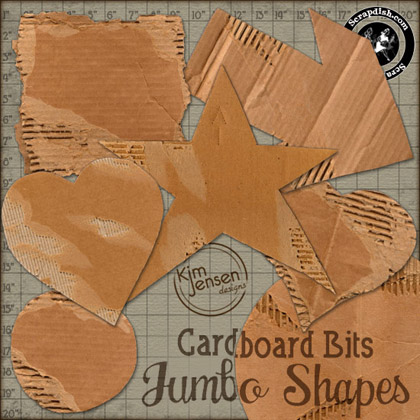 Look for more in this series in the future… I've barely made a dent in my cardboard stash! LOL