Mega Kit, Layout, shopping
Well, all the kitties are out of their bags and running around loose, so I can show you the rest of the stuff now. LOL
First off the Mega Kit has started being released and my part is first!
Run grab it quick!
LOL This is the one I mentioned that I had the kids help me with. The flower drawings are by them. I just scanned 'em, colored 'em in, and stuck 'em on the page, then made up some stuff to go with 'em. Isn't it cute? :D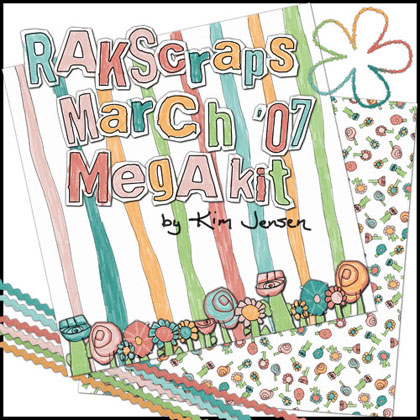 Next up, each month in the RAKScraps newsletter, they run a profile of a CT member, and it was my turn this month, so I had to answer some questions and do a new AAM layout. You can read all about me
here
. (It's a PDF.) I'm kinda far down in there I think, but the rest is worth a read too. :D Here's the layout with another rather long credit list.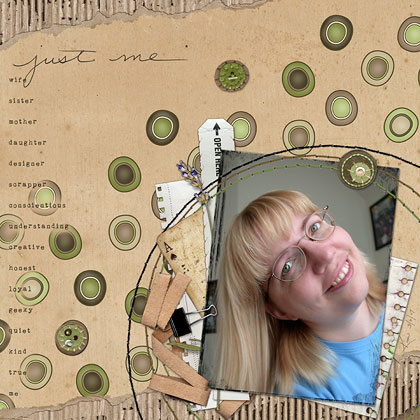 The list reads "wife, sister, mother, daughter, designer, scrapper, conscientious, understanding, creative, honest, loyal, geeky, quiet, kind, true, me". Not necessarily in order of importance, but more in order of length, so it would flow on the page. LOL
Credits • inked edges - Michelle Colman • mailer tab - Gina Miller • notebook paper (left) - Kristy Nerness • pressed flower, playing card - Sausan Designs • squashed cardboard - Kim Jensen • cardboard overlay - Linda GB • background paper - Tracy Ann Robinson • felt circles (recolored) - Amy Martin • stitched circles - Karen Hunt • binder clip, notebook paper (right) - Lori Wiley • font - LD Underwood 5 • title and date are my own handwriting •
So this weekend is half over already! I spent aaaaaaaaaaaaaaaaall day digi-shopping! Oh my goodness, the sales!!! I bought stuff at EIGHT stores! And there are a couple more that I'd like to hit up, but I think I probably should not spend any more right now, especially considering that at my current scrapping rate, I've already got enough supplies to last the rest of my life! LOL It was so hard to decide what to get. I tried to be as conservative as I could with my initial lists. I had a tab open in each store and then a spreadsheet set up showing me how much I was spending. Once I'd made up my mind what I wanted, I went into my Paypal account and looked at what I'd already spent this month. Yikes. Went back to my shopping carts and removed about a third of what I had, arguing with myself about what I would be most likely to actually use, trying to visualize the layouts. I'd post a list of what I bought, but then I'd have to admit how much I actually spent. Need to work on some more new products to help fill in the dent in my Paypal account. LOL
Being it's about midnight, I should probably wrap this up. I've been soooooo tired all week. Stinkin' daylight savings!!! This is the first day I've felt halfway human.