Catching up!
Too much to do, too little time. Does it ever slow down? LOL
:::::::: Mother's Day:::::::::
I had a wonderful Mother's Day. Mark did all the cooking, and mostly kept the kids entertained so that I could relax. The kids gave me the gifts they made at school. Kaylee made a tissue paper rose. Matthew made a bookmark, a magnet with a photo of him, a "top 10 reasons I love my mom" list , and a flower that had things on each petal that he would help me with. So sweet. :) I especially liked the one where he promised to help me on the computer if I need it. LOL
Mark "surprised" me with a new monitor to replace the really awful old CRT I'd been using as my secondary. I put "surprised" in quotes because, to Mark's disappointment, the package showed up when I was home to receive it, and it was very clearly marked on the outside of the box as to what it was. LOL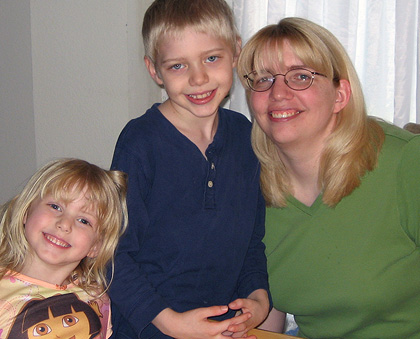 So now my monitors almost match. The new one is just a hair bigger, but it sits higher, so it seems smaller. LOL Once I decide what height I want it to sit at, I'll be looking for a base of some sort to set the other one on to make them even. The old one is not height adjustable, and the new one won't go as low as the old one. It didn't bother me when the monitors were two completely different sizes, but now it just looks odd. :-b I am totally spoiled by the huge amount of screen real estate I have now though! I don't have to switch monitors to read my email, and I can have almost every possible palette I would ever use in Photoshop open at the same time! :D I'll have to post photos of my desk, once I get it cleaned off again. I took some "before" pics a couple of months ago when I started organizing, and I haven't, uhm, quite finished yet. :-b
I will say that one thing from Mother's Day didn't go totally smoothly. Matthew had received an activity set for Christmas called "Diggin' Up Dinosaurs". We'd set it aside and forgotten all about it until the kids stumbled across it. So Mark opened it up and they got started. It was a little block of multi-layered "rock" that you chip away to unearth the "dinosaurs".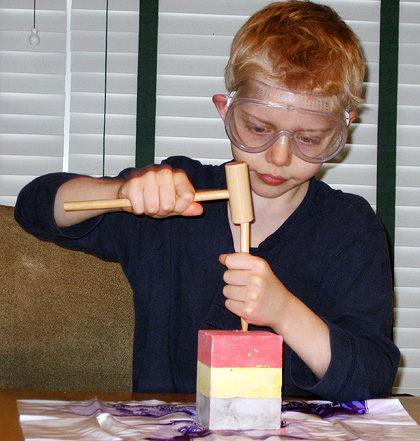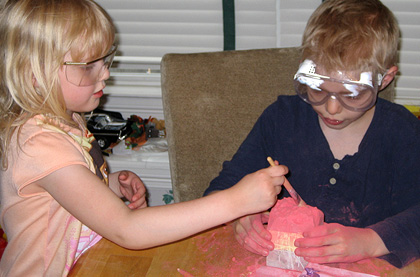 Simple, right? Uhm, well first off, the "rock" was really HARD. Matthew spent well over an hour
pounding
away, and only got most of the way through the first layer. Secondly, for such a small thing, it made a HUGE mess. Tons of red powdered rock EVERYWHERE.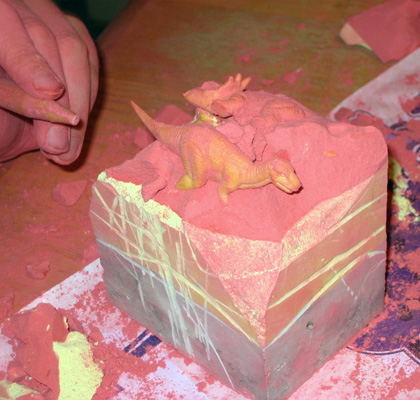 Since it was Mother's Day, Mark got to clean up the mess. :-b I cut the kids' hair and gave them baths, and he still wasn't done! He was not happy. There was lots of sweeping and vacuuming and mopping and washing involved, and the upholstery on the chairs still needs to be cleaned. I think other people must have had the same experience, because I couldn't even find it for sale online anywhere to warn you away from it. LOL Matthew and Kaylee did enjoy it. Whenever they get around to doing the rest of it though, it will be done outside, wearing old clothes, on a day when it's hot enough to hose them off when they're done! :)
:::::::: Happy Birthday to me! :) ::::::::
Yes, my birthday and Mother's Day are really close together. LOL I turned the big 3-9 yesterday. Given the very large monetary expenditure on the Mother's Day gift, my birthday was a bit simpler. The kids drew me presents -- Matthew a game and a maze, Kaylee a bunny mask.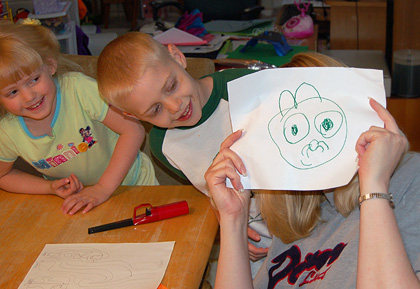 Mark got me these totally gorgeous flowers …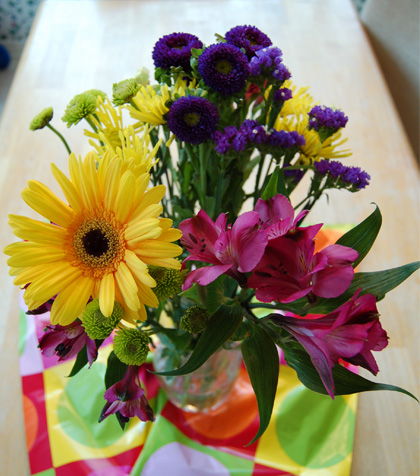 Due to the large
caloric
expenditure recently experienced with Kaylee's birthday cake and the huge amount of leftover candy that the Easter bunny mysteriously left behind, I opted to make a lighter cake, rather than have Mark pick one up. It's a recipe from Light 'n Tasty I'd made once before, and it's so yummy --- orange cake with Cool Whip & orange yogurt filling with strawberries & pineapple. Mmmmm!! Last time I made it, the kids wouldn't eat it, but Matthew loved it this time. Cool Whip Kaylee loved the filling. LOL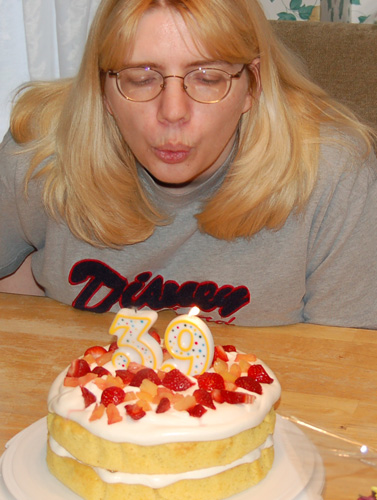 Kaylee also had her 5-year checkup yesterday. It went well. She's got 20/40 vision in both eyes, which is great for her age (thank goodness neither of the kids have my eyesight so far!!!). She wasn't really able to follow the instructions for the hearing test, so they're going to try that again next time. I'm pretty sure her hearing is fine though. ;) Kaylee is also officially tall – 97th percentile for height!!! I honestly don't remember what range she was in last year, but she's shot up over 3 inches, and I'd swear most of that is in the last few months. LOL She had to get one shot – a chicken pox booster. She always does great with shots, but Matthew had managed to scare her a bit with his shot phobia, so she was a little more nervous this time. She still did fine though, and she is very proud of her funky pink band-aid. :)
And then I also had my usual shuttling Kaylee to school, TOPS meeting, and grocery shopping to do, so it made for a very busy day. I managed to squeeze in time to watch my TiVo'd season finale of Desperate Housewives, do some laundry, and post a couple of ads for my new products too. Speaking of which…
::::::: New Products! ::::::
I had so much fun putting these together. It was almost like scrapping! LOL I hope people will like them. :)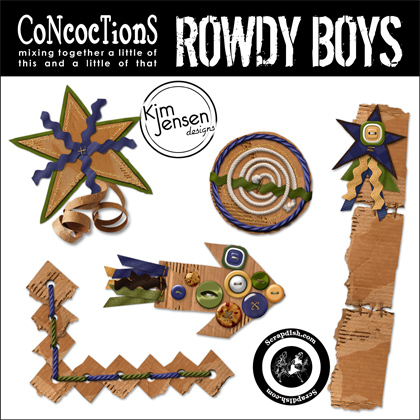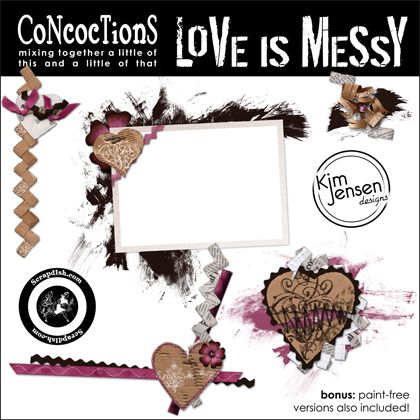 Click on the images to see them in the store. On sale 30% off through Sunday! :)
:
:::: 1½ days to go! ::::::::::::
The kids' last day of school is this Thursday. It's a half-day, which means nothing to Kaylee, since she already only goes half days. LOL They would have gotten out tomorrow, but they have an ice day they need to make up. I'm really looking forward to not having to get up at 5:30-5:45 every morning!! Due to changes in state laws, the kids will not be going back to school until August 27!!! That means
13 whole weeks
of summer break!!! The normal summer break is more like 10 weeks! Mark doesn't have spare vacation time for us to take any trips, so we're figuring out some activities for them to help pass the time. As of right now, we're thinking karate for Matthew, either karate or dance for Kaylee, and swimming lessons for both. We really haven't done this sort of stuff much with them before, but I'm sure they'll enjoy it. It just means I won't get to be a complete hermit the way I'd like! LOL
:::::::::::::::::::::::::::::::::::::::::::::::::::

I think there was something else I wanted to blog about, but I can't remember, and I think this has gone on long enough!!! If you made it through all that, you deserve some sort of award!!!!!!!! :)