(Narrator) We return to our story almost 9 months later...
LOL Wow. Time really does just keep on slippin' (slippin', slippin') into the future, doesn't it?!
I'm not even going to try to cover everything that has happened. Basically, all's well that ends well, and we're all well. LOL Just going to jump in right where I am now, or within the last couple of weeks anyway.
First off... I scrapped! I've only done a handful of layouts in the last 2 years, but I did 3 just recently!! I was feeling really rusty and not knowing where to start, so
Tania
suggested I do a challenge at
Scrapbookgraphics
. It was a great way to get going again. Here's what I came up with using pics from our recent road trip to visit family (layouts linked to my DST gallery)...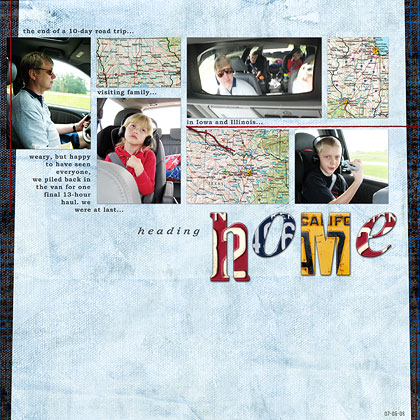 Journaling: the end of a 10-day road trip... visiting family... in Iowa and Illinois... weary, but happy to have seen everyone, we piled back in the van for one final 13-hour haul. we were at last... heading home
Scraplift of "loves to" by scarletheels at ScrapbookGraphics for week 28 challenge. Credits: Jessica Bolton: Papers (Cracked Sugar Bowl), Stitching (Basic Stitches Simple & Straight). Alpha by Gina Cabrera. Fonts are Bookman Old Style and Misproject. Maps courtesy of the University of Texas Libraries, The University of Texas at Austin.
Next I decided to do a 2-page spread with pics from our 4th of July. (larger page 1, page 2)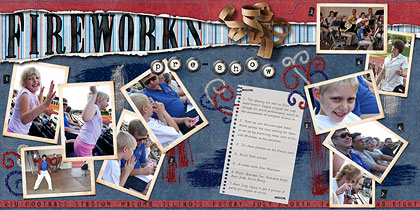 Journaling: 1. The opening act was an Elvis impersonator. Kaylee boogied her way through his entire performance, much to the amusement of everyone around us.
2. Next up was the municipal band. Mark passed the time waiting for them to set up by practicing some card tricks, with Matthew as his assistant.
3. It's Aunt Cristina on the French horn!
4. Uncle Todd arrives!
5. A sweet smile from Matthew.
6. Mark, Grandpa Jim, Grandma Karyl, Aunt Judy, Uncle Barry.
7. Aunt Judy trying to get a picture of party-girl Kaylee in action.
Credits:solid papers - Jessica Bolton (Love This Guy, recolored)striped paper - Gina Cabrera (Sweet Liberty)stitching - Tracy Blankenship (Stitched Basics, loose ends modified)edge curls - Anna Aspnes (Curled Paper Edges No. 2)cardboard curl - Kim Jensen (Cardboard Bits - Sproingy)frame clusters - Nancy Comelab (blog gift)dymo numbers - Christina Renee (Alpha Bits 4)stamped alpha - Kathy Moore (Essentials Alpha Stamps)round alpha - Eve Recinella (Mini Button Alpha)glitter swirls - LaWanna Desjardin (Independance Sparkles, recolored)glitter paint - Meredith Fenwick (Hallway Graffiti Rainbow Glitter Paint)notebook paper - Shelleyrae Cusbert (Notations)staples - Jenn Patrick (Stapled On The Wrong Side)twill - Welli Designs (Twill Tape, recolored)fonts - Angelina, Misproject


And then I decided to try using a template. I've never used one before, and Tracy makes these really fun ones! I love the way this turned out, and once I got going, it went really quickly! Just a couple of cute shots of Kaylee...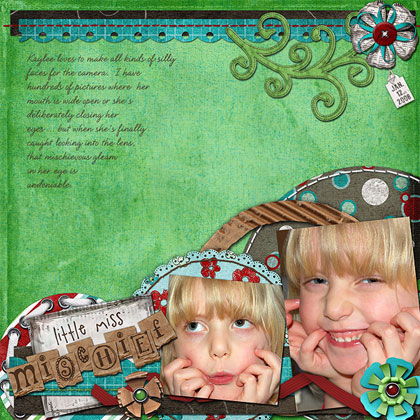 Journaling: Kaylee loves to make all kinds of silly faces for the camera. I have hundreds of pictures where her mouth is wide open or she's deliberately closing her eyes ... but when she's finally caught looking into the lens, that mischievous gleam in her eye is undeniable.
Template - Tracy Blankenship at ScrapDish (Templates with Attitude Set 14)Kit - Kim Jensen (Serendipity)stitched circles - Karent Hunt (Sewing Box Circles)alpha - Fee Jardine (Paper Bag Alpha)"M" - Lisa Whitney (Doodle Alpha)fonts - 4990810, A Little Pot, Natural Script Bold

It was really fun to scrap again, and I've got a huge backlog of photos to choose from, so hopefully I can keep it up! :)
~~~~~~~~~~~~~~~~~~~~~~~~~~~
Designing is also something I haven't done a whole lot of lately. I do have just a couple of new products since my last post, which you can see in my shop if you're so inclined.

I ran across an ad for a sort of combined designer call/competition/education thing at Funky Playground Designs called "Teacher's Pet", and I thought that might be a fun way to get my designing jumpstarted again. The winners after 4 rounds get offered a position selling at FPD. That would be amazingly awesome if I somehow were chosen (I wouldn't be leaving ScrapDish, just adding a second store), but in the mean time, I'm just having fun being challenged to do something new and get designing again.
There are over 100 experienced and novice designers signed up, and the results of round 1 are up in the gallery to be downloaded for free! The deadline for the first round isn't until tomorrow night, so there will continue to be more added. I think you have to be registered in the gallery to see the contest entries, and you need to sign up for the FPD newsletter to get the password to unzip the files (it will be in the confirmation email).
Here's what mine looks like: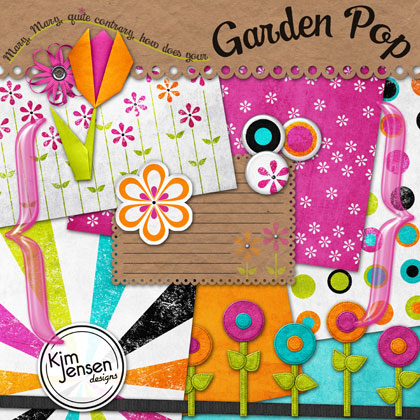 (Clicking on it will take you directly to the gallery posting.)
I've also been working on a little something new for my shop at ScrapDish, but it's not quite ready yet. I'm kind of stuck in the middle and trying to decide how much more I want to do with it. LOL Hopefully, I can get that up soon! :)
~~~~~~~~~~~~~~~~~~~~~~~~~~~~~~~~~~~~~
On the family front, as I mentioned before, we took a long road trip over the 4th to visit family. It was really good to see everyone. My aunt and uncle even got to meet Kaylee for the first time, since it had been 7 years since the last time we saw them! We are especially glad we made the trip when we did, since unfortunately Mark's great aunt, who had been battling health problems, took a turn for the worse and passed away this week. Aunt Dottie was a wonderful woman who always had a big smile and a warm hug for everyone. She will be dearly missed.
~~~~~~~~~~~~~~~~~~~~~~~~~~~~~~~~~~~~
The kids are enjoying their summer break. It has gone by very quickly! It's hard to believe they go back to school in just under a month! Matthew's still doing karate, and got his recommended brown belt right before our trip. He'll be testing for his decided brown belt in a few weeks. The recommended/decided brown belts and recommended/decided red belts all study the same material, so he should know it inside-out backwards and forwards by the time he gets to the end of that 32-week stretch! LOL
~~~~~~~~~~~~~~~~~~~~~~~~~~~~~~~~~~
Mark's doing great as well, and has been up to his eyeballs in magic, having just returned from a week-long convention. Amazingly, he and his buddies actually decided a week was too long! LOL He's got some more great news too, but I can't tell you yet! Aren't I a tease! LOL
~~~~~~~~~~~~~~~~~~~~~~~~~~~~~~~~~~
Between Mark being out of town and me trying to cram in some design time, and the kids waking me up early, I have not been getting nearly enough sleep the last couple a weeks, so I'm going to call it a night, and try to get some rest. I promise to be back in much less than 9 months this time! LOL