Picture-Palooza!!
Wow, the last 2 weeks are a blur! First up, thanks to everyone who left such great comments here or at FPD about my Teacher's Pet entries! :) Or even if you downloaded but didn't say anything, it's still really cool knowing people like your stuff enough to clutter up their hard drive with it. ;) They cut the final round to nine fabulous designers... me not being one of them. LOL :) Since it was my kids' last week of summer break and we had a busy week lined up, I opted to focus on spending the time with them and skip the final assignment. There were some fabulous collaborative kits put up by those who chose to participate, so I hope you went and grabbed them! :)
The rest of this post is gonna be all family stuff, so if you're just here for the scrappy stuff, come back tomorrow for more scrappy-designeriffic goodness! :)
I'm gonna just go in chronological order, so I don't have to think too hard. LOL
~~~~~~~~~~~~~~~~~~~~~~~~~~~~~~~~~~~~~~~~~~~~~~~~~~
One of the things we got Kaylee for her last birthday was a Hanna Montana hair coloring set. It has this fancy brush thing that you run the hair through to apply the color. If I had to do it over again, I would have gotten the simpler stick applicators, since it can be a bit tricky to get the brush to not EAT the hair. Yikes.
Anyway, here are a couple of shots of her with the latest application... alternating orange and magenta stripes, that pretty much looked like all one color once we got it in her hair. LOL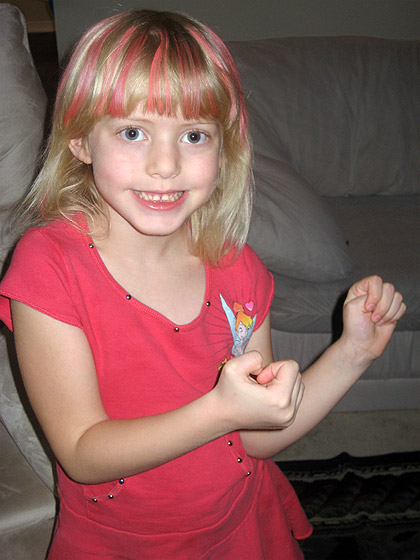 The rocker girl giving her best wink while playing air guitar. LOL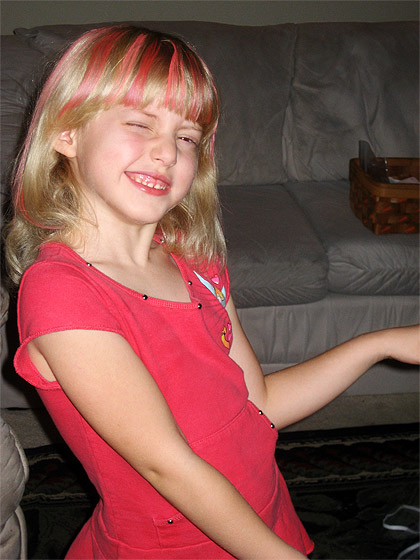 ~~~~~~~~~~~~~~~~~~~~~~~~~~~~~~~~~~~~~~~~~~~~~~~~~~~~~
Next up, I haven't done karate pictures in a while, so here's a whole slew of 'em from Matthew's Decided Brown Belt test on the 19th.
They have them start put on their sparring gear before class starts so they can get right to it, since it can take a while to put all that stuff on. The kids tend to all look alike once they get all suited up! LOL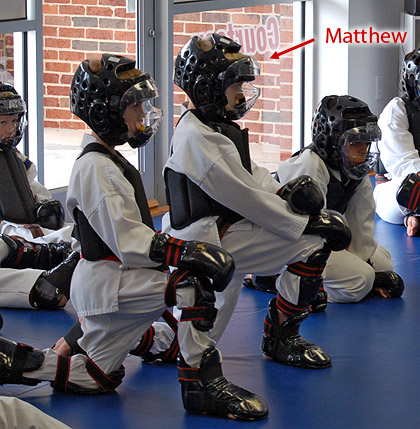 Here's Daddy on video camera duty, waiting for things to get started.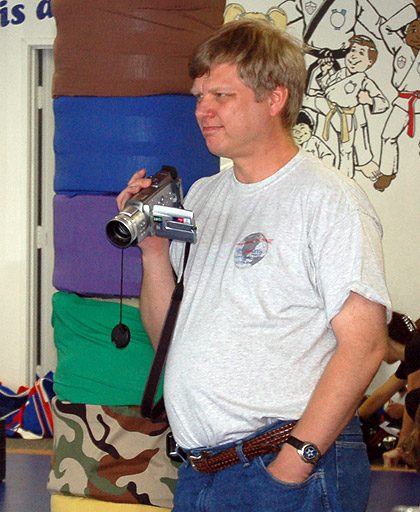 And Kaylee, sitting next to me on the bleacher thingies, playing with her Dora magnets, totally unimpressed by the importance of the occasion. :-b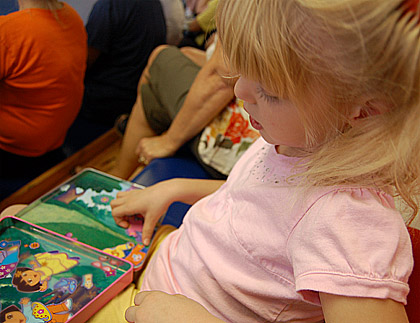 Next up, a couple of (rather blurry) action shots from the sparring. Matthew is the one kicking in both of these.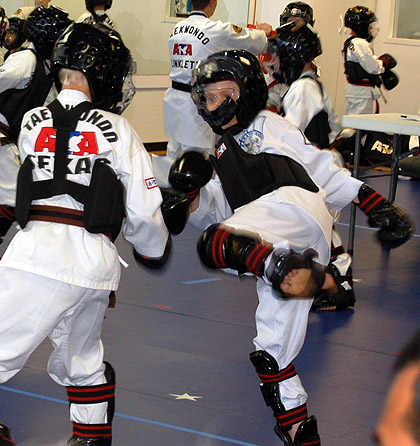 Landing a jump kick!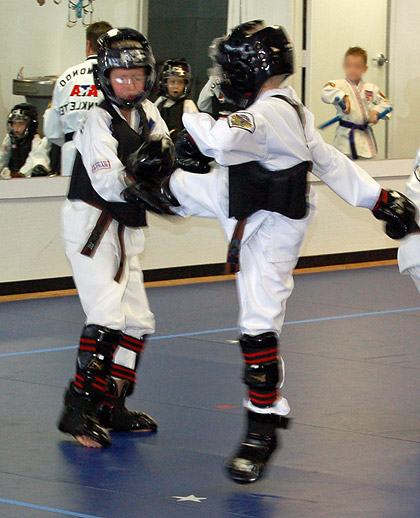 Next up was the form. I was in a really bad spot to get many pictures of this part, but I thought this was kind of a neat shot. It's from the very beginning of the routine where they start out in slow motion. (Excuse the blurred faces. ;) )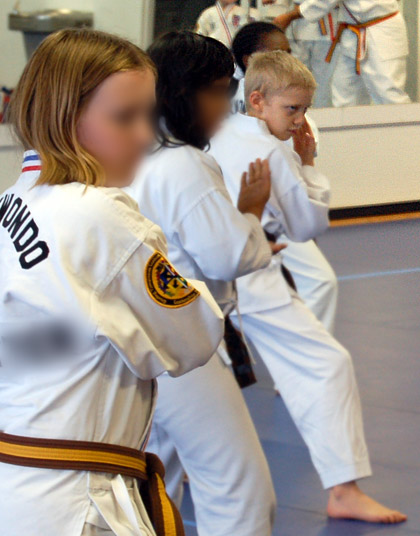 Finally, they had to demonstrate their self-defense grabs.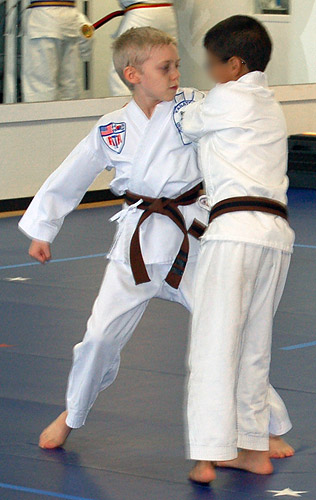 And that was it! He did really well. I always get so nervous before these things, even more than he does I think. I don't know why, since he's consistently one of the best in the class, and honestly you have to completely freeze up to not pass. Even the ones who do have trouble they pull aside and give them a chance to do it on their own. They're really encouraging and want everyone to succeed.
So here he is getting his belt from one of the assistants.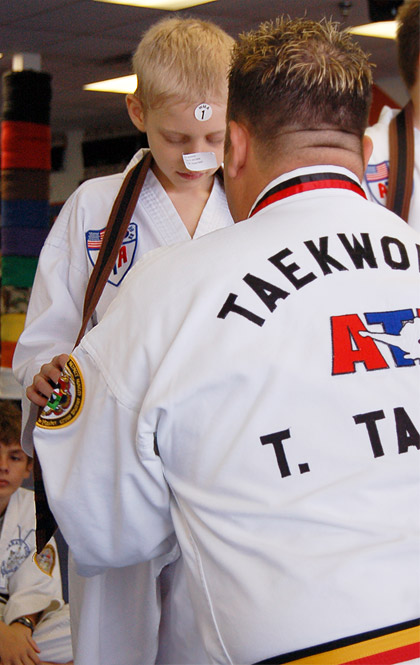 Yes, he went from brown to brown. LOL The black piece across the end by his right hand means that he's a "decided" brown belt now (he was "recommended" before). As they learn their various skills, they use black tape to give them stripes on the left end, so they end up with 3 stripes on the left of each belt. You can kind of see them on his old belt in the self-defense picture above.
And finally, here he is with the instructors after the test.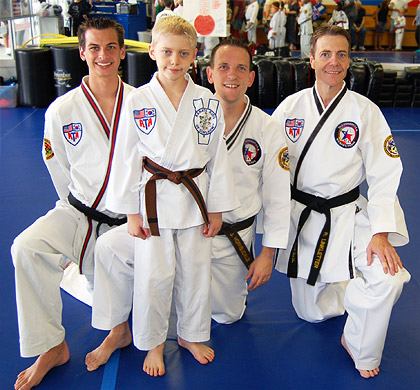 Congrats, Matthew! We're so proud of you!
~~~~~~~~~~~~~~~~~~~~~~~~~~~~~~~~~~~~~~~~~~
We had planned to take the kids to Six Flags last Wednesday, but it stormed all day, so we stayed in and played games and stuff. So on Thursday, when it was still looking nasty out, we gave the kids a few choices of some fun things to do. They opted for Chuck E. Cheese's and toy shopping. :)
Our normal mode at CEC is divide and conquer. LOL We eat, and then Mark and Matthew go play games, and I go around with Kaylee, who mostly prefers the little rides. She just loves this clock ride, and must have done it about a dozen times. It just lifts the chair in a slow-moving circle while playing music, sort of like a mini sideways Ferris wheel.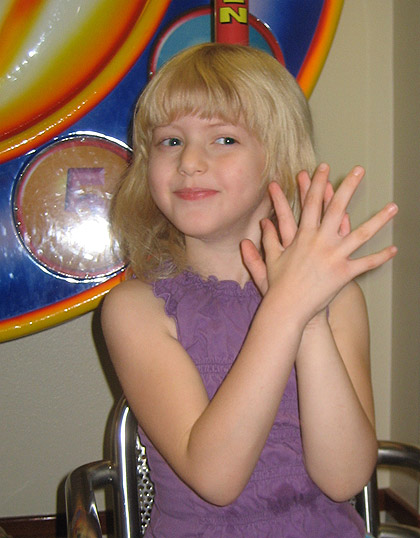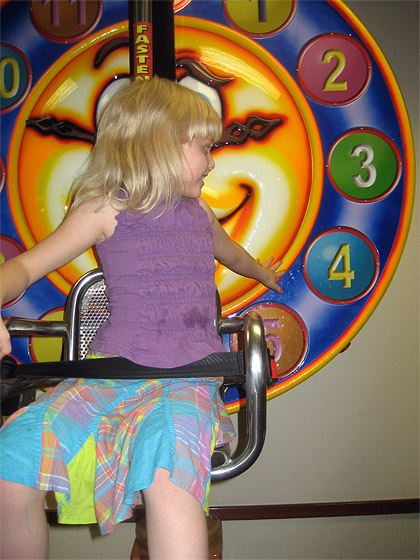 It's so cute to see how excited she gets! :)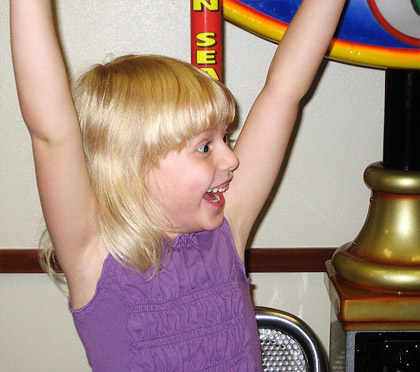 Here's a really awful shot of Mark and Matthew taken from across the room. They were rockin' out because Mark hit some mega bonus on the Caveman Clobber game behind him. The thing was making so much noise you would have thought he'd hit the giant jackpot in Vegas. LOL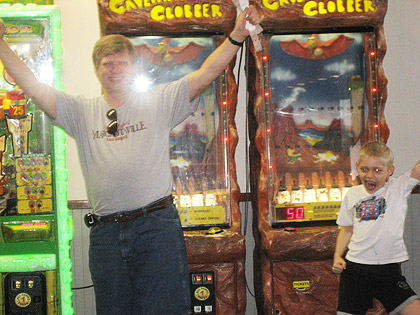 Here's the one thing Matthew and Kaylee actually did together -- a roller coaster simulation. The car moves and tilts, while you watch video on a screen as if you were on a roller coaster.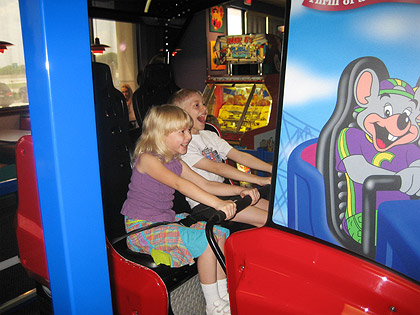 It even has "wind" that blows in your face when you're going down the big hills! LOL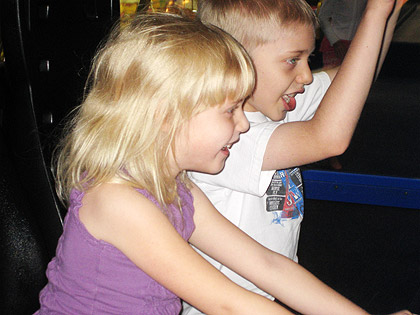 Kaylee wanted to use the little sketch booth thing, so here's one of the two of us. You can tell how badly I need a haircut, but at least you can't see my major dark roots. LOL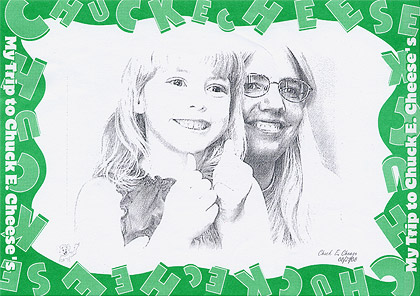 ~~~~~~~~~~~~~~~~~~~~~~~~~~~~~~~~~~~~~~~~~~~
We had a guest magician in this past weekend. Mark is in charge of the magic lectures for this area, so the visiting lecturers often stay with us while they are in town.
Fielding West
I think is our first "repeat offender". LOL He was here about a year and a half ago as well. He taught a small (but long!) workshop here at the house on Saturday, and then did the usual lecture for the magic clubs on Sunday.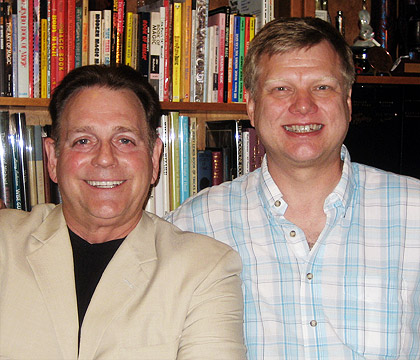 He's a fun guy, and it was interesting watching him with the kids. He and his wife don't have any kids, so they were quite the novelty for him. LOL
~~~~~~~~~~~~~~~~~~~~~~~~~~~~~~~~~~~~~~~~~~
School started back up on Monday! The summer went by amazingly quickly, but we are ready to get back into a routine (or at least I am LOL). We took our traditional front door shots in the morning, although the door is a different color this year. LOL It used to be maroon, but we had the long-overdue exterior painting done this spring and decided to change it.
It was 6:45a.m. and not totally light out yet, and Matthew was having some trouble dealing with the flash from the cameras. They are both looking at Mark, who had our other camera. Someone remind me next year that the 2-camera thing was not a brilliant idea. LOL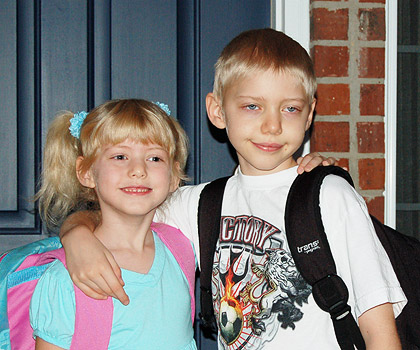 Kaylee's pose cracks me up on this one.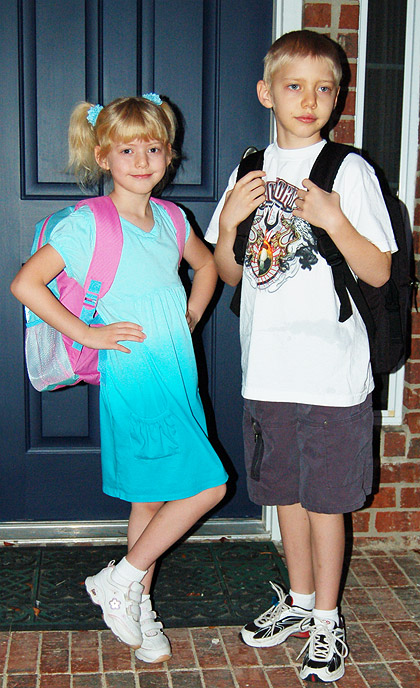 Then Mark went to get ready for work, and we went to wait for the bus. Kaylee was really wound up and spent the time posing and dancing and just being silly, while Matthew walked around being all serious. ;)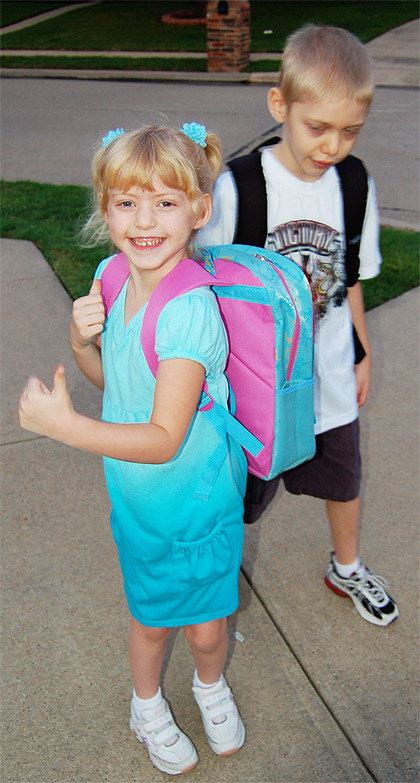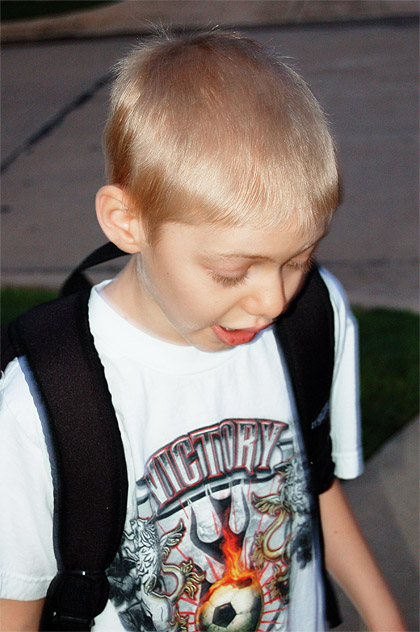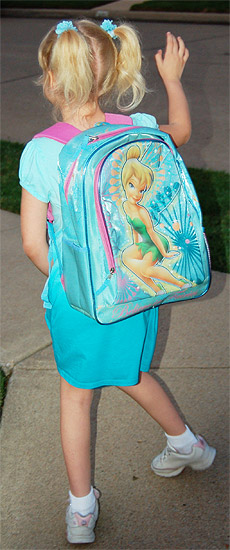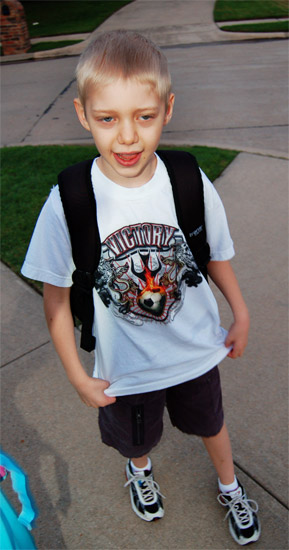 The bus route changed slightly this year, and we were surprised when it came from the other direction and turned the corner. The kids dashed over to it, and Matthew was already disappearing up the steps before I could get a picture.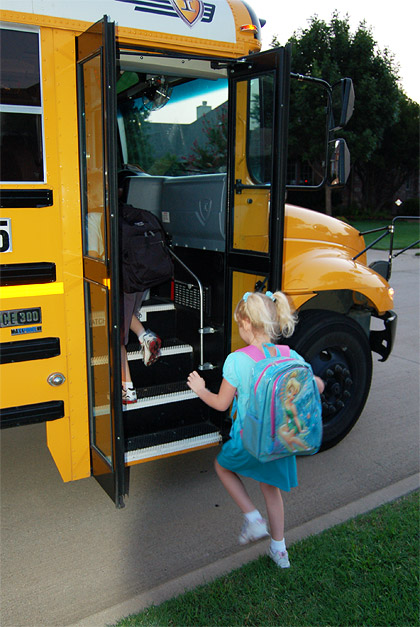 They're still getting settled in at school, and we haven't quite got our routine down at home yet, but they seem to be enjoying it overall so far. Although I just got back from picking Matthew up early. He got the side of his hand run over by a scooter in P.E. :( It was pretty swollen, but he can still move all his fingers ok. I gave him some ibuprofen and he's sitting with an ice pack watching cartoons right now. Hopefully, it'll be a lot better in an hour or two. Poor kiddo.
~~~~~~~~~~~~~~~~~~~~~~~~~~~~~~~~~~~~~~~~~
Mark also started a new job on Monday!! The company he had been working for was split up and his division sold off at the beginning of the year. The company that bought it is restructuring it and will sell it again in a couple of years. As you can imagine, not the best work environment, and very little management interest in process improvement (which is what Mark does). So he'd been on the lookout for a new opportunity for a while. The timing on this one worked out perfectly -- there was a major layoff at his old company on his last day there, and quite likely he would have gotten hit.
He's still getting settled in as well, but the company is doing very well, and everyone seems to like working there, so hopefully it will be a good long-term situation for him. The only bummer is that he was hoping for a shorter commute, but this drive is just as long as his old one, with a bit more traffic, so he's got about an hour in the car each way. If this looks like a good fit for him, we may be looking at moving closer in a year or so.
~~~~~~~~~~~~~~~~~~~~~~~~~~~~~~~~~~~~~~~~~~
I guess that's about it for now. It's taken me all darn day to pull pictures and put this together! LOL I'd better go do some dishes and such before Matthew and I have to go get Kaylee from the bus. Tomorrow's scrappy post hopefully won't take as long! LOL