Scrappity Stuff!
Ok, as promised, I'm back today with the scrappity part! First up, my
Rich Autumn
is on for the ScrapDish Friday Specials for just a buck! So I decided to put the coordinating
Rich Christmas
and
Rich Collection
on sale too! At Ridiculous prices! LOL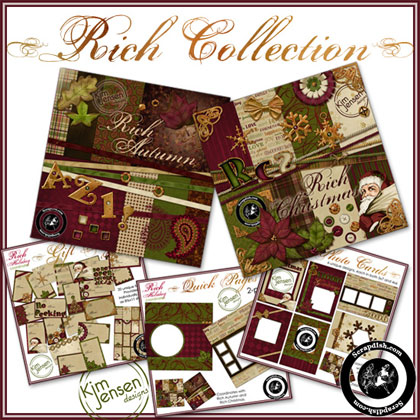 ~~~~~~~~~~~~~~~~~~~~~~~~~~~~~~~~~~~~~~~~~~
I did another layout! I'm now CT-ing (is that a word?) for the fabalicious Tracy Blankenship! Woo hoo!!!! She sells at
ScrapDish
and
Funky Playground
and is just one of the sweetest, most fun people on the planet! She's got a bunch of new product up at SD today on SALE! And she also has her awesome templates on SALE today at FPD too I see! Run! Buy now! They are so fun!
Here's a layout I did with her
Magic of Childhood Templates
.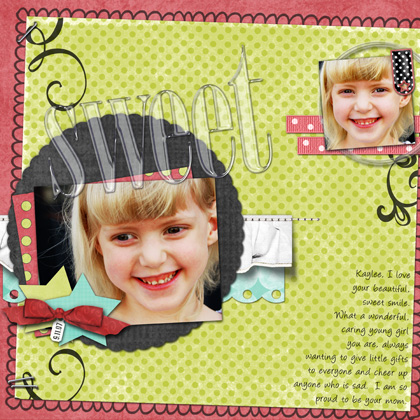 Journaling: Kaylee, I love your beautiful, sweet smile. What a wonderful, caring young girl you are, always wanting to give little gifts to everyone and cheer up anyone who is sad. I am so proud to be your mom.
Template - Tracy Blankenship
(Templates w/ Attitude-Magic of Childhood Edition)
Papers and dotted ribbon - ScrapDish Designers August 2008 Collab
Alpha - Nancie Rowe Janitz (Jumbo Acrylic Alpha)
Stitching - Tracy Blankenship (Stitched Basics Element Pack)
Doodle border - Tracy Blankenship (Borderlines-element pack)
Flourishes - Sasha Jane (Doodle Brushes)
Jewelry Tag - Jessica Bolton (Teeny-Tiny Torn Tags)
fonts - Angelina, Dirty Ego
~~~~~~~~~~~~~~~~~~~~~~~~~~~~~~~~~~~~~~~~~~~~~~~~~~~~
I think there was more scrappiness I wanted to post about, but my lunch is beeping at me, and I need to go scarf it down before it gets cold. And the kids will be home in an hour and a half! Wow, I need to work on my time management skills, or it's going to be summer break again before I know it and I won't have accomplished a darn thing! LOL