Not enough hours in the day!!!
So 2½ weeks have flown by again since I last blogged, and I really don't have time or energy to be blogging now, but at the rate things are going, I never will! LOL
First up, let's do layouts!
Here's another one using a fab-o-licious Tracy template!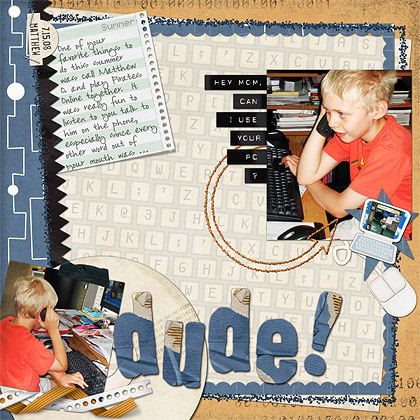 Journaling: One of your favorite things to do this summer was call Matthew O. and play Pirates Online together. It was really fun to listen to you talk to him on the phone, especially since every other word out of your mouth was ... DUDE!

Template: Tracy Blankenship
Templates W/ Attitude Set 16 at Funky Playground Designs
; Kit: Amy Knepper Shabby Geek (no longer available).
Other: Dot Cards (no longer available) by Correen Silke; tape by Amy Cheeseman (Darcy's Workbench Frills) at SBB; The Lilypad Back To School Collab: black paper by Jacque Larsen, alpha (recolored) by Kate Hadfield.
Fonts: Pea Anderson (KevinAndAmanda.com), Misproject (Misprinted Type), LD Punch Out (Lettering Delights)
And another CT layout, this time for the totally amazing Jessica Bolton!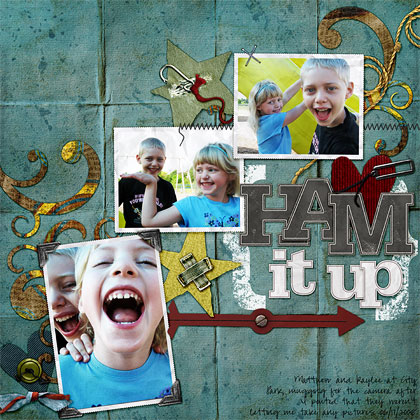 Journaling: Matthew and Kaylee at City Park, mugging for the camera after I pouted that they weren't letting me take any pictures. 06/17/2008

All by
Jessica Bolton at Scrapbookgraphics
:
Template - Eclectic Templates No. 1
, Kit -
A Pastiche For Boys
, Stitching - Eclectic Needs Variety
Straight
and
Basic Zig-Zag

Font - Pea Jenny Script (KevinAndAmanda.com)
~~~~~~~~~~~~~~~~~~~~~~~~~~~~~~~~~~~~~~~~~
Now what next, hmmm.... How about a few pictures to make the grandparents happy. LOL
Waiting for the bus in the rain last Tuesday. It wasn't quite as dark out as it seems in these pics, although those days will be here soon!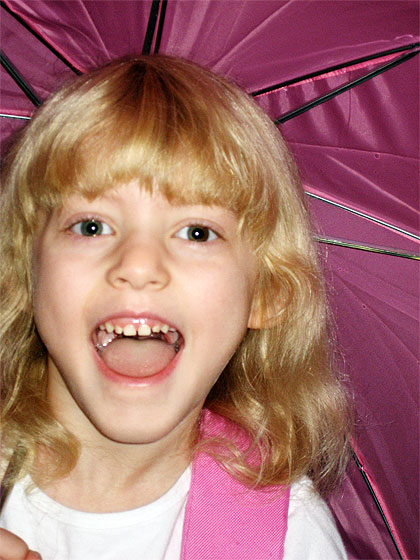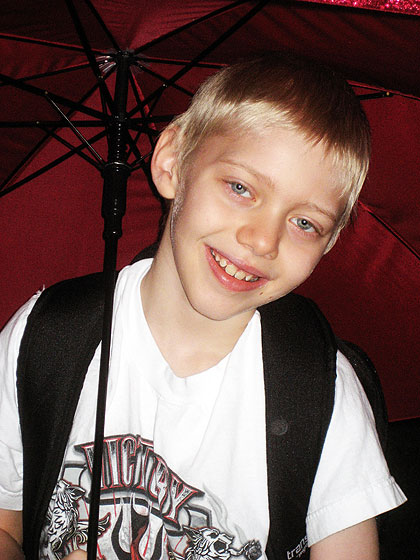 And still raining after school...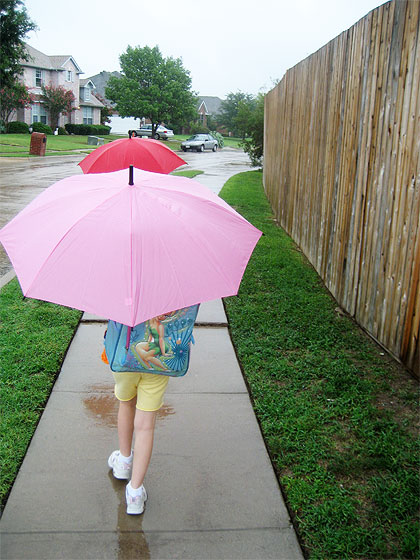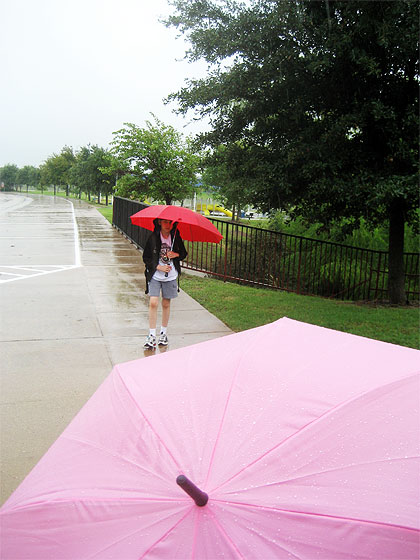 Kaylee lost tooth number 2 Wednesday night.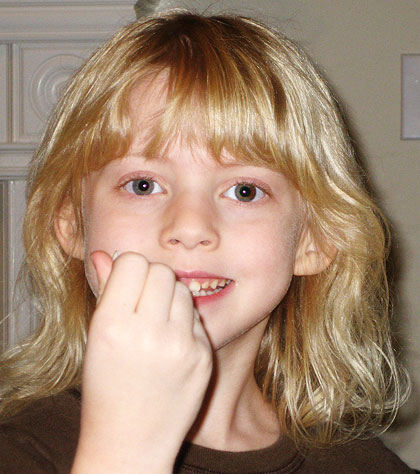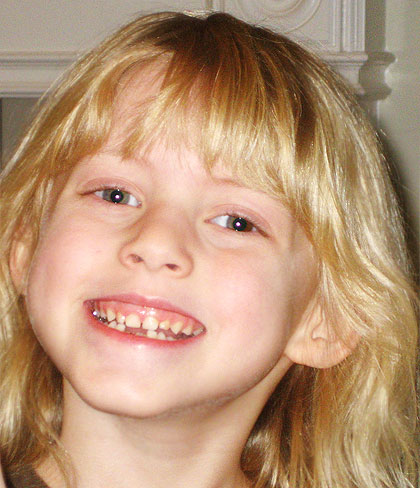 It had been hanging on by a thread on Tuesday, and she'd been trying like heck to get it out, but it wouldn't go. Mark was out that night, so she went to show him the next night, and it fell right out! LOL
Saturday we went to a bounce house party that Mark's team at work was having. The kids had a blast! The light in there was horrible, the kids were moving too fast to get a lot of times, and trying to take pictures through the ones that had net enclosures only worked about 1 out of 10 times, but here are a few shots that turned out or that I was able to somewhat salvage. :-b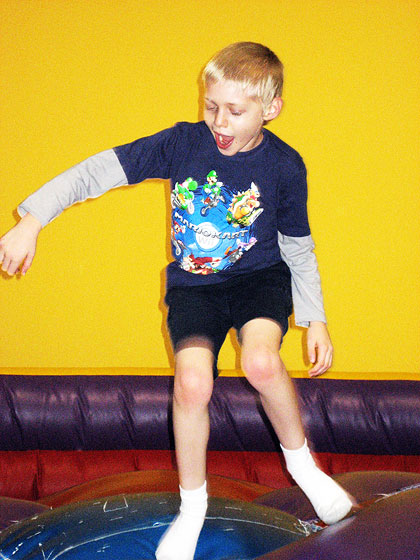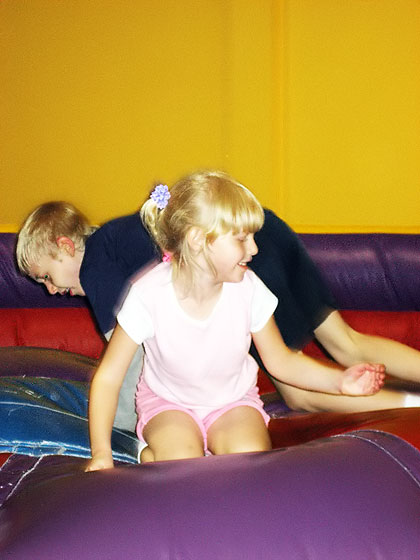 Matthew waiting his turn at basketball or bouncing, not sure which. The boxing was hilarious. The "gloves" were as big as the kids!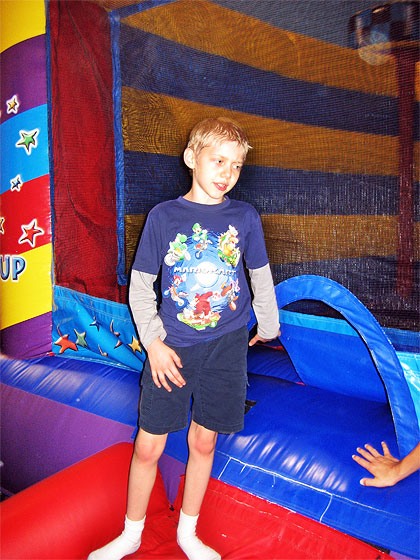 Kaylee on one of the obstacle courses.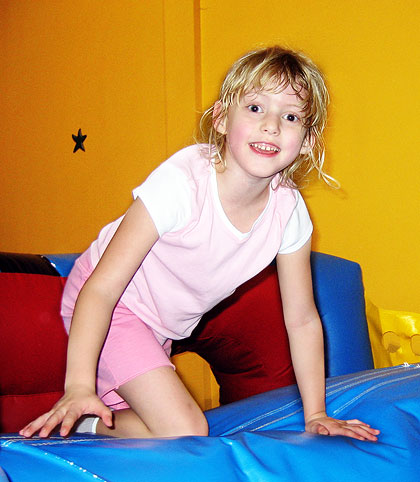 It took some major coaxing to get Kaylee to do the ones that you had to climb up these "walls" to get to the slide part. It reminded her too much of the climbing wall at school, which she hates. It was only once she was convinced that if she fell it would be soft and bouncy and she wouldn't get hurt that she finally did it, and then there was no stopping her!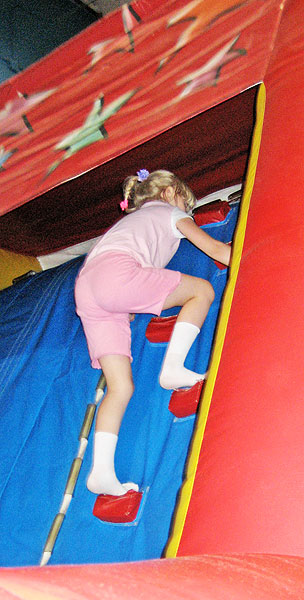 Some of the slides were really big!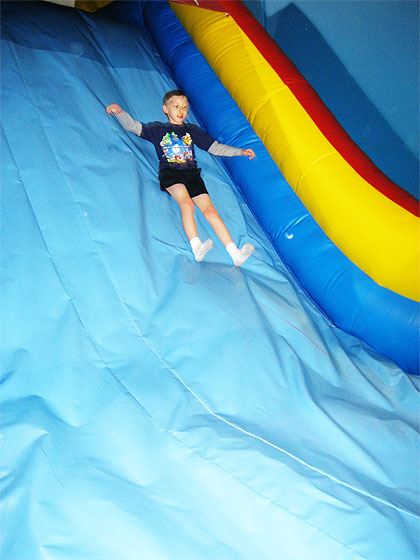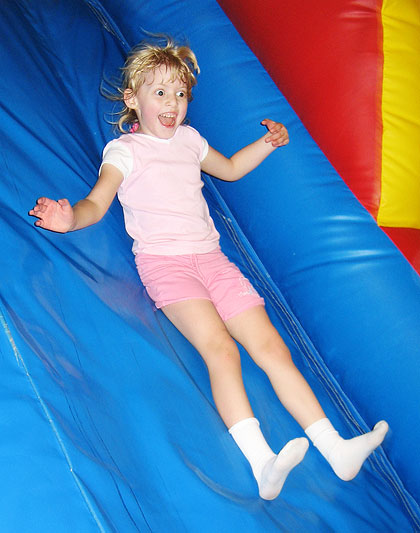 Kaylee taking a break from bouncing to rock out to the music that was playing.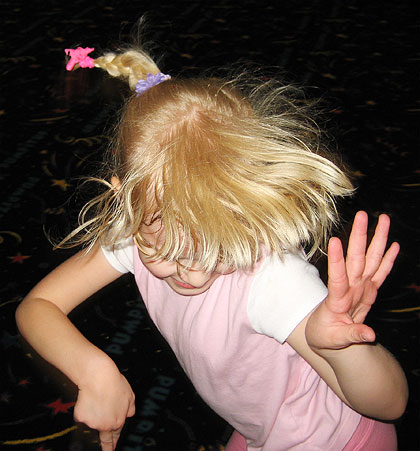 ~~~~~~~~~~~~~~~~~~~~~~~~~~~~~~~~~~~~~~~~~~
Hurricane Ike hit Texas on Saturday. We were spared and only got a little light rain. The Houston area got hit hard though, and most of the area is without power. Both of Mark's sisters and their families live in the area. We got a call Sunday afternoon asking if Susie and her family could come up and stay for a bit and try to buy a generator. They arrived Monday afternoon, and quickly discovered that every generator south of Kansas City has been shipped down to the area affected by the storm. After lots and lots of phone calls and discussion, and finding out that their power resotoration could be weeks away, they decided to head on up to BIL's family's place in Indiana so the grandparents could help Susie out with the kids if BIL needed to head back to work. So their visit lasted only a few hours, but we enjoyed it while they were here! This was our first time even meeting the adorable little Madison, and we've seen much too little of her big brother, Josh, as well!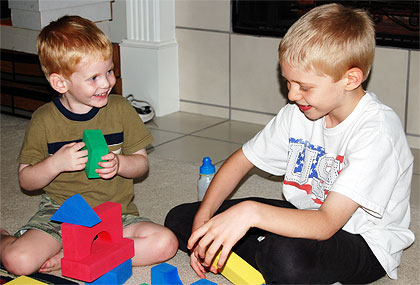 Ok, I know part of this is the camera angle, but man Kaylee looks
huge
compared to her cousins! And that's pretty much the way it felt having them here too. It's been a long time since I was around kids that little! :)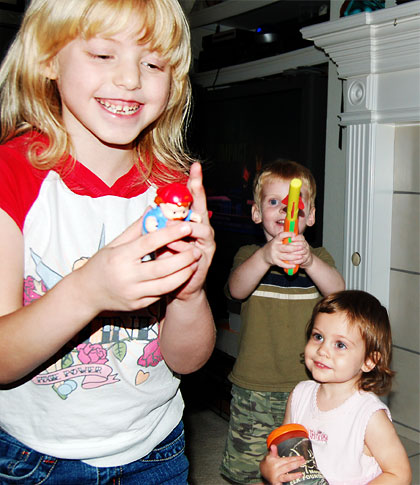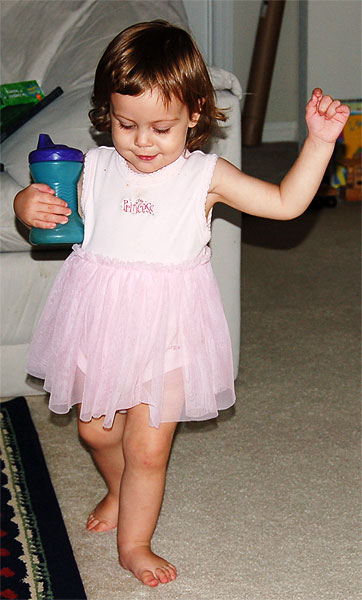 Just look at those gorgeous eyes!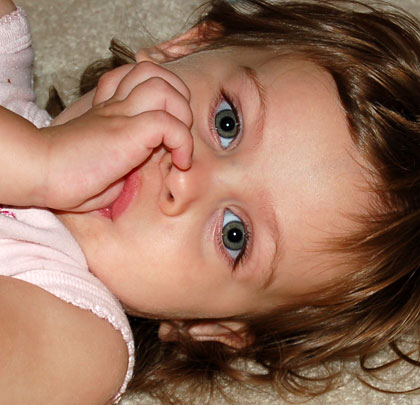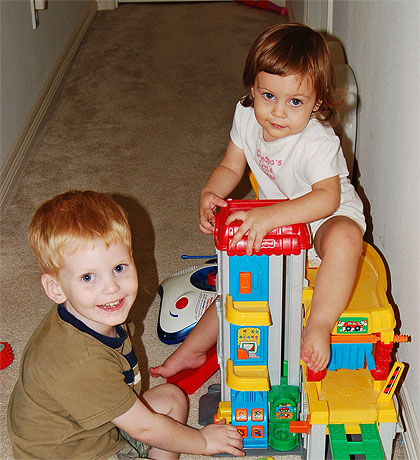 ~~~~~~~~~~~~~~~~~~~~~~~~~~~~~~~~~~~~~~~~~~
Ok, that was a lot of pictures for just a couple of weeks! LOL
I don't know too much else. I've been plugging away working on adding to my Garden Pop mini to turn it into a full kit. I'm close to having it done I think, but for some reason I feel like I'm designing in slow motion! LOL
Oh, I almost forgot! My friend
Dorsey
gave me this sweet little blog award:
I met Dorsey through a local moms' group and we joined TOPS together, although I had to let it go recently since I couldn't keep up with the meetings with Matthew's karate. Dorsey is one of the most fun, enthusiastic, kind-hearted people I have ever met, and I'm so honored that she chose me for this award. I think I'm supposed to pass it along and nominate other blogs, but I'm afraid I've been an absolutely horrible blog reader lately – much worse than my blog writing, if you can believe that, so I hope all the people on my 268 subscribed blog feeds (yes, literally 268 - I just checked LOL) will forgive me if I drop the ball!