More layouts! :)
The last two weeks have whizzed right by! We've just been keeping busy with the usual stuff. We all had some pretty major allergies (I even had to take Matthew in to see the doctor for his), but that seems to have passed now.
The kids had picture day at school last week, so we had to go get haircuts and new shirts for that. If it goes like usual, it will probably be another month at least before we get the actual photos back. We decided to order a small package of prints this year, along with a CD that we can use to print our own. I think it's the first time they've offered that option at a reasonable price, and I think it will work out much better for us.
I got a few layouts done for various things. First up is one I did for a challenge at
Peppermint Creative
. The challenge was to use a photo of yourself with
Totally Rad's
sample actions, and Peppermint Creative stuff to scrap it. The photo of me is from about 3 or 4 years ago, and I had no idea what I was going to do with it until I started playing. I just kind of let the kit take the lead. :) I didn't win the random draw for the prize, but it was chosen as one of their "
Mintspirational Monday
" layouts so that was pretty cool!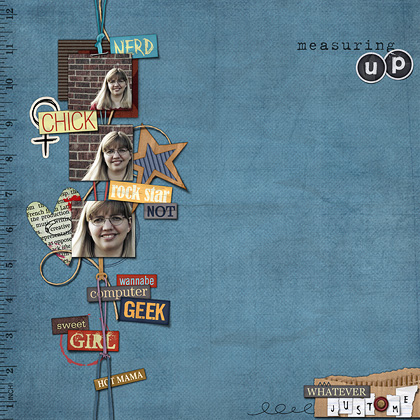 Journaling: Nerd. Chick. Rock star - NOT. Creative. Wannabe computer geek. Sweet girl. Hot mama.... Whatever. Just me.
Totally Rad Photography Actions: Slice Like a Ninja, Lux (hard), Troy, Boutwell Magic Glasses (overlay), Bitchin B&W (50%).
Font: Typical Writer by Carl Johanson.
Everything else by Miss Mint at Peppermint Creative -- Papers: Rebel One, Recycling Bin (blended). Most elements: Rebel One. Notepaper alpha, staple, ripped cardboard: Recycling Bin Bits. Doodled line: Frozen Slush. String: Lilac Garden. "Sweet": Candy Fairway. Brad: Cinnamon Tea. Measure stamp, doodle circle on heart: Little Bug. "Hot mama": Foxy Lady (recolored). Heart: Pop Rock Graffiti. Stitching: Casual Friday. Circle alpha: Skid Sticker Alphabet
Next up is one I did with SBG's latest collab, "Impressions of Comfort" for
Jess'
CT. The pics are from ones I took to do calendar magnets for the grandparents last year. We used the top left small one, but I thought the others were cute as well. :)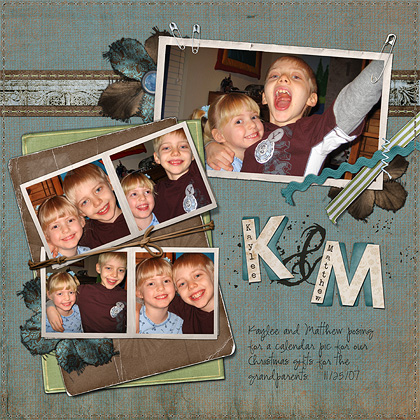 Journaling: Kaylee and Matthew posing for a calendar pic for our Christmas gifts for the grandparents. 11/25/07
Credits:
Impressions of Comfort
by Scrapbookgraphics Studiogirls
Fonts: LD Remington Portable, the King & Queen font, and CK Ali's Hand Official
Finally, one I did for a
blog challenge
Meredith Fenwick ran as part of SBG's big birthday party last weekend. Only three people entered, so Meredith, being the amazingly generous person that she is, awarded all of us the prize!!!! I got a bunch more of her fabulous goodies that I'm hoping to scrap with soon!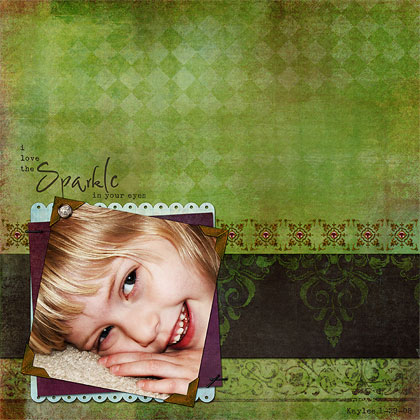 Journaling: I love the sparkle in your eyes. Kaylee 1-29-08.
Credits: Meredith Fenwick – Make It Yours contest template; Papers, brad:
September Afternoon
; Jeweled ornaments, staples, photo corners:
Everyday Inspiration Elements
.
other: Totally Rad photo actions; fonts - LD Remington Portable, Hyrule.
SBG
is such a fun place to hang out and so inspirational. They went all out for the birthday celebration with prizes and chats and challenges. I didn't have time to do any other challenges, but I did win
Maya's Anniversary Collection
by answering a trivia question at a chat and a gift certificate to
Baers Garten's
shop for making a lucky guess in "Battleship". LOL More yummy stuff I need to try to use soon!
In other non-scrappy news, Kaylee was chosen as a Citizen of the Month for September! They choose one student from each class who has best demonstrated whatever the quality is for that month. September was respect. She got one last spring too, but I can't remember what the quality was. They had an assembly at the school for the "citizens" and then a little breakfast thing that the parents could come to and take pictures when they presented them their certificates. Matthew had never gotten Citizen of the Month, so he was really jealous, especially that she got to have donuts at the breakfast (a whole 3 donut holes LOL). Here she is with the principal and assistant principal getting her certificate.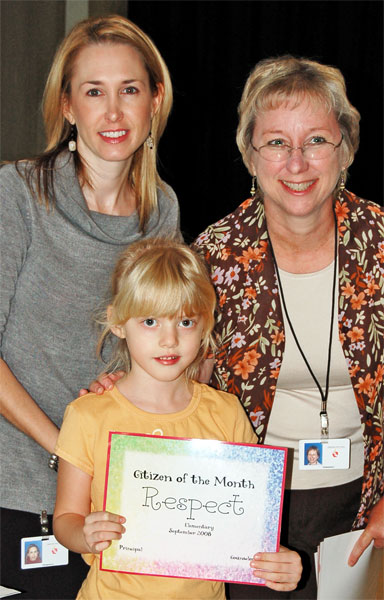 On a totally unrelated note, tomorrow just happens to be the 3-year anniversary of this blog!! My first full post was about our trip to the state fair, which I later turned into journaling for a 5-page spread! LOL I haven't always been the best blogger, but I still think that's kind of cool. I enjoy going back and looking at the old entries, remembering all the little things I would have completely forgotten otherwise. :)
That's it for now! Hope you're having a great week! :)