Um, yeah, 6 more months...
Sigh. Time flies too fast!
I've been putting off blogging, because I've been working on a nifty new blog template, actually more like a total overhaul, but I keep changing my mind about what features I want to use and what I want the layout to look like. At this rate, who knows when I will finish. LOL
So I decided to pop in here and say hi anyway! :D
We just got back from our summer road trip, and the kids are driving me up the wall again already. LOL I've been distracting myself by doing lots of scrapping this week. I actually have several other layouts from before that I haven't shown you either, but I'll save those for another day, or you can go check out
my DST gallery
if you're really interested.)
First up is a spread I did of July 4th... three years ago! LOL I actually forgot to take my camera with me this year. Mark got a few shots with his iPhone, but I haven't gotten them from him yet.
Here it is tiny; click on it to see it huge!)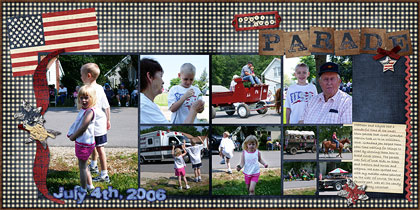 Journaling: Matthew and Kaylee had a wonderful time at the small town parade that Great Grandpa Mervin took us to in Williams, Iowa. Grandma Jan helped them pass time waiting for things to start by showing them how to braid clover stems. The parade was full of local kids on bikes and tractors and horses and wagons. We even spotted one with my maiden name painted on the side! Of course, the kids' favorite part was all the candy they collected!
Kit: Freedom Star by Candace Duffy Jones at ScrapDish
Template: Double Up Template 1 by Red Leaf DigiScrapping at ScrapDish
Bead alpha, bow: ScrapDish Designers Basics Collaborative Kit
Fonts: LD Letterpress, Bradley Hand ITC
Next up is one of Kaylee I did for the current
Hodge Podge challenge
! This one was very different for me and loads of fun to do!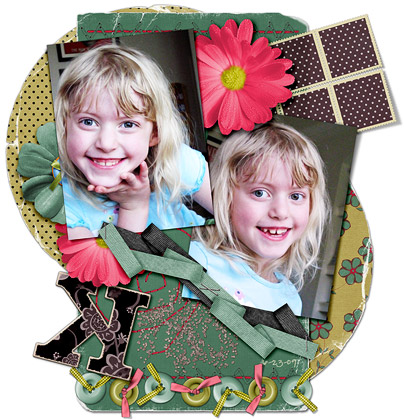 (Yes, I know the K is backwards. it looked better that way. LOL)
Kit: Momma Joe by TotallyD Designs at ScrapDish.
Worn edge overlays by SomethingBlueStudios and Amy Wolff.
Pristine Chipboard Action by Atomic Cupcake.
Fonts: Bookman Old Style, Pea Anderson.
Finally, DigiscrapAddicts is having a Battle of the Creative Teams, and I'm entered along with 4 of my fellow Jessica Bolton CTMs as team Jessie's Girls! The first challenge was to scrap white space layout, coordinating our colors (and optionally theme) as a team. We decided on blue, red and brown (with a little black and white thrown in for good measure), and a theme of "Favorite ______". Here's what I came up with: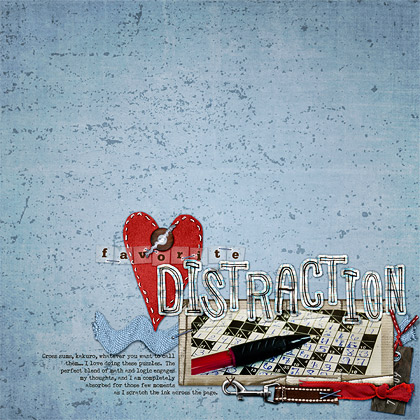 Credits: All from Eclectic Scraps by Jessica Bolton.
At Funky Playground Designs -
PooChi|full collection: brown ribbon with hardware, red ribbon, acrylic "favorite" alpha (including staples)
Trixi Pix: frame and overlay on photo
pastiche for the boys: staples on ribbons
Thrifty Doodled Alpha: "distraction"
Little Darlin' Eclectic Mini: ribbon on tag, heart, ricrac
Eclectic Needs Variety Basic-n-More Stitches: cross stitch
Bohemian Peddler Eclectic Mini: button, tag
Not currently available - Thrifty Solids Pack No. 3: background paper
Fonts: Broken 15 from Misprinted Type (date on tag), LD Remington Portable by Lettering Delights (journaling).
You can see the rest of my team's awesome layouts
here
, and if you'd like to vote for us (hint, hint), you can do that
here
!
I think that's it for today! You'll at least see me back here next week, when the voting opens for the next round! LOL