Back to School and More Layouts
Well, unfortunately, Kaylee's fever was not just a 24-hour thing – it was a 36-hour thing, followed by a few days of stomach flu symptoms. And poor me, who also ended up sick, although with somewhat different symptoms, had to deal with most of it on my own while Mark was out of town at a magic convention. So Kaylee did miss meet-the-teacher day, but she was completely better in time to go to school on Monday. I did not bounce back so quickly, being majorly sidelined with fatigue and aches and upset stomach for several days after. And now that my body is slowly recovering from that, I have a sore throat moving in. The fun never ends. :-b
Anyway, although the illness completely disrupted our normal back-to-school prep routine, we did manage our traditional pics at the front door Monday morning. Here are a few of the best shots.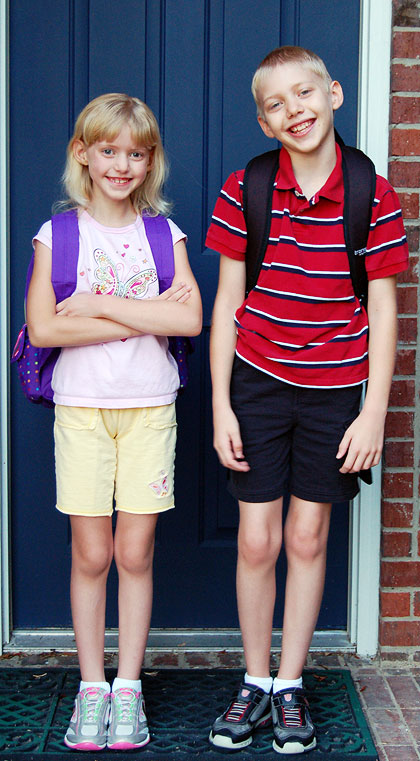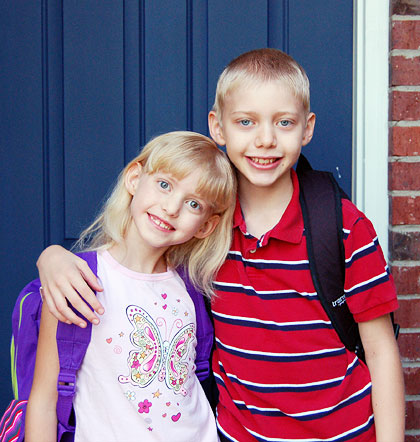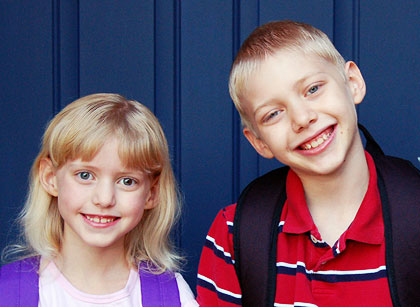 The kids, Kaylee especially, seem to have a problem maintaining eye contact. Her eyes were everywhere. And she keeps brushing her bangs "out of the way" even though they're nowhere near being in her eyes when they're down. LOL And Matthew now does this thing where he unconsciously slouches and/or tilts his head when posing, added to the existing cheesy fake smile. But at least I had two happy, healthy kids headed off to a good first day of school. :)
So we've gotten through the first week, although it doesn't quite feel "natural" again yet. The kids seem to be enjoying it so far. I haven't even seen Kaylee's teacher yet, since I was sick, so that feels really odd to me. I was well enough to go sit through the rambley 2-hour 5th grade parent orientation meeting Thursday night, so at least I've seen Matthew's teacher.
Because of the age difference, this will be the last year the kids both go to the same school. It's going to seem really odd next year to be sending them off at different times (the middle school schedule runs 45 minutes later) to different places!
On to the layouts...
First up is another ScrapDish layout. I went way back to Kaylee's earlier princess-y days (age 3½) to use this fun
fairytale kit
by Melissa Daniel.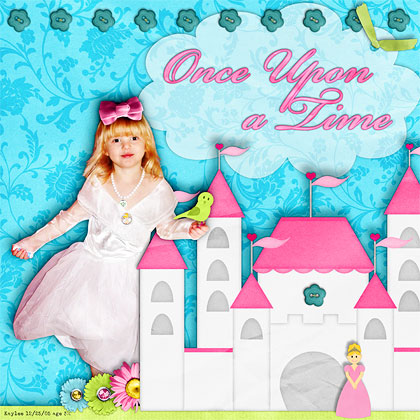 Kit: Once Upon a Dream by Melissa Daniel at ScrapDish
Font: LD Remington Portable
Here's another one of Kaylee I did with Jessica Bolton's gorgeous
"Glenda"
. I love the colors in this one and had used bits of it before, but this was the first time I used it as a whole.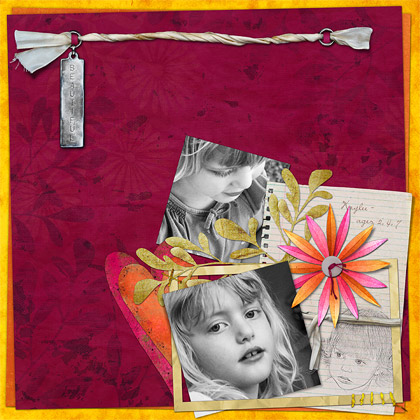 Kit: Glenda by Jessica Bolton at Funky Playground Designs
Sketch action by MCP Actions.
Font: Bayern Handschrift NF
And finally, I don't normally even really look at CT calls, but I accidentally stumbled upon one for
PixelWorks
at ScrapArtist. I've always loved her style, so I applied on a whim and was over the moon when I got accepted! Here's my first layout for her, using an
amazing collab
with two other fab designers - Kate Hadfield and Rachel Young. This is the kids getting off the bus on their last day of school this past spring. It seems like it was just last week. Where did the summer go?!?!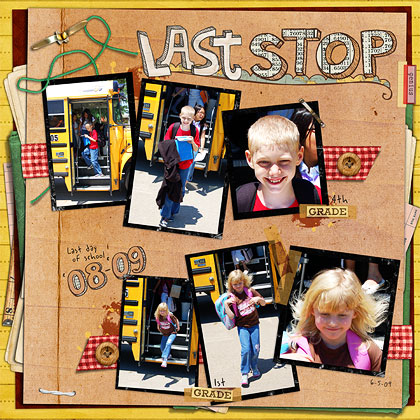 Kit: Funky Junky Old School by PixelWorks, Kate Hadfield and Rachel Young at ScrapArtist
Font: Onder Px

That's it for now! Hopefully, I'll be back healthy next time!! :)