BOTCT Round 3 Layout!
It's another BOTCT layout!! This time our team had to come up with a formula for the number of items we would use according to a countdown type format. Our formula was:
10-flowers
9-buttons
8-stitches
7-journaling strips
6-staples
5-arrows
4-papers
3-photos
2-alphas
1-font
Here's my layout with a few pics I snapped of Kaylee at a park in Iowa on our road trip last month.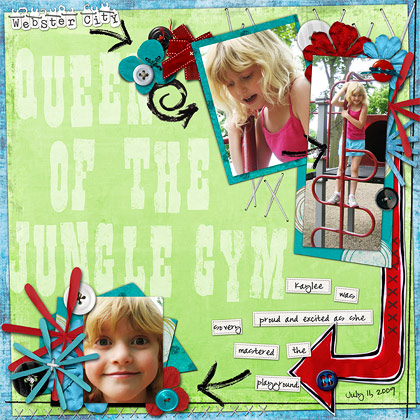 Journaling: Kaylee was so very proud and excited as she mastered the playground. July 11, 2009
Credits: All from Eclectic Scraps by Jessica Bolton at Funky Playground Designs (some items not currently available).
10-flowers: Delight in Photographs Part 3 (3), Delight in Photographs Part 2 (2), Little Darlin' (1), Thrifty Blooms (3), Brighten Up Winter (1)
9-buttons: Outnumbered Girl (1), Whatever Mama! (1), Eclectic Needs Variety Designer Variety (2), Eclectic Needs Variety Neutral Colors (5)
8-stitches: Eclectic Needs Variety Basic-n-More Stitches (6), Delight in Photographs Part 3 (1), Home Life Eclectic Kit (1)
7-journaling strips: Little Darlin' (7)
6-staples: Teeny-Tiny Torn Tags (6)
5-arrows: Delight in Photographs Part 2 (1), Painted Arrows (4)
4-papers: Delight in Photographs Part 3 (1), Delight in Photographs Part 2 (1), Thrifty Solid Pack No. 1 (2)
3-photos
2-alphas: Teeny-Tiny Torn Tag Alphabet, Thrifty Stamped Alpha
1-font: Pea Anderson (Kevin & Amanda's Fonts for Peas)
And the Round 3 voting is on! You can see all of my team's layouts
here
and go vote for Jessie's Girls
here
. And it looks like the voting glitch from last round has been fixed! At least I haven't seen any complaints yet! LOL
Just one more round to go! it will be interesting to see if I can keep my scrapping momentum going once the contest is over! LOL