First Day layout, Camp, Star Student
Howdy! I'm back with another layout! I had lots of fun scrapping a couple of the pics from the kids' first day of school with some of Jess' new goodies!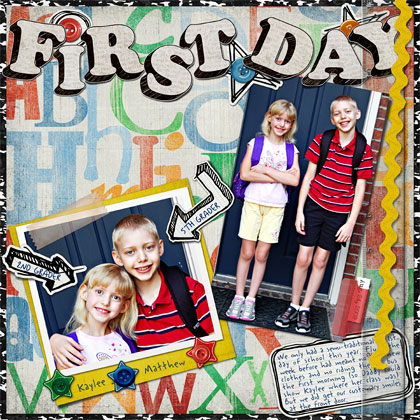 Journaling: We only had a semi-traditional 1st day of school this year. Flu the week before had meant no new clothes and no riding the bus the first morning (so Daddy could show Kaylee where her class was). But we did get our customary smiles at the front door.
All by Jessica Bolton at Funky Playground Designs.
Kit: Primarily Educational
Alpha: Basically Shadowed Alpha
Fonts: Onder Px, LD Remington Portable
Update on us... Matthew's fever and cough knocked him out for the rest of last week. He was well enough to go to his 5th grade camp this week though. They spent 2 nights at a facility about an hour northeast of here. He had a terrific time in spite of a lot of rain, with archery being his favorite part. He also went canoeing and fishing, played games, and had lots of nature lessons. He's just full of information on the prairies and plants and such now. :)
Kaylee ended up getting sick last week too. She missed school Thursday and Friday with a fever, but thankfully never developed much of a cough. She's doing fine this week, and as you may have guessed from the post title, she was selected to be her class Star Student today!! She gets all kinds of special privileges next week and just generally gets to be the center of attention. :)
I took a few quick shots of her with her certificates and let her pick which one to use. She chose this one because she thought it was funny that her eyes were so big. LOL She was trying not to blink, a tendency she inherited from her dad. ;)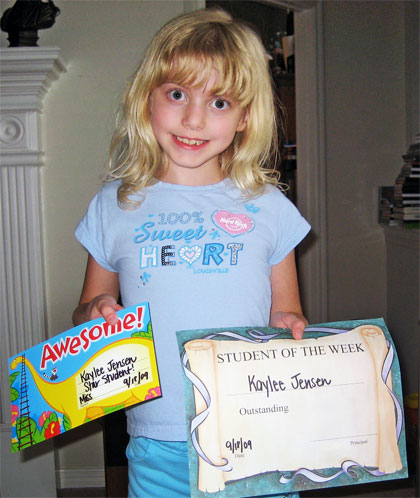 We're mostly likely just going to keep the next couple of days low-key and hang out at home, especially since Matthew's still a bit drained from being sick/camp. I could do with some extra nap time myself. ;) Have a great weekend!