Geekin' out!
PixelWorks
has a new kit out today called
Geekazoid
, and I squealed when I saw it! So packed full of delicious
geekitude
! First I just had to do a layout about how, in spite of my deep down
geekiness
, I used to absolutely hate computers.
LOL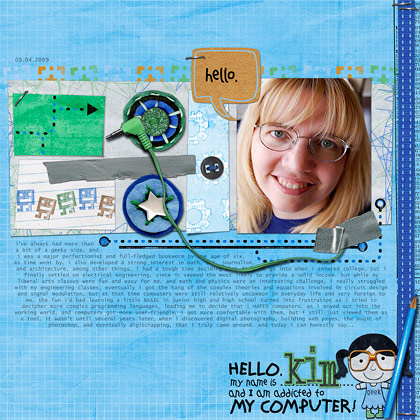 Journaling

: I'

ve

always had more than a bit of a geeky side, and I was a major perfectionist and full-fledged bookworm by the age of six. As time went by, I also developed a strong interest in math, art, journalism, and architecture, among other things. I had a tough time deciding what field to go into when I entered college, but I finally settled on electrical engineering, since it seemed the most likely to provide a solid income. But while my liberal arts classes were fun and easy for me, and math and physics were an interesting challenge, I really struggled with my engineering classes. Eventually I got the hang of the complex theories and equations involved in circuit design and signal modulation, but at that time computers were still relatively uncommon in everyday life and very foreign to me. The fun I'd had learning a little BASIC in junior high and high school turned into frustration as I tried to decipher more complex programming languages, leading me to decide that I HATED computers. As I moved out into the working world, and computers got more user-friendly, I got more comfortable with them, but I still just viewed them as a tool. It

wasn

't until several years later, when I discovered digital photography, building web pages, the magic of

Photoshop

, and eventually

digiscrapping

, that I truly came around. And today I can honestly say... [Hello. My name is Kim and I am addicted to my computer!]
Then I just had to come back and do a purely for fun layout using this super-cool TV! Don't the kids look cute in
cyber
-glasses?
LOL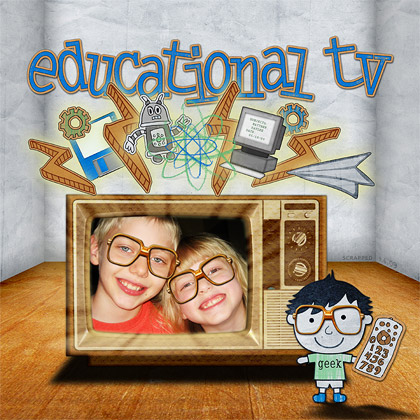 Text on computer: "Subjects: Matthew, Kaylee. Date: 05/18/09"
Text on walls: "Scrapped 9.6.09"
Hope you had a good Labor Day weekend! The kids and I just hung out and home and relaxed, while Mark went down to Houston for the annual state magic convention. Poor Matthew woke up yesterday with a cough though, and he had a fever by noon. Fortunately, he feels reasonably
ok
when the
ibuprofen
is working. But he's disappointed about having to miss school. Keeping my fingers crossed that this will be a quick thing, and he'll be able to go back in a couple of days.