Catching up... layouts, pics, products
The past month completely got away from me! So settle in for a good long catch up post! :)
Lets go with new products first, so if you're just here for that stuff, you'll be able skip the rest. ;)
I have a huge collab out that I'd been working on with a bunch of friends for quite a while. It was so fun to see everyone's styles come together. We finally got everything organized and into the store. I love the way it turned out!
Girlfriends
is brought to you with love by Amy Knepper, Jessica Bolton, Kim Jensen, Melinda Staley, Robin Cabana, our friend Rose, Tania Shaw, and Tracy Blankenship. It's available in my shop in several options -
papers
,
elements
,
templates
,
alphas
, or
full collection
. There are some great sample layouts by Robin, Jess, and Raji there too. :)
Next up is a fun new alpha!
Burst My Bubble
is hand cut with a knife from a bubble-lined kraft envelope. It was quite a challenge to get this extracted, but I wanted something with a realistic edge to it. I'm so jazzed with the way it turned out!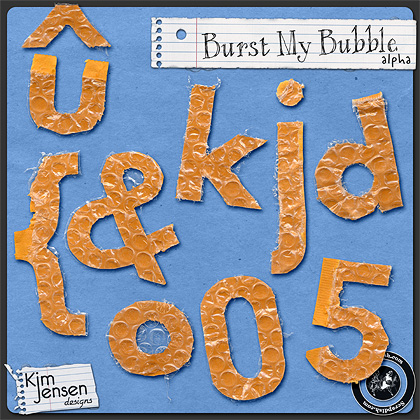 It's on sale now through Monday, November 23rd at 40% off! And if you are a member of
my Yahoo group
, you can grab a coupon for an extra 25% off!!
Now on to layouts and stuff! :)
My second ScrapDish layout for October was using Caroline B's
Earth Angel
. I went waaay back and pulled a pic of Kaylee at about 11½ months old and just had fun playing. :)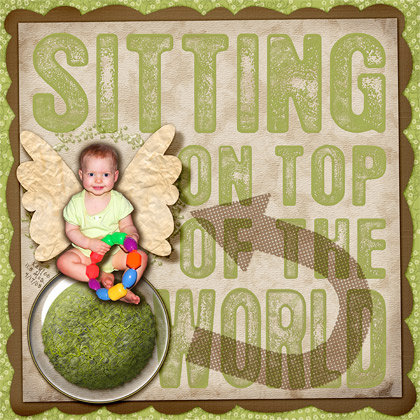 Fonts: Hotel Coral Essex, Pea BethC
For November, I got to work with this fun kit by Shelly,
Wintry Daze
, and a
template
by our newest designer, Daniela.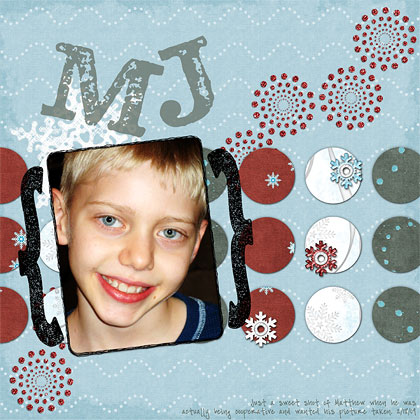 Journaling: Just a sweet shot of Matthew when he was actually being cooperative and wanted his picture taken. 2/18/09
Fonts: Pea BethC, LD Letterpress
For my second November ScrapDish layout, you'll need to read all my rambling below and see it in context. LOL
PixelWorks came out with an awesome new kit that I just couldn't wait to get my hands on.
Rebel Rock
was so much fun to play with that I just had to do two layouts!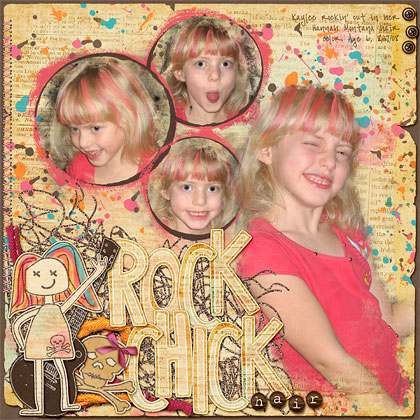 Journaling: Kaylee rockin' out in her Hannah Montana hair color. Age 6, 8/17/08
Credits: Rebel Rock by PixelWorks at Scrap Artist. Font: Pea BethC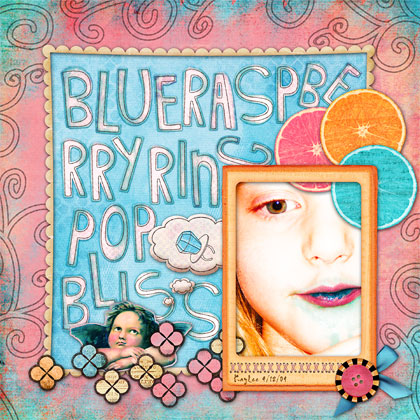 DD was bright blue from her teeth to her chin after eating a ring pop from her Easter basket. :)
Credits: Rebel Rock by PixelWorks at Scrap Artist.
Font: VNI-HLThuphap
Ring pop doodle by me, based on image from ringpop site.
Now general stuff...
A few more shots of Kaylee from the previously mentioned red ribbon week. October 27 was pajama day and just also happened to be the day Kaylee got called to the principal's office. She had no idea why and was quite nervous, but it turned out that she was asked to down there to sign her name in the "Good Book" as recognition for a little "Stick Man" comic book she had drawn and written all on her own as a gift for her teacher. The teacher loved it, they read it to the class, and then she sent it on down for the principal to see.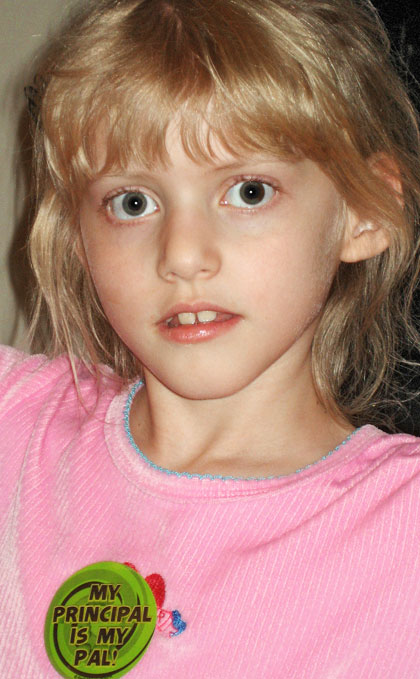 The names of the kids who sign the "Good Book" are drawn at random to get to have pizza with the principal, and Kaylee was lucky enough to be drawn, so it was another nice treat for her. In my day, I don't think eating with the principal would have been considered a reward, but these kids love it. :)
October 30 was Kaylee's class' "Wacky Day". Here's the look we ended up putting together for her. :)

And a close up of the back of her hair, along with proof that she had her shirt on backwards, since the buttons are really the only way to tell. LOL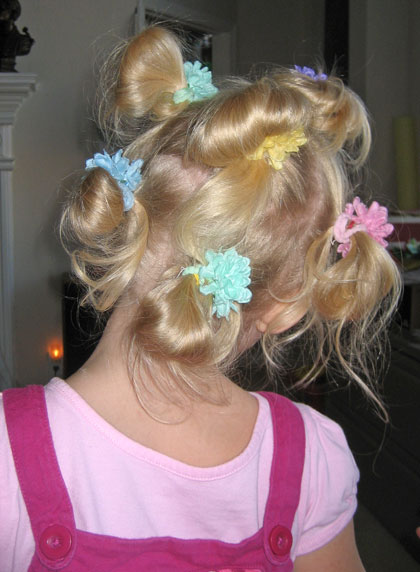 Now on to Halloween... first, the bad news in the form of my other ScrapDish November layout...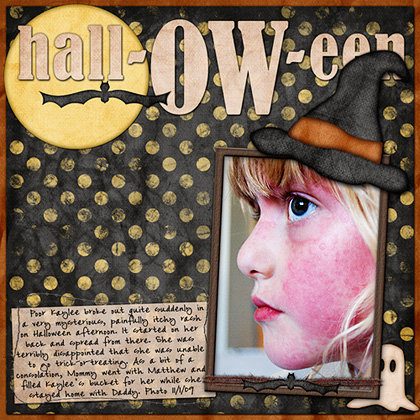 Journaling: Poor Kaylee broke out quite suddenly in a very mysterious, painfully itchy rash on Halloween afternoon. It started on her back and spread from there. She was terribly disappointed that she was unable to go trick-or-treating. As a bit of a consolation, Mommy went with Matthew and filled Kaylee's bucket for her while she stayed home with Daddy. Photo 11/1/09
Kit: Spooky Mini kit by Red Leaf DigiScrapping at ScrapDish
Fonts: Pea Anderson, Bernard MT Condensed
We never did figure out exactly what caused the rash/hives. Our best guess is a contact allergy from concentrated detergent that didn't get rinsed well enough from her clothes. (I've been double rinsing everything since.) She never ran a fever, but the hives kept changing, moving from one spot to another. She'd get about two hours of relief out of every four-hour dose of Benedryl, and was so very miserable in between. The hives were still making random appearances on Monday, and there were a few minor flare-ups on Tuesday, but she was able to finally return to school on Wednesday.
Back to Halloween night, here is Matthew as Megatron defending his haul of candy...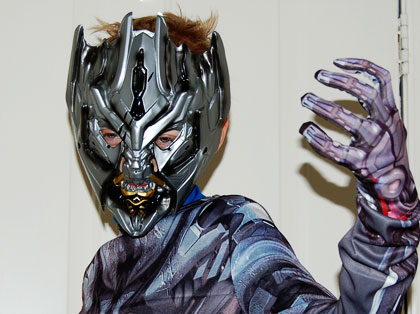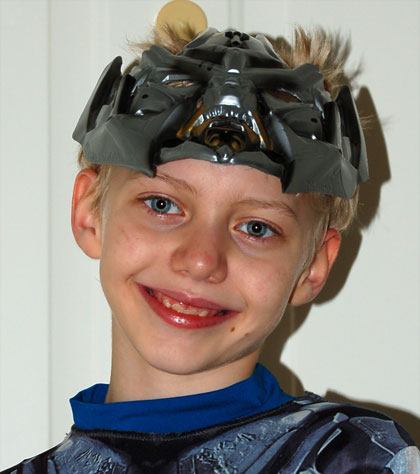 Since Kaylee was unable to go trick-or-treating, we had little mini-party for her the following weekend. We had Bagel Bite pizzas and brownies with Halloween sprinkles, and then we all got dressed up and played games.
Here are Mummy Mark and the Glinda and Megatron in full Halloween gear...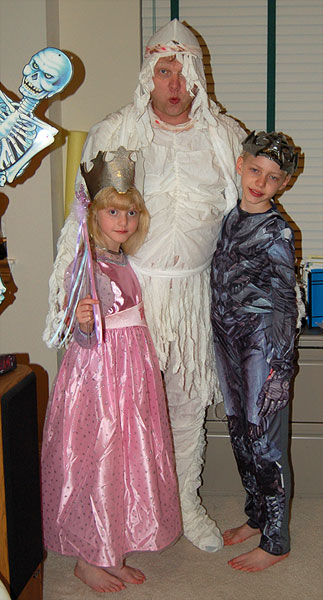 And here I am with the kids, looking our most ferocious. ;)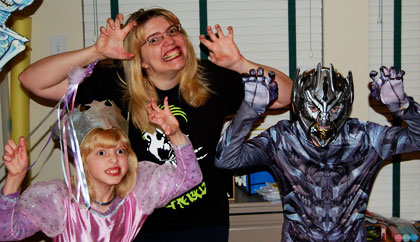 I have some old costumes buried somewhere in my closet, but it's quite a mess, and by the time I found one, the party would have been over, so I just put on some creepy dark lipstick and grabbed a spooky old t-shirt from my brother's high school garage band. (I did say it was old. LOL) The kids were more interested in the lipstick, since I never wear makeup of any sort, let alone something that... um... blatant. :-b
The game of the night was
In a Pickle
. My folks had picked it up for us a while back, but we thought Kaylee was too young for it, so we just opened it for the first time that night. Kaylee still needed some help with a few of the words and strategy, but it was a lot of fun, and we played several more times after that. :)
I guess that's it for now. I'm sure I've skipped over a lot of stuff that's happened in the past month, but this post is more than long enough! I'll try not to wait so long next time. :)