I have a bunch of CT layouts to show you tonight. :)
First up are a couple with
PixelWorks'
latest releases for the new Artist to Artist coordinating products at ScrapArtist. I loved the snowy, wintry look of some of the pieces, so I went back to these pics of Matthew from 2004... the last time we had any appreciable snow. LOL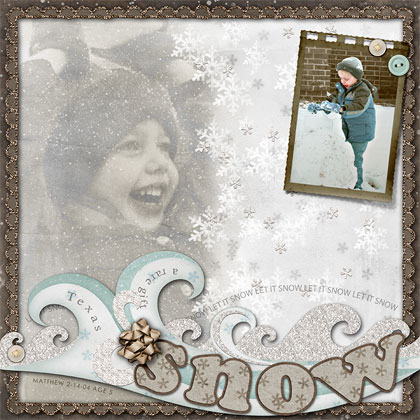 PixelWorks' Artist to Artist: December at ScrapArtist - Blustery Day Mini-kit, All the Trimmings, Fa-la-la Frames, Bits & Baubles, Wintry Alpha.
Fonts: Century Gothic, Calisto MT
And then a layout using the pic of the kids that we put in our Christmas newsletter last year.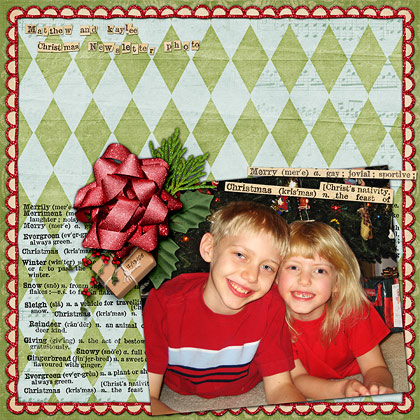 PixelWorks' Artist to Artist: December at ScrapArtist - Elegant Holiday, Fa-la-la Frames, Bits & Baubles, Clip-tionary: Holidays. (title work cut from Clip-tionary pieces)
Font (date): Pea Swimmy Script
My friend Tania Shaw is
guesting at The Digichick
this month! I was thrilled to get to use her fun new Christmas kit,
Krafty Xmas
, to do these next two. :) The first uses a photo from the same shoot as the layout just above. :)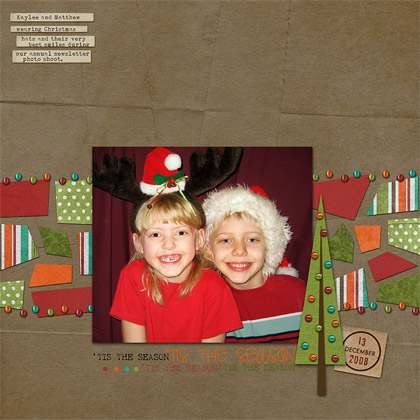 Journaling: Kaylee and Matthew wearing Christmas hats and their very best smiles during our annual newsletter photo shoot.
Kit: Krafty Xmas by Tania Shaw, December Guest @ The Digichick.
Fonts: LD Remington Portable, Dirty Ego.
This one uses a shot of our mantle after Santa filled the stockings last year.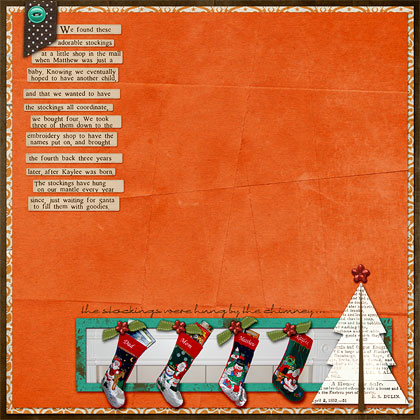 Journaling: We found these adorable stockings at a little shop in the mall when Matthew was just a baby. Knowing we eventually hoped to have another child, and that we wanted to have the stockings all coordinate, we bought four. We took three of them down to the embroidery shop to have the names put on, and brought the fourth back three years later, after Kaylee was born. The stockings have hung on our mantle every year since, just waiting for Santa to fill them with goodies.
Kit: Krafty Xmas by Tania Shaw, December Guest @ The Digichick.
Fonts: Elegance, Times and Times again.
Finally, here's one I did today with one of my kits for ScrapDish this month. I was looking through some of my photos from this fall that I hadn't scrapped yet and knew
this kit
by Candice Wong would be perfect for this shot of Kaylee. :)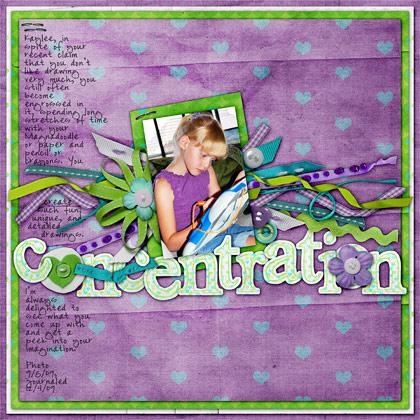 Journaling: Kaylee, in spite of your recent claim that you don't like drawing very much, you still often become engrossed in it, spending long stretches of time with your Magnadoodle or paper and pencil or crayons. You create such fun, unique, and detailed drawings. I'm always delighted to see what you come up with and get a peek into your imagination. Photo 9/5/09, journaled 12/4/09

Kit: My love never expires by Candice Wong at ScrapDish
Font: Pea Anderson
That's about it for now. We're just trying to stay warm (it's 34°F here now, anything below 60°F is cold to me LOL) and get ready for Christmas. We rearranged furniture today to make room for the tree and pulled all the boxes out of the attic. We're hoping to get the bulk of the decorating done tomorrow. :)
Have a great weekend! :)