Can U Hear Me Now, Beary Sweet?
Such fun products I got to work with for my ScrapDish layouts this month! :)
First up is one with one of my photos from the 24th, along with a couple more taken at the same time. I loved the gorgeous textures and colors of these papers, and the swirls, hearts and tags are just so cute! I could see all of these as being go-to products that I could use in all kinds of layouts.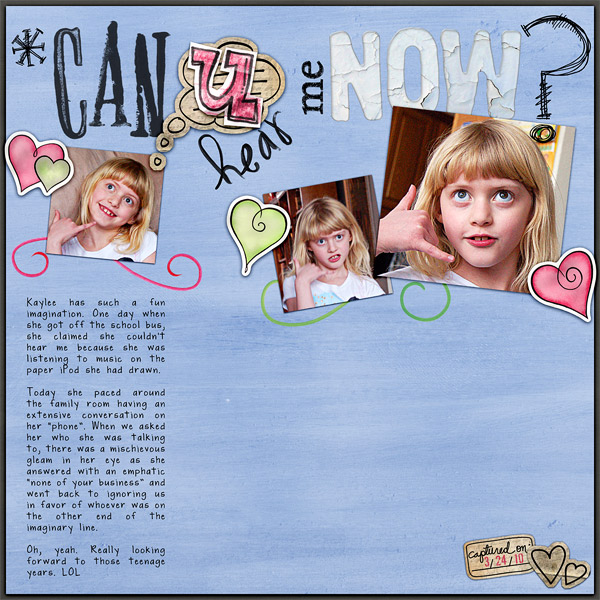 Journaling: Kaylee has such a fun imagination. One day when she got off the school bus, she claimed she couldn't hear me because she was listening to music on the paper iPod she had drawn. Today she paced around the family room having an extensive conversation on her "phone". When we asked her who she was talking to, there was a mischievous gleam in her eye as she answered with an emphatic "none of your business" and went back to ignoring us in favor of whoever was on the other end of the imaginary line. Oh, yeah. Really looking forward to those teenage years. LOL [captured on 3/24/10]
Credits: Available at ScrapDish: Color-Washed Canvases and Skinny Strokes, Swirls, and Squiggles by Jill D-Zines. All My Hearts by MerCas Designs. Tag It by Ju Oliveira.
Other: Title alphas - punctuation: Oh Happy Day by CD Muckosky; can: Hand Stamped Alpha by Michelle Coleman; u: Doodley Do (recolored) by Pamela Donnis; hear: Free Spirit by CD Muckosky; me: Scribbled Alphabet by Miss Mint; now: Crackled Alpha by Aja Abney. Fonts: Pea Cari (Kevin & Amanda's Fonts for Peas), Dirty Ego (Eduardo Recife).
Next is one with a shot from a movie night last month (the opposite view from the one I chose to share on my P365 blog). :) Kaylee was curled up next to me with her freshly washed Doodle Bear to watch the movie (Ice Age: Dawn of the Dinosaurs). I especially loved this gorgeous damask paper from the kit, and there was a great mix of pretty and whimsical elements to choose from. :)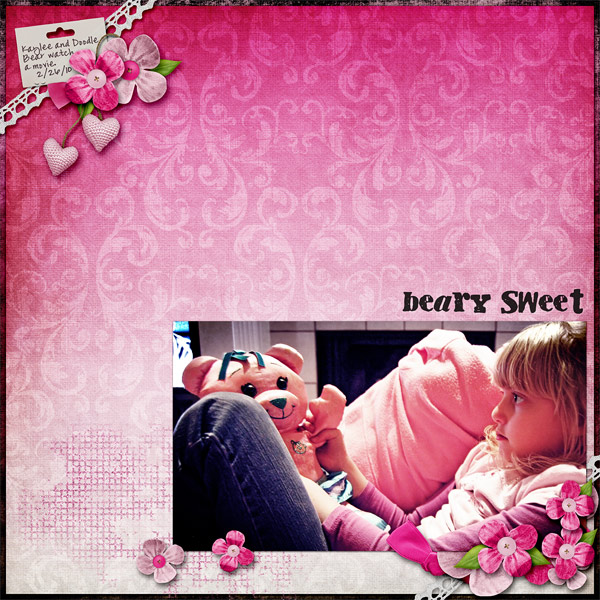 Journaling: Kaylee and Doodle Bear watch a movie. 2/26/10
Kit: Beary Sweet by ScrapShana at ScrapDish. Font: Pea Anderson (Kevin & Amanda's Fonts for Peas).
Thanks for looking! :)