The Band Boy & Neverland
I posted a bit on my P365 blog about Matthew's band instrument selection meeting back when it happened. We got the happy news last week that he was approved for his first choice – saxophone!!! Matthew was thrilled! I'm sure it would have been interesting for him to learn trombone, but he just really loved the sax and was way more excited about the possibility of playing it, so we were very glad that worked out. And, of course, since that's what Mark played when he was in school band, he's pumped that Matthew is following in his footsteps. :)  Now we just have to go about finding Matthew a sax and all the little stuff to go with it, and figure out if we are going to be able to do the private lessons they recommend.
Next up is a layout. PixelWorks has an awesome new kit out called "Where Are We?". (If I tell you we have no idea where we are, can you guess what TV show inspired it? LOL) It has a sort of pirate-y/island type of theme, and when I saw a challenge at Log Your Memory to do a layout inspired by a children's book, I just knew I had to scrap this super-cool Peter Pan pop-up book that Matthew got for Christmas! :D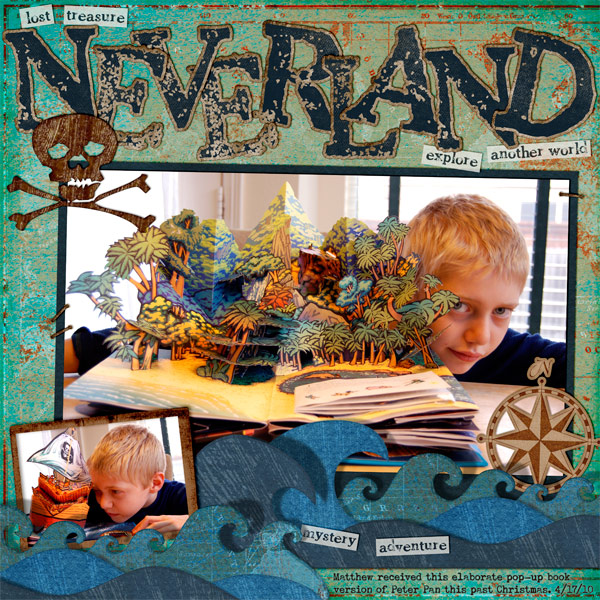 Journaling: Matthew received this elaborate pop-up book version of Peter Pan this past Christmas. 4/17/10
The book is by Robert Sabuda. The Amazon listing has photos and a video of the pages. :)
Credits: Where Are We? - Full Kit by PixelWorks at ScrapArtist. Font: LD Remington Portable.
That's it for here for right now! I'm running behind posting on my P365 blog, so I'm going to see if I can get a few of those up before I run out of steam tonight! :)