Layout: 42
Somehow the last half of May and all of June has zipped by in a big frenetic blur. And somewhere in all of that mess, I turned 42! How can that possibly be? Surely, I can't be a day over 26. But, then that would have meant I became a parent before the age of 15, which is most definitely not the case. LOL So I guess I must accept reality. :)
It's odd – when I was younger, I always knew off the top of my head exactly how old I was, and it felt as if that was an intrinsic part of who I was. Now age just seems to be some abstract number floating around in my peripheral vision, flitting out of view if I turn towards it. These days, if someone asks me how old I am, I often actually have to stop and think about it and do the math. The other day I even had a hard time summoning up what the actual current year was, giving me no starting point from which to calculate. Perhaps the first stages of senility? LOL Nah, more likely just a result of too much chaos, mixed in with a little fatigue. :)
Anyway, the layout below includes a quick self-portrait I snapped on said 42nd birthday. :) It's using PixelWorks' latest fabulousness, a yummy little vampire-inspired kit called "Irrevocably In Love".  As you can see, it can be used for much more though! :)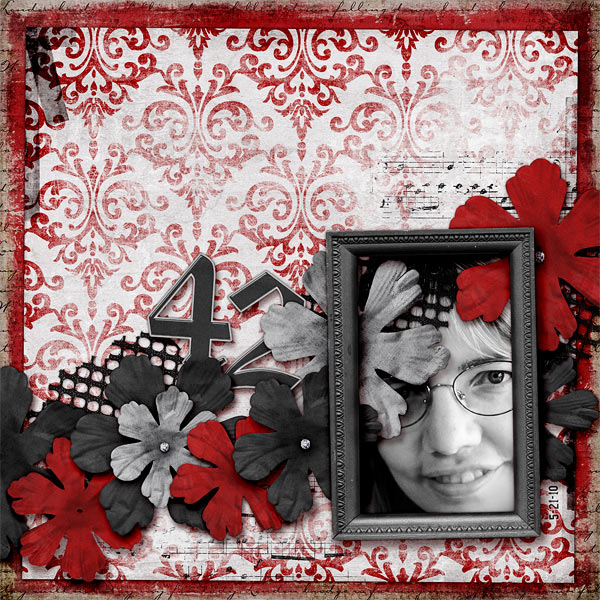 Irrevocably In Love Papers, Elements, and Alpha by PixelWorks at ScrapArtist.
Font: Misproject by Misprinted Type.
If you want to know more of what I've been up to over the last month or so, you can check out my P365 blog. I'm still a couple of weeks behind, but I'm working on it. I picked up a nasty head cold or something that has fairly effectively sidelined me for the last week or so, leading to many extra hours in bed, and a very mushy brain and non-existent energy level when I'm actually vertical.  Hopefully, I'll be able to shake this nonsense and get back up to speed soon!