Layouts: Why the Storm?
I'm happy to report that I finally shook whatever nasty cold or whatever it was I had. Only now I'm dealing with the fact that I've screwed up my sleep schedule to the point that I'm considering just becoming nocturnal. :b
On to the layouts! PixelWorks' newest kit, "Don't Rain On My Parade", is full of her artsy, quirky style that I just love. First layout up is a story that is a huge memory for me.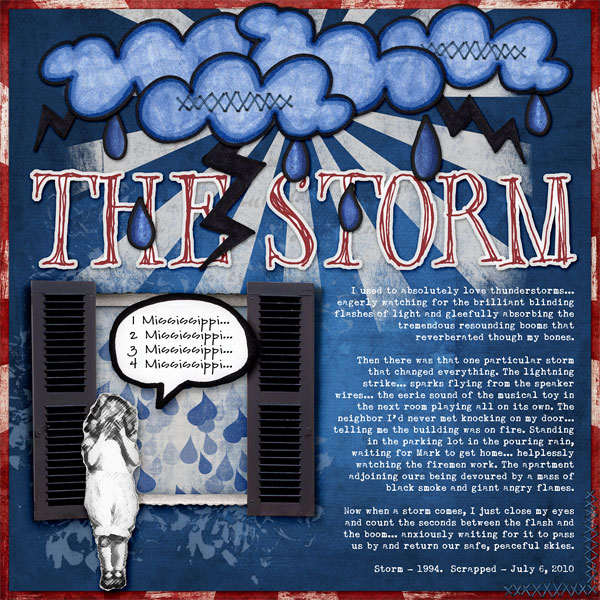 Credits: Don't Rain On My Parade Papers and Elements by PixelWorks at ScrapArtist.
Fonts: title - Blackout Serif Px (Kemie Guaida), journaling - LD Remington Portable (Lettering Delights), Mississippi - Pea Anderson (Kevin & Amanda's Fonts for Peas).
The Journaling reads:
I used to absolutely love thunderstorms... eagerly watching for the brilliant blinding flashes of light and gleefully absorbing the tremendous resounding booms that reverberated though my bones.

Then there was that one particular storm that changed everything. The lightning strike... sparks flying from the speaker wires... the eerie sound of the musical toy in the next room playing all on its own. The neighbor I'd never met knocking on my door... telling me the building was on fire. Standing in the parking lot in the pouring rain, waiting for Mark to get home... helplessly watching the firemen work. The apartment adjoining ours being devoured by a mass of black smoke and giant angry flames.

Now when a storm comes, I just close my eyes and count the seconds between the flash and the boom... anxiously waiting for it to pass us by and return our safe, peaceful skies.

Storm - 1994. Scrapped - July 6, 2010.
In the end, other than a little smoke, our apartment was fine, thanks to excellent fire walls. We just had to replace the answering machine and VCR, which were damaged by the lightning, and rehang a very overloaded storage shelf in our closet that the firefighters accidentally knocked down when checking our attic. Oh, and we spent the night on some friends' incredibly uncomfortable futon, since our power was out, but, fortunately, that was it. It's been over 15 years since that fire, but every major thunderstorm still takes me right back to that day.
Next up is one about Matthew…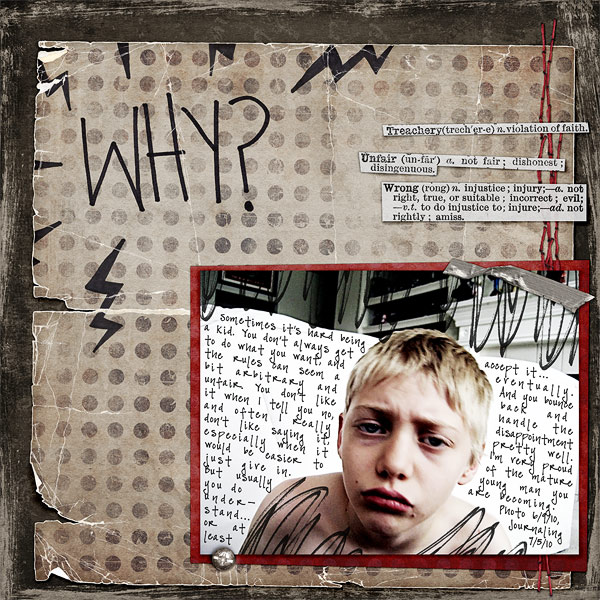 Credits: Don't Rain On My Parade Papers and Elements by PixelWorks at ScrapArtist.
Worn overlay by Something Blue Studios. Font: Pea BethC (Kevin & Amanda's Fonts for Peas).
Journaling:
Sometimes it's hard being a kid. You don't always get to do what you want, and the rules can seem a bit arbitrary and unfair. You don't like it when I tell you no, and often I really don't like saying it, especially when it would be easier to just give in. But usually you do understand... or at least accept it... eventually. And you bounce back and handle the disappointment pretty well. I'm very proud of the mature young man you are becoming. Photo 6/9/10, Journaling 7/5/10.
When Matthew saw me working on this layout, he didn't say anything about the sad photo or ask to read the journaling. He just wanted to know why I scribbled all over him. LOL [It was partly to use the cool scribble in the kit, but mostly because it helped put the focus on his face. :) ]
That's it for today! Thanks for looking! :)