Layouts: 11½ Silly Boredom
Even though I totally love scrapping, I find that I really have a hard time making myself do it if I don't "have to". So in late June I started looking around for calls from designers I really love, wanting to add another team. Competition is pretty fierce for some of these calls, so while I was hopeful, I wasn't really was expecting to be chosen. Imagine my shock and delighted surprise when I was asked to join not just one, but TWO wonderful teams! :D
The first to make my day was Misty Mareda. Misty has a really fun, whimsical style, without being too young for me to use with all my current pics of the kids. She does a lot of hand-drawn elements and uses bright, happy colors that just make me smile. :)  I've done three layouts for her so far…
This first one is a mish-mash of several of Misty's products. Matthew officially turned 11½ last month, and I've never done one of these list layouts for him, so I thought it was about time. :)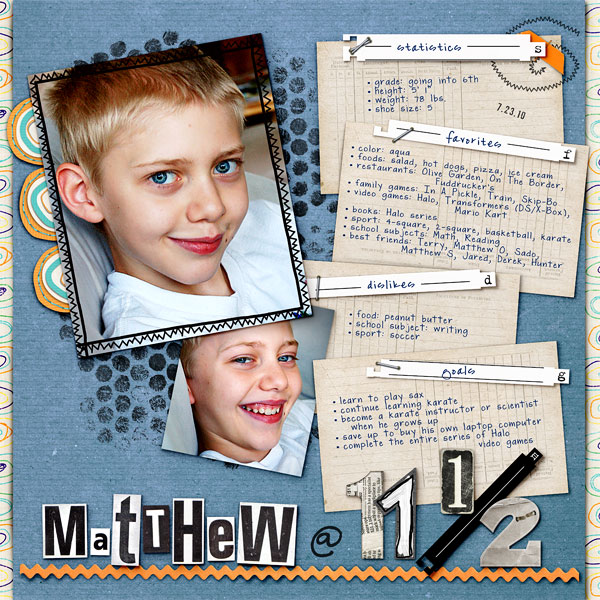 Statistics - • grade: going into 6th • height: 5' 1" • weight: 78 lbs. • shoe size: 5.
Favorites - • color: aqua • foods: salad, hot dogs, pizza, ice cream • restaurants: Olive Garden, On The Border, Fuddrucker's • family games: In A Pickle, Train, Skip-Bo • video games: Halo, Transformers (DS/X-Box), Mario Kart • books: Halo series • sport: 4-square, 2-square, basketball, karate • school subjects: Math, Reading • best friends: Terry, Matthew O, Sado, Matthew S, Jared, Derek, Hunter.
Dislikes - • food: peanut butter • school subject: writing • sport: soccer.
Goals - • learn to play sax • continue learning karate • become a karate instructor or scientist when he grows up • save up to buy his own laptop computer • complete the entire series of Halo video games.
- By Misty Mareda at MScraps -
alpha (Matthew): Clipped Alpha
photo border, stitching, cards, paper (blended), bubble stamp: Go Cat Go
circles, ricrac, papers: Play Outside
tabs, staples: Address Book Alpha
ribbon bit: Cool It Now
- other -
numbers: Micheline Martin, Dawn Inkskip, Krystal Hartley, Creative Confusion
fonts: Pea Anderson & Pea Cari (Kevin & Amanda's Fonts for Peas), Dirty Ego (Misprinted Type)
Next up is a scraplift. Vanilla Bees ran a challenge to scraplift someone you love in the scrap community. I immediately knew I wanted to lift my friend Tania Shaw (lunafaerie). I love everything about her pages… the wonderful shots of her adorable kids, her heartfelt journaling, the happy way she uses color, her fabulous composition. And the girl can ROCK patterned paper! I get inspired every time I look at her gallery! :) Her original layout is the adorable "I Love You So".  And here is my lift using one of Kaylee's infamous insulation day self-portraits. :)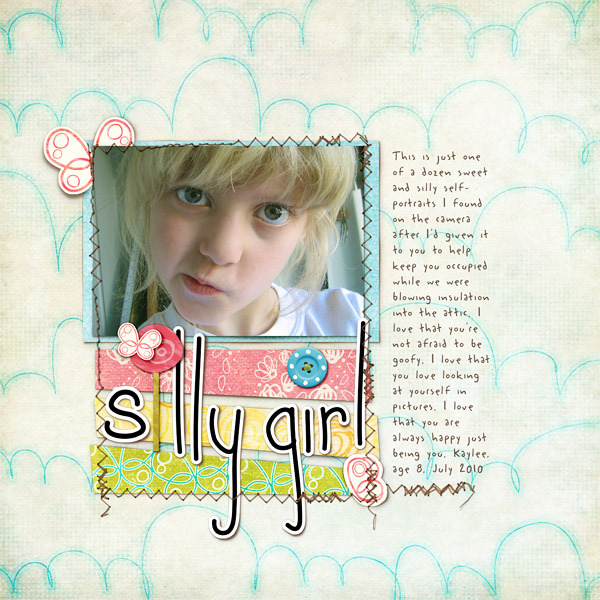 Journaling: This is just one of a dozen sweet and silly self-portraits I found on the camera after I'd given it to you to help keep you occupied while we were blowing insulation into the attic. I love that you're not afraid to be goofy. I love that you love looking at yourself in pictures. I love that you are always happy just being you. Kaylee, age 8, July 2010.
- By Misty Mareda at MScraps -
kit: Brighter Days
alpha: Long Legged Alpha
- other -
stitching: Learning to Sew by Pamela Donnis.
font: Onder Px by Kemie Guaida.
And lastly (is that a word?), a simple page featuring one of Misty's latest alphas.  I used a shot of Matthew from the Day he Surrendered to Boredom. :)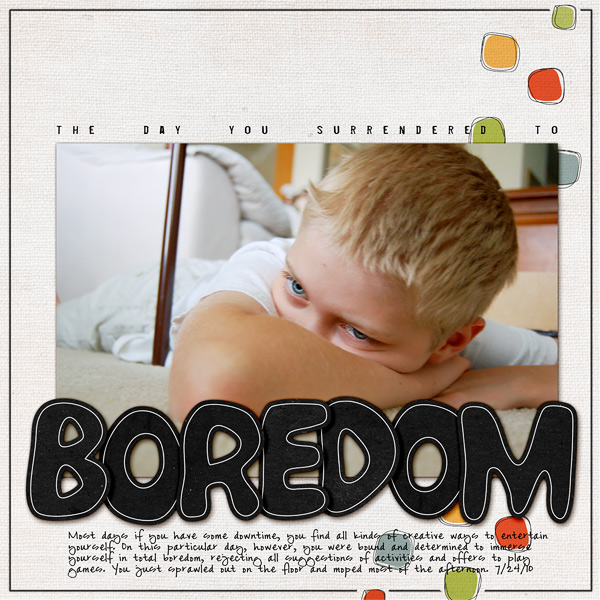 Journaling: Most days if you have some downtime, you find all kinds of creative ways to entertain yourself. On this particular day, however, you were bound and determined to immerse yourself in total boredom, rejecting all suggestions of activities and offers to play games. You just sprawled out on the floor and moped most of the afternoon. 7/24/10
- By Misty Mareda at MScraps -
alpha: Scooter Alpha
paper, colored squares (partially recolored): Sassafras
- other -
fonts: Misproject (Eduardo Recife), Pea Anderson (Kevin & Amanda's Fonts for Peas)