Layouts: Peace Together
I think I might possibly have scrapped a record number of layouts (for me) in the past few weeks, so I'm going to split it up and do a post for each creative team. :)
First up are my ScrapDish layouts for July. I started off with Correen's gorgeous "Rainy Saturday". It has all kinds of fun rainy day elements, but I kept being pulled back to this gorgeous worn paper, so I went in a little different direction. :)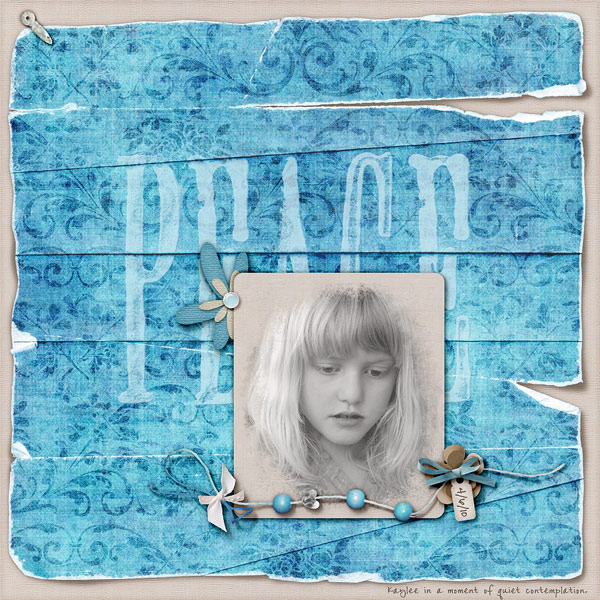 Kaylee in a moment of quiet contemplation. 4/6/10
Credits: Rainy Saturday Kit and Grunge Papers by Correen Silke at ScrapDish.
Hand Stamped Alpha by Michelle Coleman.
Pea Anderson font by Kevin & Amanda's Fonts for Peas.
And then I played with this more masculine kit from GallimaufryUK for a fun layout of Matthew "Putting It All Together".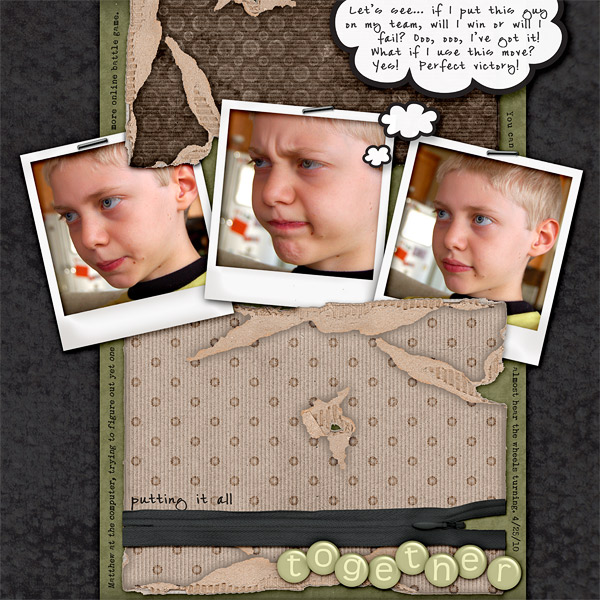 Journaling: Matthew at the computer, trying to figure out yet one more online battle game. You can almost hear the wheels turning. 4/25/10.
Thought bubble (Matthew wrote this part): Let's see... if I put this guy on my team, will I win or will I fail? Ooo, ooo, I've got it! What if I use this move? Yes! Perfect victory!
Credits: All Torn Up - a Fathers Day page kit by GallimaufryUK at ScrapDish. Fonts: LD Remington Portable (Lettering Delights), Pea Anderson (Kevin & Amanda's Fonts for Peas).