Layouts: Protracted Roses Piggy School Siblings
Back again with more layouts to share! :)
Pamela Donnis is back from her summer off and is getting all settled in over at her new home at Little Dreamer. I've got two very different layouts using some of her latest additions! First up is one with a few shots of Matthew hard at play earlier this last month. (How did it get to be September already?)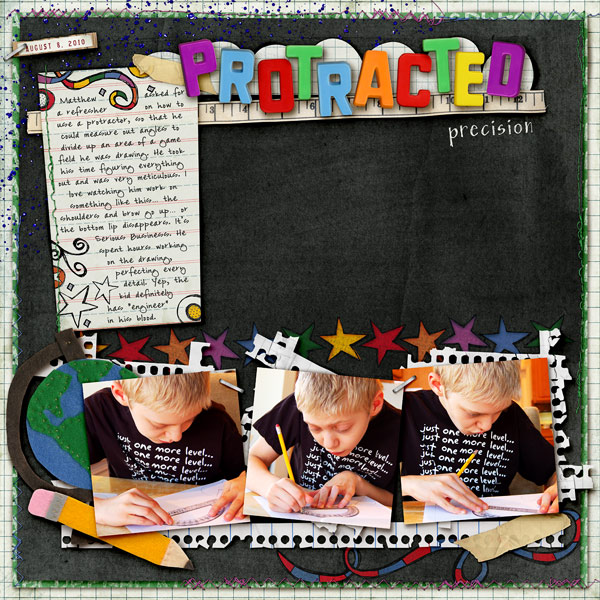 Journaling: Matthew asked for a refresher on how to use a protractor, so that he could measure out angles to divide up an area of a game field he was drawing. He took his time figuring everything out and was very meticulous. I love watching him work on something like this… the shoulders and brow go up… or the bottom lip disappears. It's Serious Business. He spent hours working on the drawing, perfecting every detail. Yep, the kid definitely has "engineer" in his blood. August 8, 2010.
- by Pamela Donnis at Little Dreamer Designs –
kit: School Stuff alpha: Fridge Fun
- other –
stitching: Learning to Sew by Pamela Donnis
fonts: Pea Anderson (Kevin & Amanda's Fonts for Peas), Misproject (Misprinted Type), Blackout Sans Px (Pixilate)
Then we have a much softer antique-y vibe one. I had fun playing with some of my shots of the neighbor's roses from this spring. :)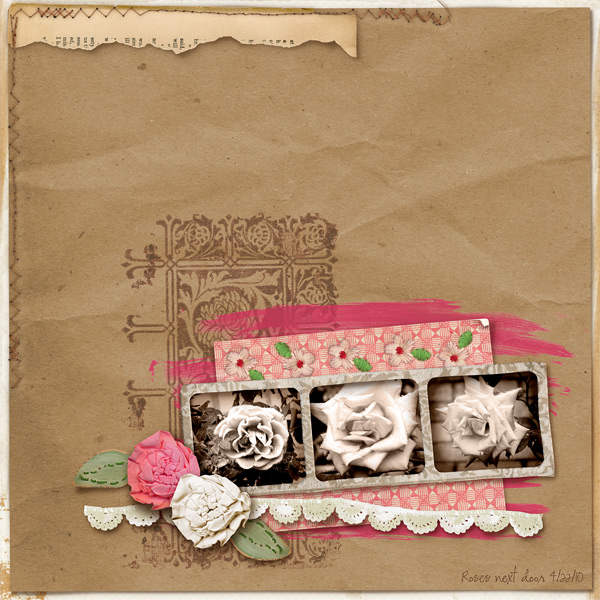 - By Pamela Donnis at Little Dreamer Designs –
Rosebuds and Lace Element Pack (frame, mat, embroidery, stamp, lace, flowers, torn paper)
Rosebuds and Lace Add-On (paint, leaves, white paper)
Out Came the Sun (kraft paper)
Learning to Sew (stitching)
- other –
font: CK Ali's Hand Official
Next is one using Michelle Coleman's latest kit, "Wonderful". This is such a versatile kit. You could easily do Independence Day layouts with it, but there are also some terrific greens in it that can take it in a totally different direction. I used it with this fun shot of the kids. :)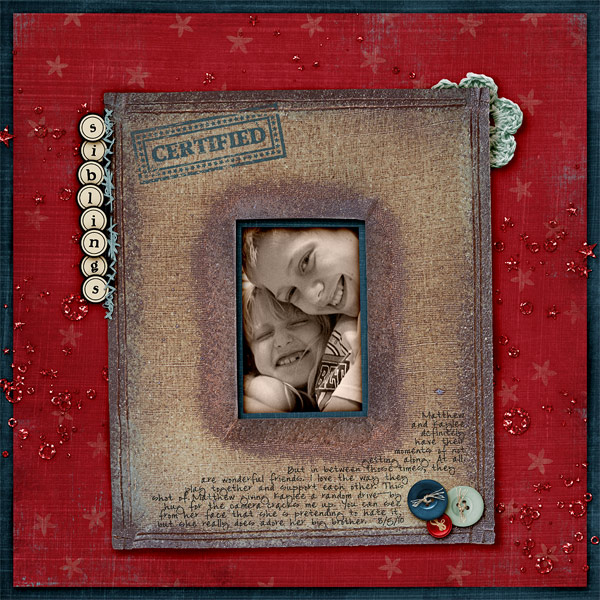 Journaling: Matthew and Kaylee definitely have their moments of not getting along. At all. But in between those times, they are wonderful friends. I love the way they play together and support each other. This shot of Matthew giving Kaylee a random drive-by hug for the camera cracks me up. You can see from her face that she's pretending to hate it, but she really does adore her big brother. 8/5/10
Kit: Wonderful by Michelle Coleman at Little Dreamer Designs.
Font: Pea Anderson (Kevin & Amanda's Fonts for Peas).
Now we're on to some Misty Mareda goodies!  I used this cute doodled frame to showcase a pic of Kaylee's adorable little toes. I had fun playing with the title work on this one, and the layout was spotlighted on the Gallery Standouts blog!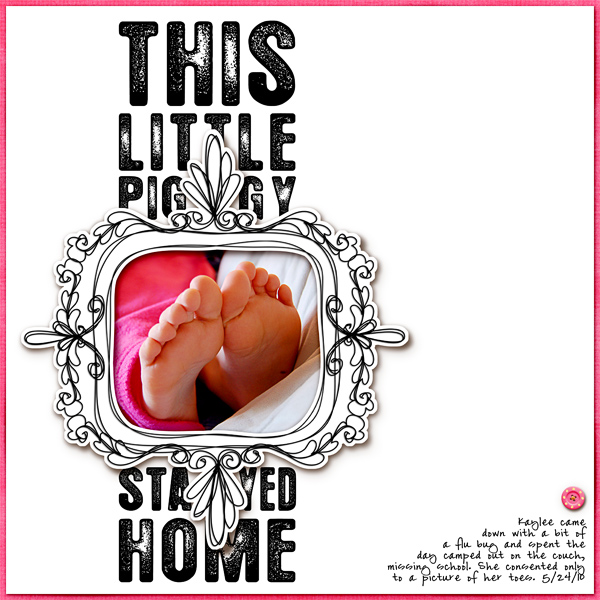 Journaling: Kaylee came down with a bit of a flu bug and spent the day camped out on the couch, missing school. She consented only to a picture of her toes. 5/24/10
- by Misty Mareda at MScraps –
frame: Photo Wraps
pink paper: Cool It Now
button: Brighter Days
- other –
fonts: Pea Anderson (Kevin & Amanda's Fonts for Peas), Hotel Coral Essex (Pennyzine)
And, finally, one with Misty's latest kit, "First Day", a fun twist on the traditional back to school kits… and it just happened to perfectly match the kids' choice of outfits for their first day! One of the comments I got most on this layout around in the galleries was how much they look like me. Must have something to do with the way I'm always walking around with my thumbs up. ;)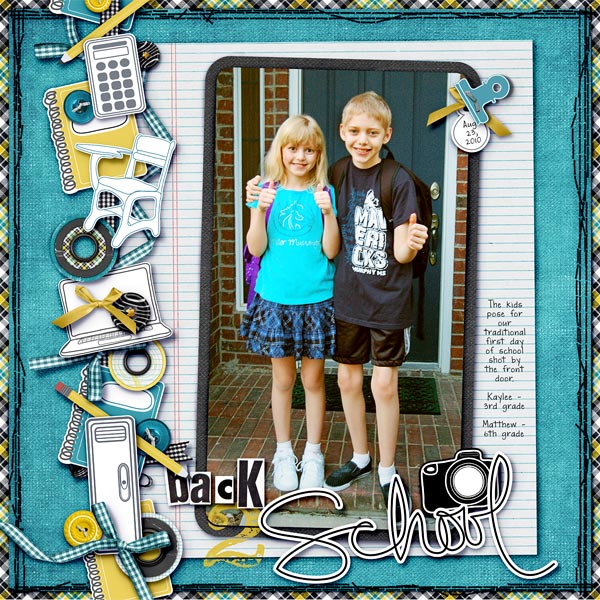 Journaling: The kids pose for our traditional first day of school shot by the front door.
Kaylee - 3rd grade. Matthew - 6th grade. Aug. 23, 2010.
- By Misty Mareda at MScraps –
Kit: First Day
Alpha (back): Clipped Alpha
Tag: Summer Flies
- other –
Fonts: LD Letterpress (Lettering Delights), Pea Cari (Kevin & Amanda's Fonts for Peas)
So that's the layout round up for now! With the closing of ScrapArtist, PixelWorks is in the process of relocating to a new shop. I'll be back with layouts with some fab new goodies from her soon though!!
Oh, I also wanted to mention that the "Model Camper" layout I posted last time also got chosen for the GSO blog! Woo hoo!! :) So bummed that Jess' little foray back into designing is over for now. :(  Getting to work with her designs again reminded me just how much I miss them!!
Have a great day everyone! :)