Layouts: Toy Lockers
PixelWorks is all settled into her new home at The Lilypad!! She'll be bringing back some favorite kits along with loads of fun new designs! I had so much fun playing with her pieces of the September BYOC!
First up is Matthew mastering his new locker. :)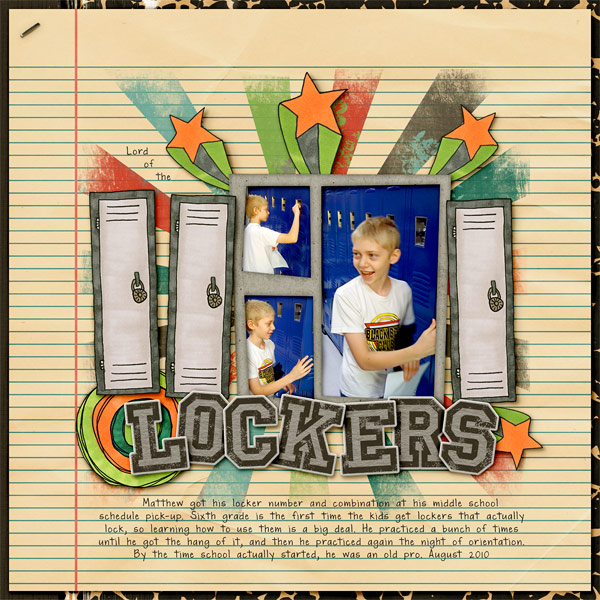 Journaling: Matthew got his locker number and combination at his middle school schedule pick-up. Sixth grade is the first time the kids get lockers that actually lock, so learning how to use them is a big deal. He practiced a bunch of times until he got the hang of it, and then he practiced again the night of orientation. By the time school actually started, he was an old pro. August 2010
- September BYOC by PixelWorks at The Lilypad –
The Teen Scene – Boy Papers, Papers & Frames, Doodles n' Things. Varsity Chip Alpha.
- other –
font: Pea Cari (Kevin & Amanda's Fonts for Peas)
And then we have a little trip down memory lane with me and "my" first car. :)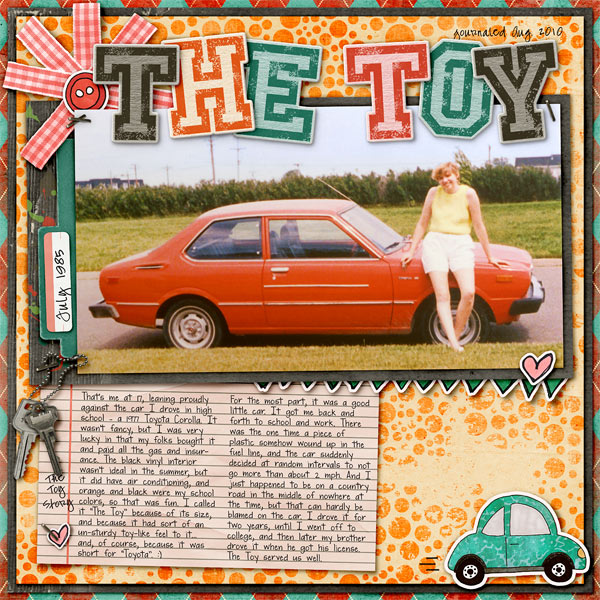 Photo: July 1985, journaled Aug. 2010
The Toy Story: That's me at 17, leaning proudly against the car I drove in high school – a 1977 Toyota Corolla. It wasn't fancy, but I was very lucky in that my folks bought it and paid all the gas and insurance. The black vinyl interior wasn't ideal in the summer, but it did have air conditioning, and orange and black were my school colors, so that was fun. I called it "The Toy" because of its size, and because it had sort of an un-sturdy toy-like feel to it... and, of course, because it was short for "Toyota". :)
For the most part, it was a good little car. It got me back and forth to school and work. There was the one time a piece of plastic somehow wound up in the fuel line, and the car suddenly decided at random intervals to not go more than about 2 mph. And I just happened to be on a country road in the middle of nowhere at the time, but that can hardly be blamed on the car. I drove it for two years, until I went off to college, and then later my brother drove it when he got his license. The Toy served us well.
- September BYOC by PixelWorks at The Lilypad –
The Teen Scene – Boy Papers, Girl Papers, Papers & Frames, Doodles n' Things. .
- other –
fonts: Pea Cari, Pea Swimmy Script (Kevin & Amanda's Fonts for Peas)
That's it for now! I'm just sitting here on a dreary rainy day, trying to stay awake and take advantage of my kid-free time before the after school homework chaos sets in! :)