Layouts: Bloom M September Sister
PixelWorks has really been rocking my scrapping world, as usual! :)
Love Blooms Here is such a gorgeous, homey kit. I was inspired to use it to scrap this page about our house. :)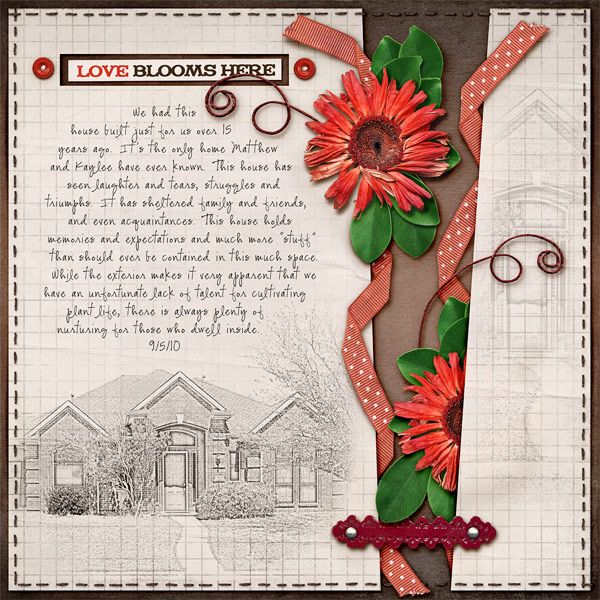 Journaling: We had this house built just for us over 15 years ago. It's the only home Matthew and Kaylee have ever known. This house has seen laughter and tears, struggles and triumphs. It has sheltered family and friends, and even acquaintances. This house holds memories and expectations and much more "stuff" than should ever be contained in this much space. While the exterior makes it very apparent that we have an unfortunate lack of talent for cultivating plant life, there is always plenty of nurturing for those who dwell inside. 9/5/10
kit: Love Blooms Here by PixelWorks at The Lilypad
sketch action: MCP Actions
font: CK Ali's Hand Official
Big Stampy Alpha was just perfect for a monogram on a layout of this favorite picture of Matthew.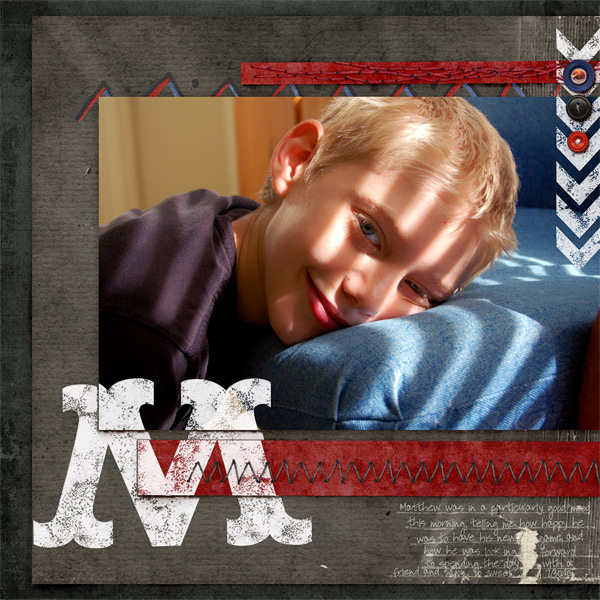 Journaling: Matthew was in a particularly good mood this morning, telling me how happy he was to have his new game and how he was looking forward to spending the day with a friend and so on. So sweet. 7/30/10
- All by PixelWorks at The Lilypad -
Monogram: Big Stampy Alpha
Papers and elements from Paint the Town Pink, Teen Scene, Everyday Awesome, Love Blooms Here, and Rain On My Parade.
font: Pea Jessica (Kevin & Amanda's Fonts for Peas)
Then I was getting into a fall frame of mind with the adorable Kitschy Fall.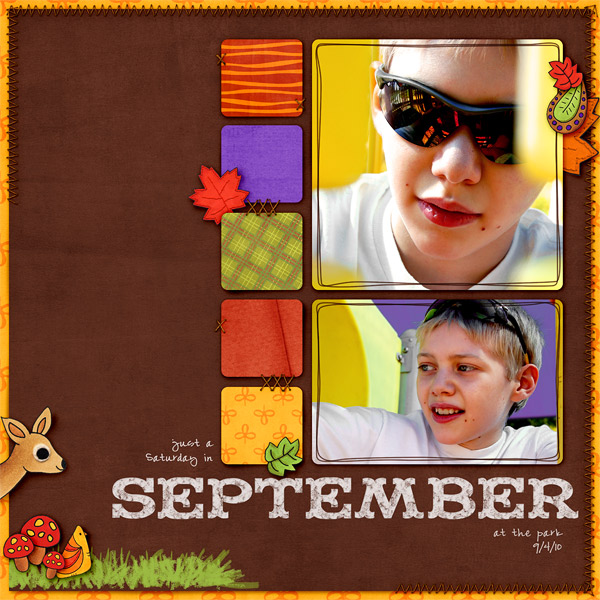 Just a couple of shots of Matthew hanging out at the park. :)
– by PixelWorks at The Lilypad –
papers: Kitschy Fall Papers • doodles: Kitschy Stitchy Fall • alpha: Big Stampy Alpha • stitching (recolored): Paint the Town Pink, Rain On My Parade
- other -
font: Pea Anderson (Kevin & Amanda's Fonts for Peas)
PixelWorks has such a flair with all things vintage. I'm so loving this "Generations" product line and used a few pieces from it to scrap this old pic of me and my brother. :)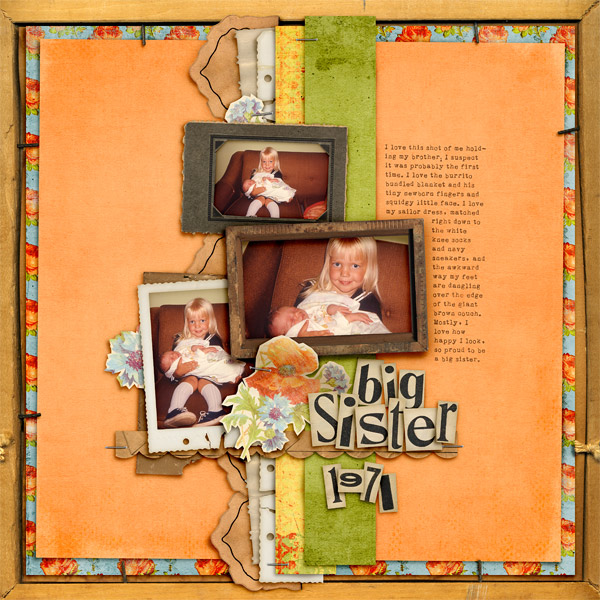 Journaling: I love this shot of me holding my brother; I suspect it was probably the first time. I love the burrito bundled blanket and his tiny newborn fingers and squidgy little face. I love my sailor dress, matched right down to the white knee socks and navy sneakers, and the awkward way my feet are dangling over the edge of the giant brown couch. Mostly, I love how happy I look, so proud to be a big sister.
- by PixelWorks at The Lilypad –
papers: {Her}story • frames and paper elements: Vintage Papers and Frames • alpha: Vintage Ransom Alpha
- other –
template: September '10 Template Challenge Freebie by Amy Martin at The Lilypad
font: LD Underwood 5 by Lettering Delights