Layouts: Bunny No Coffee
And another month flies by! Is 11 layouts too many for one post? LOL I think so, so I'm going to catch up by team. :)
First up are a couple I've done for Michelle Coleman. Her store is just full of gorgeous autumn colors!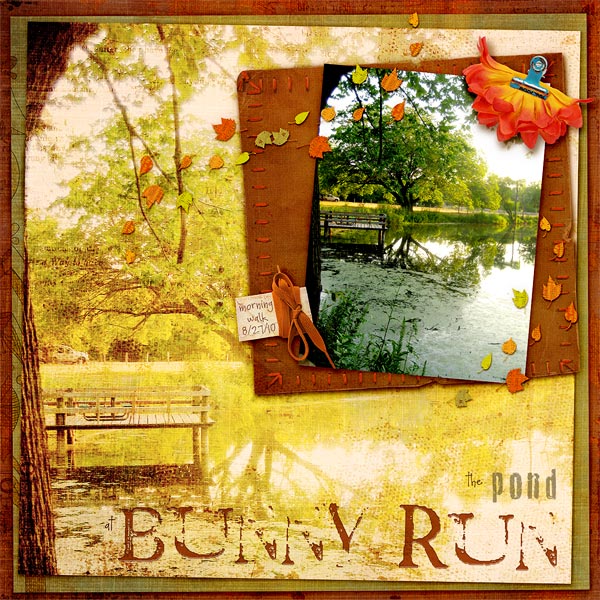 I'd been doing a little walking in the mornings after the kids are in school. I took this shot of the pond at Bunny Run at a little park near our house.
- By Michelle Coleman at Little Dreamer Designs – Fall Delight Kit and Sample Letter Press Brushes (pond) Distressed Alpha font (Bunny Run) - other – font: Pea Lacey (Kevin & Amanda's Fonts for Peas)
Michelle has a really fun new kit with all kinds of fabulous coffee-related graphics. I just had to use it to document my non-love of java. :D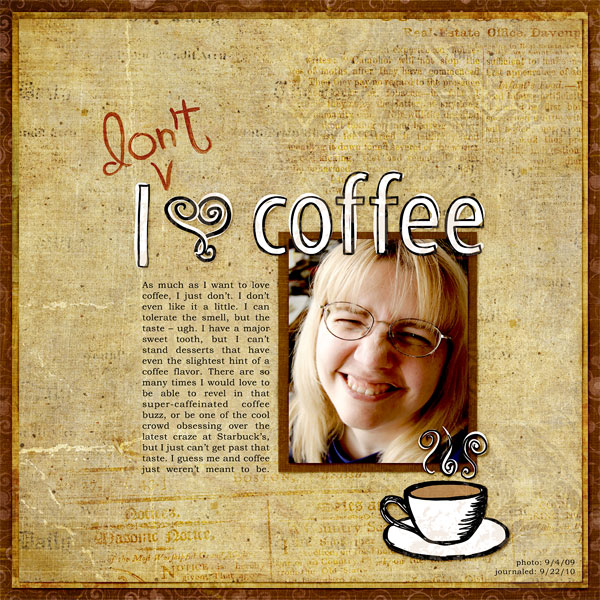 Journaling: As much as I want to love coffee, I just don't. I don't even like it a little. I can tolerate the smell, but the taste – ugh. I have a major sweet tooth, but I can't stand desserts that have even the slightest hint of a coffee flavor. There are so many times I would love to be able to revel in that super-caffeinated coffee buzz, or be one of the cool crowd obsessing over the latest craze at Starbuck's, but I just can't get past that taste. I guess me and coffee just weren't meant to be.
Credits: I Heart Coffee Kit and Sample by Michelle Coleman at Little Dreamer Designs.
Free Spirit Alphabet by CD Muckosky at Little Dreamer Designs.
font: Bookman Old Style.