Layouts: Road Magic First
Yikes! Another month flies by! Time for another layout-palooza. :)
First up, fun with designs by Aja! I had a blast playing with her Ultimate Word Art Snips to put together this layout about our summer road trips.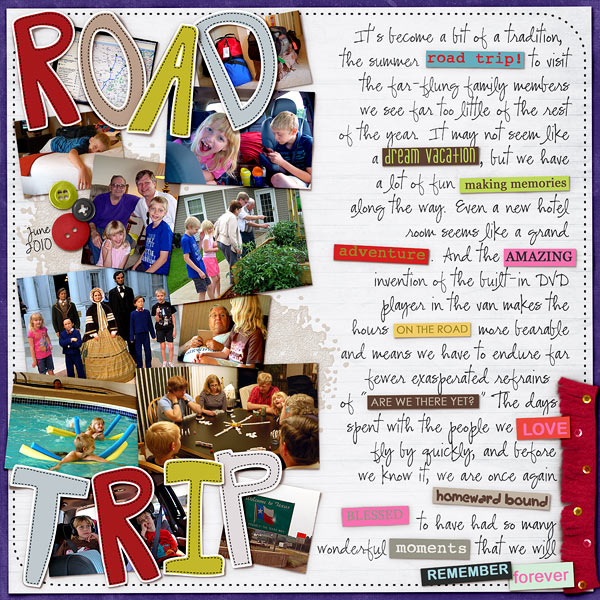 Journaling: It's become a bit of a tradition, the summer road trip to visit the far-flung family members we see far too little of the rest of the year. It may not seem like a dream vacation, but we have a lot of fun making memories along the way. Even a new hotel room seems like a grand adventure. And the amazing invention of the built-in DVD player in the van makes the hours on the road more bearable and means we have to endure far fewer exasperated refrains of "are we there yet?" The days spent with the people we love fly by quickly, and before we know it, we are once again homeward bound, blessed to have had so many wonderful moments that we will remember forever.

- All by Aja Abney, available at Oscraps and Scrapbook-Bytes -
word strips: Ultimate Word Art Snips
alpha: Educated Alpha
papers and elements: New Day collab with Danielle Young (recolored)
- other –
font: CK Ali's Hand Official
I went back in time to work with two fun collabs that Aja has released this month for her guest spot at CatScrap. The tricycle in "Imagine Childhood" just demanded that I play with this old photo of my cousin and I. :)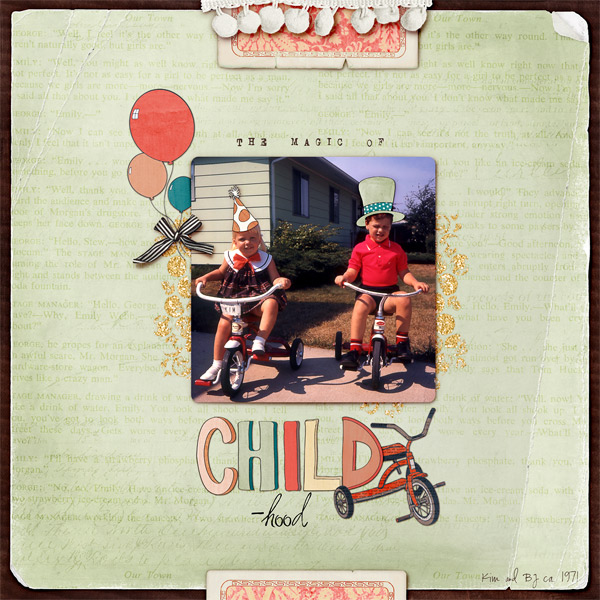 kit: Imagine Childhood by Aja Abney and Fiddlette Designs at Catscrap
worn overlay: Something Blue Studios
fonts: CK Ali's Hand Official, LD Underwood Pica
And the sparkly vintage vibe of "Sugarplums" was perfect for these shots of my first Christmas. :)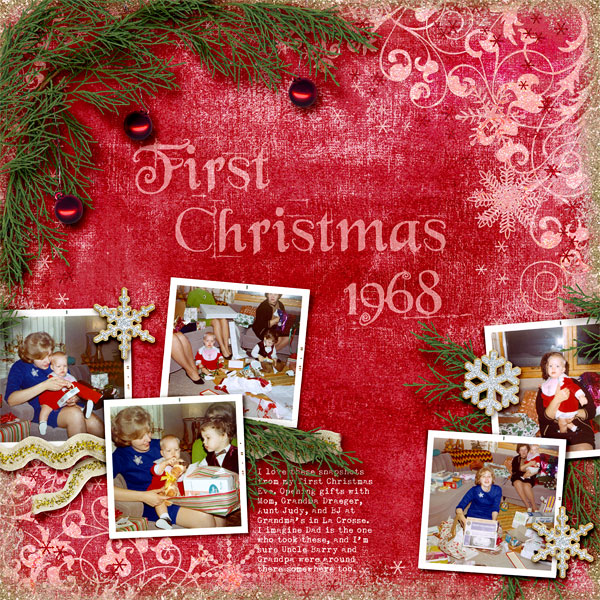 Journaling: I love these snapshots from my first Christmas Eve. Opening gifts with Mom, Grandma Draeger, Aunt Judy, and BJ at Grandma's in La Crosse. I imagine Dad is the one who took these, and I'm sure Uncle Barry and Grandpa were around there somewhere too.
kit: Sugarplums by Aja Abney and Nancie Rowe Janitz at CatScrap.
font: Beyond Wonderland by Christopher Hansen