Layouts: Salted Fabulosity
Now for a couple of layouts of Kaylee featuring kits from the ever-fabulous Misty Mareda! :)
I love the non-traditional colors in this fall kit of Misty's, and I jumped on the opportunity to use it for a non-fall-themed layout!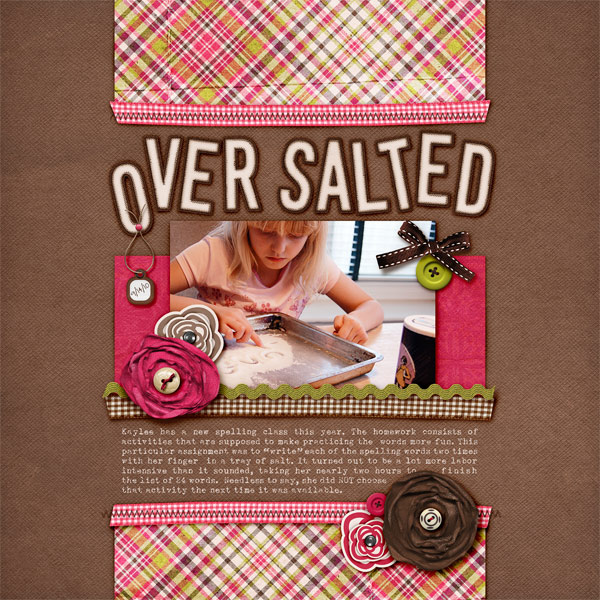 Journaling: Kaylee has a new spelling class this year. The homework consists of activities that are supposed to make practicing the words more fun. This particular assignment was to "write" each of the spelling words two times with her finger in a tray of salt. It turned out to be a lot more labor intensive than it sounded, taking her nearly two hours to finish the list of 24 words. Needless to say, she did NOT choose that activity the next time it was available. 9/14/10
kit: Frolic by Misty Mareda at MScraps
template: Vanilla Bees Freebie by Crystal Livesay
fonts: Pea Jenny (Kevin & Amanda's Fonts for Peas), LD Remington Portable (Lettering Delights)
I think I might have actually squealed when I saw this kit that Misty put together for her feature at the Daily Digi this month. I love the colors (the kit actually has orange too – such a cool combination) and the fun funky flowers! It was perfect to show off Kaylee in all her glorious fabulosity!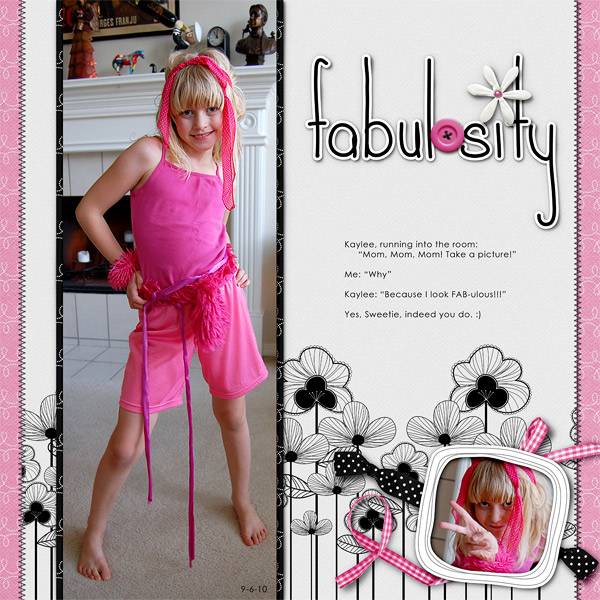 Journaling: Kaylee, running into the room: "Mom, Mom, Mom! Take a picture!"
Me: "Why"
Kaylee: "Because I look FAB-ulous!!!"
Yes, Sweetie, indeed you do. :)   9-6-10

- by Misty Mareda –
kit: Little Zoie in The Digi Files #23 at The Daily Digi
alpha: Long Legged Alpha at MScraps
stitching: Frolic at MScraps
- other –
font: Century Gothic