New BYOC! DSD fun!! Free gift!
Hi all! Are you are ready for a fabulous Digital Scrapbooking Day?! There is so much happening at The Lilypad for DSD weekend that I don't even know where to begin!
The November BYOC is up, and it's amazing! And because of DSD, not only the BYOC, but my entire store is 30% OFF all weekend!
And check out these great incentives to fill up your cart!

There's also LOADS of fun happening in the forum, including a chance to win a product of your choice from my store just by posting your favorite! See my Pick Your Prize thread for details! (You must enter by Saturday, November 3rd at 11PM EST, so don't delay!)
On to the new stuff! I have some wonderfully bold papers and lovely fabric flowers in this month's BYOC collection!
The flowers are made from twisted strips of fabric to add a wonderful handmade touch to your pages! Some are frayed. Some are ruffly. All are fabulously touchable and dimensional. Bloomin' Twisted has 8 unique flowers in 3-4 colors each, for a total of 30 beautifully crafty pieces!!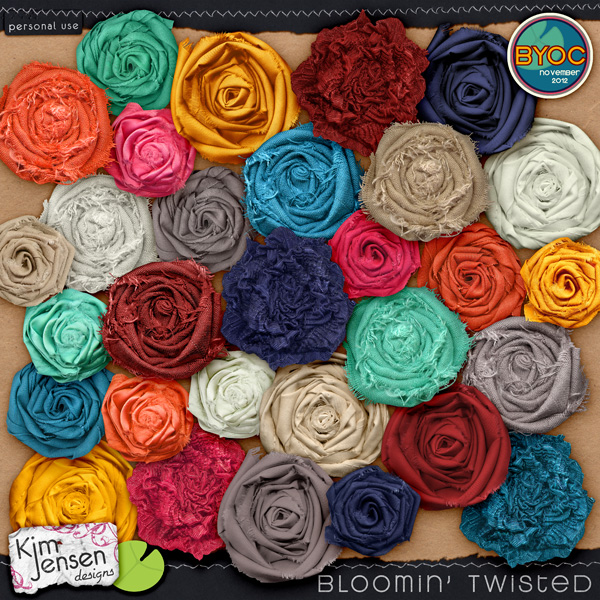 And then I have Dotrageous 2! A fun new set of 16 outrageously dotty papers, with dots ranging in scale from ginormous to almost microscopic. From halftones to border/banded designs to traditional polka dots, bold to sporty to simple – this pack has 'em all! :)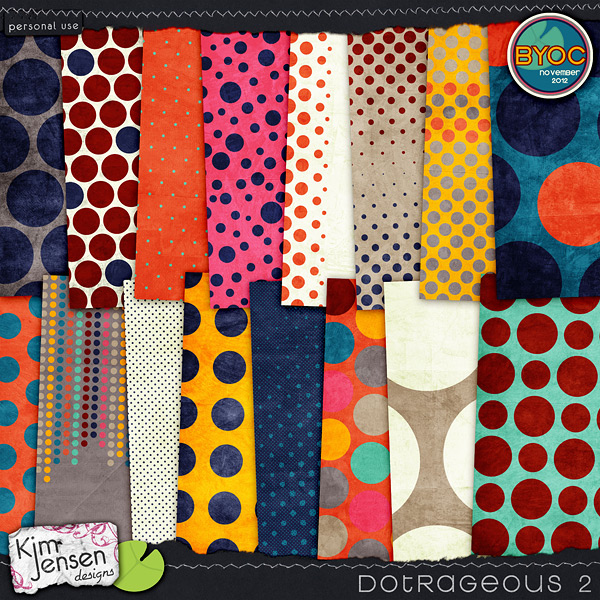 Here is just a hint of the fabulous pages by my creative team and the Pollywogs using these and other BYOC goodies...
For even more fun, make sure you stop by my Facebook page on Saturday! The Lilypad is having a Facebook hop, and I will have a free goodie for all my fans! I actually just got it loaded, so if you just can't wait, you can pop over there now! Shhhhhhhhhhh. ;)
Hurry over to my shop and scoop up your BYOC goodness now before the sale hops away!