I scrapped!!!
The Lilypad is having their third annual Month of Challenges right now – a new challenge posted each day throughout the month of January. The site is brimming with contagious excitement and enthusiasm, and I'm hoping I can use that to spur me into scrapping on a much more regular basis. I only managed a truly pathetic 3 pages in all of 2014. I've completed the first 5 challenges so far, so I'm already off to a much better start!
Day 1 was a blind scrap, completing a page based on a set of instructions to match an unseen layout created by the challenge host. Here's what I came up with, "Extreme School Zone"…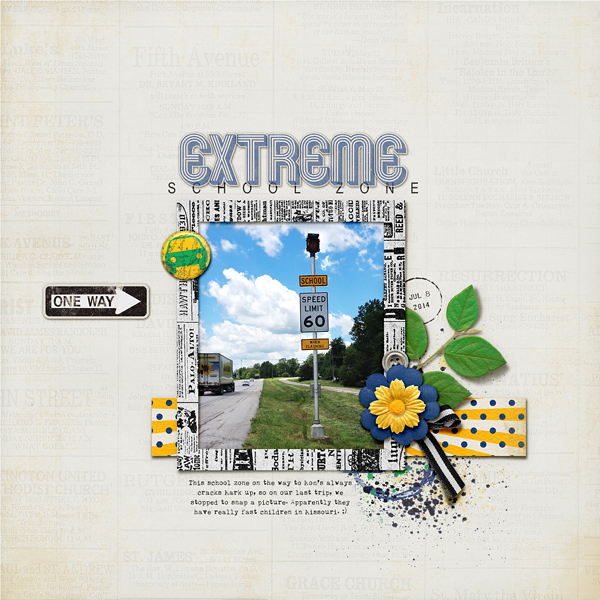 Journaling: This school zone on the way to Mom's always cracks Mark up, so on our last trip, we stopped to snap a picture. Apparently they have really fast children in Missouri.  ;)
Kit: Away We Go by Allison Pennington, Little Butterfly Wings, and Micheline Martin
Fonts: The Dry Ribbon by Heather Joyce, Dirty Ego by Eduardo Recife,  Arial by Monotype
Day 2 was a technique challenge requiring the use of blending modes in at least 3 instances in the page. I decided to play with some pictures of Kaylee that we took before she headed out with Mark for the neighborhood Halloween parade this past fall.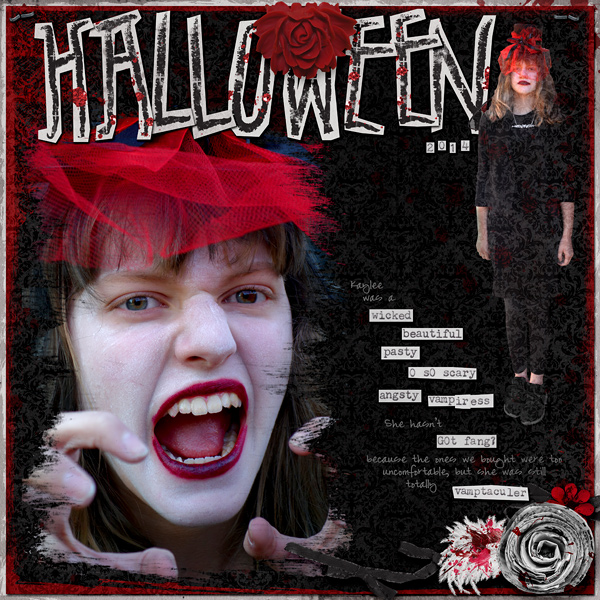 Journaling: Kaylee was a wicked beautiful, pasty, o so scary, angsty vampiress. She hasn't got fang because the ones we bought were too uncomfortable, but she was still totally vamptaculer.
Kit: Bite Me by Allison Pennington and Valorie Wibbens
Font: Pea Anderson (Kevin & Amanda\'s Fonts for Peas)
Day 3's challenge was to create a page inspired by an art piece the host had chosen. After considering several different options, I went with a page about the tree in our front yard.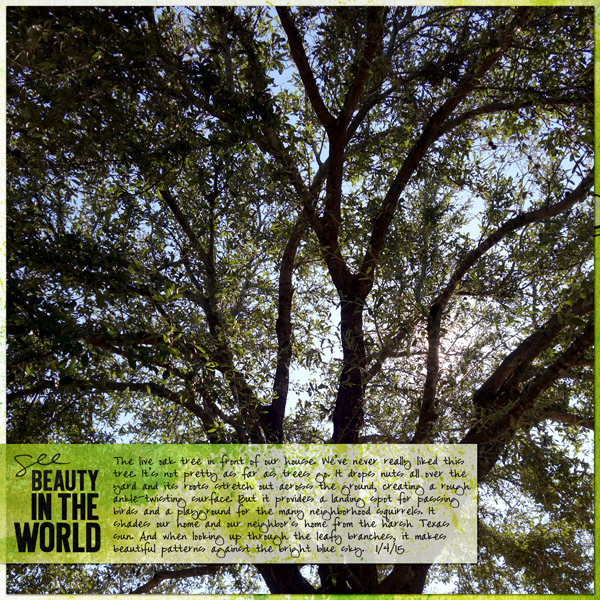 Journaling: The live oak tree in front of our house. We've never really liked this tree. It's not pretty as far as trees go. It drops nuts all over the yard and its roots stretch out across the ground, creating a rough ankle-twisting surface. But it provides a landing spot for passing birds and a playground for the many neighborhood squirrels. It shades our home and our neighbor's home from the harsh Texas sun. And when looking up through the leafy branches, it makes beautiful patterns against the bright blue sky.  1/4/15
Word art: Fresh Start Words by Just Jaimee
Papers: Fresh as a Doodle by Quirky Heart
Font: Pea Anderson (Kevin & Amanda\'s Fonts for Peas)
Day 4 – a "clean & simple" page. This is hard for me – I always want to fill the space with lots of stuff and add big titles and bold embellishments. I decided to use a template by Paislee Press to help me rein it in a bit, and pulled up a slightly older photo of Kaylee playing with a ruler that has a magnifying strip in it.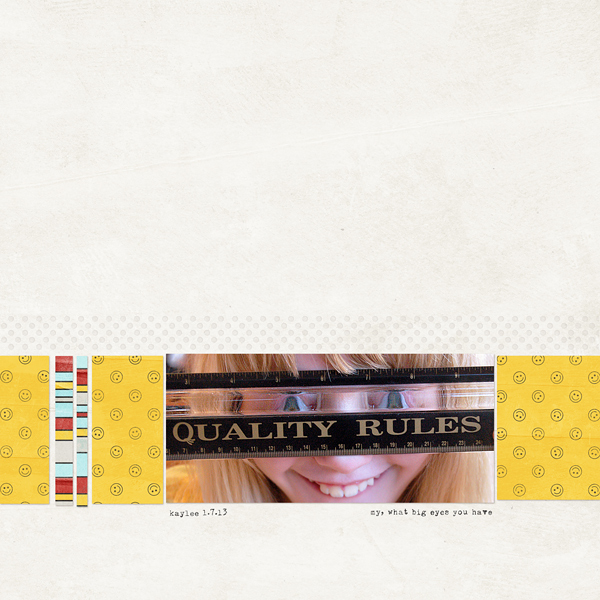 Journaling: kaylee 1.7.13 – my, what big eyes you have
Template: Press Plate No. 3 by Paislee Press
Papers: Our Story Papers by Kim Jensen
Font: The Dry Ribbon by Heather Joyce
Finally, that brings us to Day 5 where the assignment was to create a page using a photo treatment. I pulled a photo of Matthew that Mark took when he took the kids to the Dallas Comic Con and used a comic book action to fit the occasion. Presenting "Ironman & the Wizard"…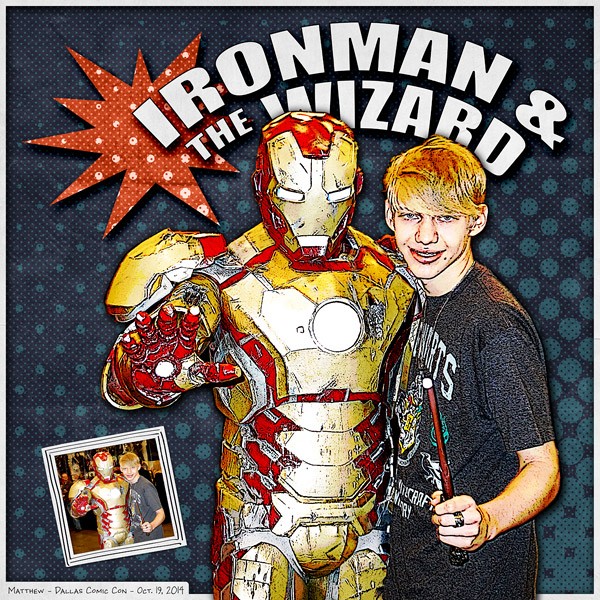 Photo comic book action by Actions4Photoshop
Papers: Dotrageous 1, Dotrageous 2, and Bold Geometry by Kim Jensen
Frame: Frame-O-Mania 2 by Kim Jensen
Fonts: The Short Caps by Heather Joyce, Impact by Monotype
That's all of them so far. I hope to do lots more pages this month. It's not too late to start. Come and join the fun! :)