More scrapping! MOC layouts 6-10!
I'm still scrapping! Yay for the Month of Challenges! Here are my pages for days 6 through 10. :)
The challenge for day 6 was to do an "All About" page on any subject, with the emphasis on journaling. I chose to scrap all about our latest family movie night.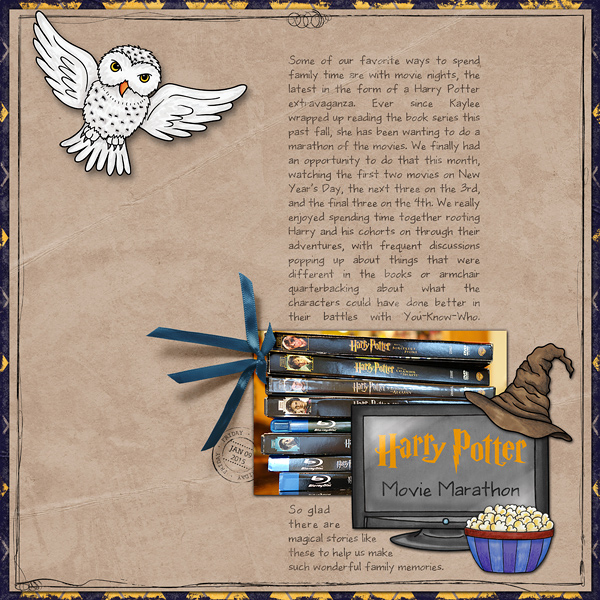 Journaling: Some of our favorite ways to spend family time are with movie nights, the latest in the form of a Harry Potter extravaganza. Ever since Kaylee wrapped up reading the book series this past fall, she has been wanting to do a marathon of the movies. We finally had an opportunity to do that this month, watching the first two movies on New Year's Day, the next three on the 3rd, and the final three on the 4th. We really enjoyed spending time together rooting Harry and his cohorts on through their adventures, with frequent discussions popping up about things that were different in the books or armchair quarterbacking about what the characters could have done better in their battles with You-Know-Who. So glad there are magical stories like these to help us make such wonderful family memories.
Doodles: Wizardry (owl, hat), All The Everydays (TV), PJ Party (popcorn bowl – recolored) by Kate Hadfield
Ribbon: Knotty Bits by Kim Jensen
Border: All Scratched Up by One Little Bird
Papers: Shabby School Papers by Kim Jensen
Date stamp: Date Circles by Designs by Lili
Fonts: The Everyday by Heather Joyce, Harry P by Phoenix Phonts
Day 7 was a scrap therapy challenge – help get out those frustrations on a layout. I was inspired to vent a bit about how Kaylee's lack of time management drives me crazy. ;)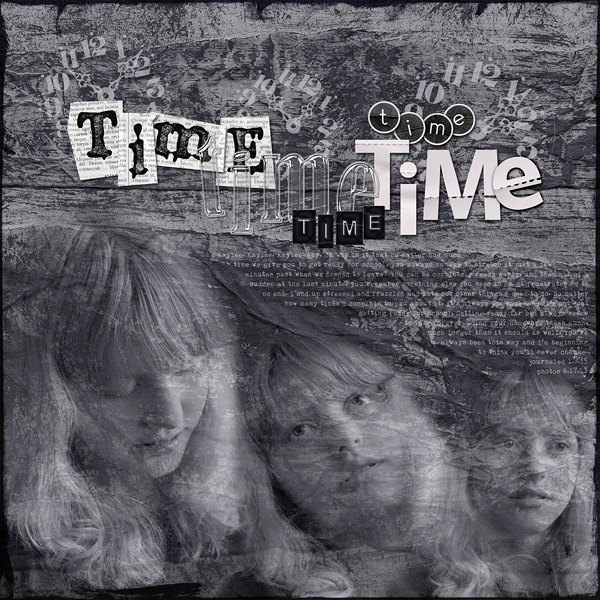 Journaling: Kaylee, Kaylee, Kaylee. Why, oh why is it that no matter how much time we give you to get ready for school, you always manage to stretch it just a few minutes past when we needed to leave? You can be completely ready early, and then all of a sudden at the last minute, you remember something else you need to do. It frustrates me to no end. I end up stressed and frazzled and late for other things I need to do. No matter how many times I complain to you about it, it's always the same. And it's not just getting ready for school. Getting ready for bed always seems to take forever. Doing your homework takes much, much longer than it should as well. You've always been this way and I'm beginning to think you'll never change. journaled 1.9.15 photos 6.17.13
Alphas: Fashion Friendly Alphas, Perforated Paper Alpha, Me Right Now Alphas, Garden Pop Stamped Newsprint Alpha by Kim Jensen
Clock stamp: Juxtaposition Elements by Amy Wolff
Border: Me Right Now Elements by Kim Jensen
Paper:  Temperamental Painted Papers by Kim Jensen
Font: The Dry Ribbon by Heather Joyce
Day 8 was to use an Out-of-Bounds technique – having parts of a photo extend beyond the "edge". I had fun with some pics of Kaylee at the park a couple summers ago. :)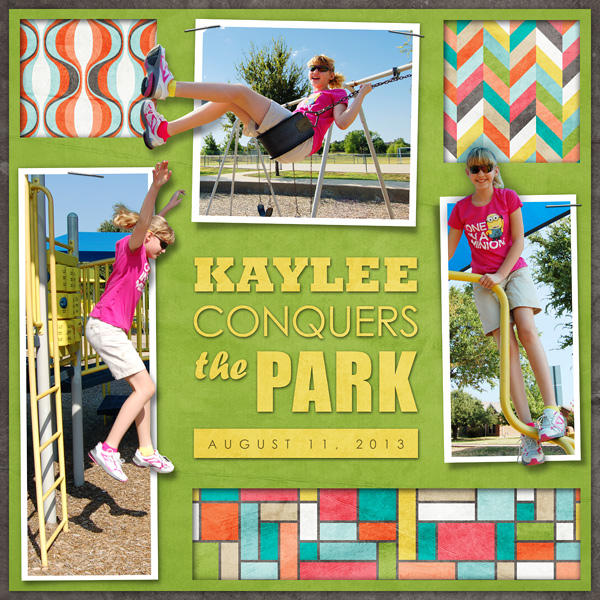 Papers: Mad for Mod by Kim Jensen
Staples: Paint It White Alpha by Kim Jensen
Fonts: Rockwell Extra Bold, Century Gothic, Forte, and Impact by Monotype
Day 9 was to take two page templates provided for the challenge and combine elements from them into one page, using any arrangement you liked. It was fun to see what everyone did.  This was a first for me, it was a lot harder than I thought it would be. Here's what I came up with.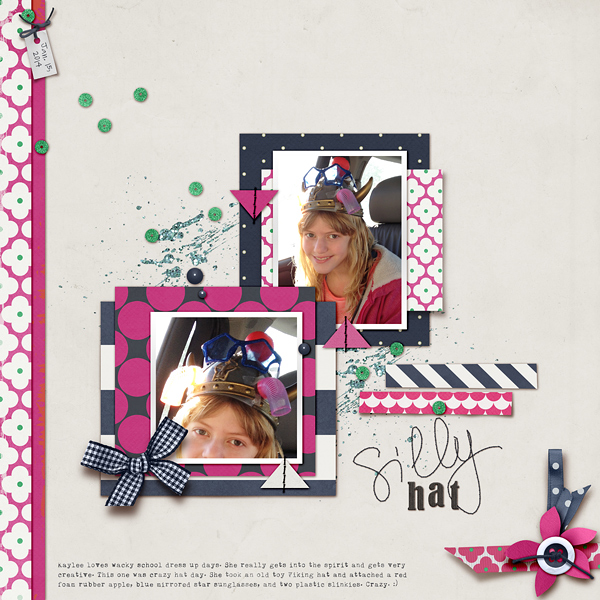 Journaling: Kaylee loves wacky school dress up days. She really gets into the spirit and gets very creative. This one was crazy hat day. She took an old toy Viking hat and attached a red foam rubber apple, blue mirrored star sunglasses, and two plastic slinkies. Crazy. :)
Templates: MOC Challenge Templates by Heather Joyce and Just Jaimee
Kit: Bloopers Collab Bundle by Pink Reptile Designs and Studio 68 (some items recolored)
Fonts: The Dry Ribbon, The Katie M by Heather Joyce
Day 10 was to salvage an imperfect photo. The photos I chose were pretty ugly, and I probably never would have scrapped them if not for this challenge, but I'm really happy with the way it turned out. :)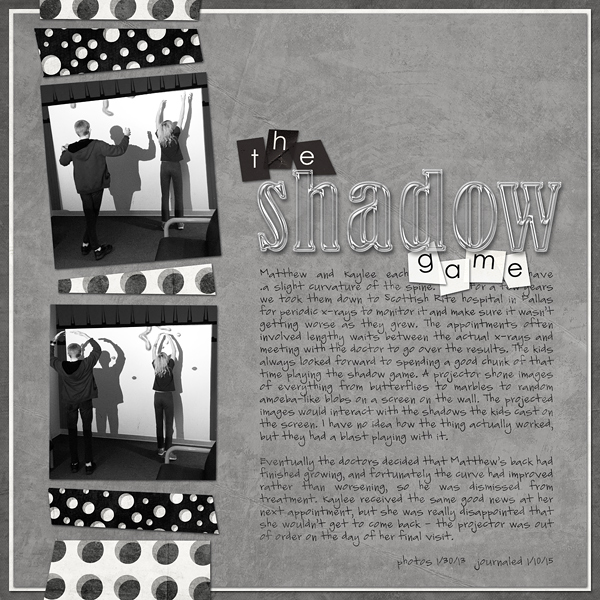 Journaling: Matthew and Kaylee each have a slight curvature of the spine. For a few years we took them down to Scottish Rite hospital in Dallas for periodic x-rays to monitor it and make sure it wasn't getting worse as they grew. The appointments often involved lengthy waits between the actual x-rays and meeting with the doctor to go over the results. The kids always looked forward to spending a good chunk of that time playing the shadow game. A projector shone images of everything from butterflies to marbles to random amoeba-like blobs on a screen on the wall. The projected images would interact with the shadows the kids cast on the screen. I have no idea how the thing actually worked, but they had a blast playing with it.
Eventually the doctors decided that Matthew's back had finished growing, and fortunately the curve had improved rather than worsening, so he was dismissed from treatment. Kaylee received the same good news at her next appointment, but she was really disappointed that she wouldn't get to come back - the projector was out of order on the day of her final visit.
photos 1/30/13   journaled 1/10/15
Papers: Mad for Mod 2 by Kim Jensen
Alphas: Fashion Friendly Alphas by Kim Jensen, Alpha Snips by Amber LaBau
Font: The Katie M by Heather Joyce
And the original photos for comparison with loads of acoustic tile ceiling and dark funky colors…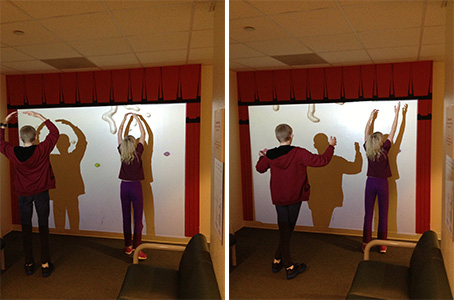 That's it for today! Have a wonderful week! :)