Still going! MOC layouts 11-15!
I'm still scrapping along on the MOC challenges, although things got busy this weekend with Matthew turning 16 (!!!!!), so I haven't been able to maintain the pace and I'm about 4 pages behind now. Here are my latest 5…
Challenge 11 was to scrap a page with no photos. There were a lot of different takes on it, from album covers to artsy quote pieces. I chose to write about a current pastime/distraction and illustrate with some Kate Hadfield fabulousness. :)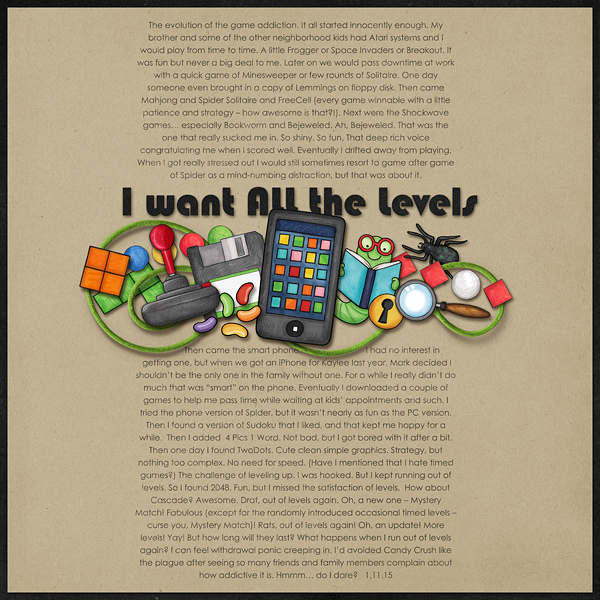 Journaling: The evolution of the game addiction. It all started innocently enough. My brother and some of the other neighborhood kids had Atari systems and I would play from time to time. A little Frogger or Space Invaders or Breakout. It was fun but never a big deal to me. Later on we would pass downtime at work  with a quick game of Minesweeper or few rounds of Solitaire. One day someone even brought in a copy of Lemmings on floppy disk. Then came Mahjong and Spider Solitaire and FreeCell (every game winnable with a little patience and strategy – how awesome is that?!). Next were the Shockwave games… especially Bookworm and Bejeweled. Ah, Bejeweled. That was the one that really sucked me in. So shiny. So fun. That deep rich voice congratulating me when I scored well. Eventually I drifted away from playing. When I got really stressed out I would still sometimes resort to game after game of Spider as a mind-numbing distraction, but that was about it.
Then came the smart phone. I had no interest in  getting one, but when we got an iPhone for Kaylee last year, Mark decided I shouldn't be the only one in the family without one. For a while I really didn't do much that was "smart" on the phone. Eventually I downloaded a couple of games to help me pass time while waiting at kids' appointments and such. I tried the phone version of Spider, but it wasn't nearly as fun as the PC version. Then I found a version of Sudoku that I liked, and that kept me happy for a while.  Then I added  4 Pics 1 Word. Not bad, but I got bored with it after a bit. Then one day I found TwoDots. Cute clean simple graphics. Strategy, but nothing too complex. No need for speed. (Have I mentioned that I hate timed games?) The challenge of leveling up. I was hooked. But I kept running out of levels. So I found 2048. Fun, but I missed the satisfaction of levels.  How about Cascade? Awesome. Drat, out of levels again. Oh, a new one – Mystery Match! Fabulous (except for the randomly introduced occasional timed levels – curse you, Mystery Match)! Rats, out of levels again! Oh, an update! More levels! Yay! But how long will they last? What happens when I run out of levels again? I can feel withdrawal panic creeping in. I'd avoided Candy Crush like the plague after seeing so many friends and family members complain about how addictive it is. Hmmm… do I dare?   1.11.15
Doodles: Wizardry (jelly beans, spider), All The Everydays (smart phone), Child of the 80's (joystick, floppy disk, Tetris pieces), It's A Mystery (magnifying glass, lock), Bookworms (bookworm), Let's Play (shapes) by Kate Hadfield
String, papers: Let's Play by Kaye Winiecki
Template: Birchwood by Sara Gleason
Fonts: Century Gothic by Monotype, Bauhaus 93 by URW
The next challenge was to use a very detailed template which was provided. You could alter it, but it still had to be recognizable. I simplified it just slightly, and shifted things around a little, but overall I stuck to the original design.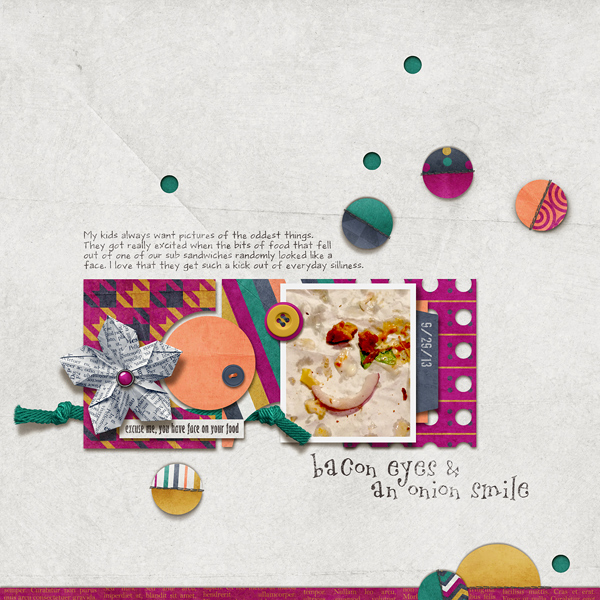 Journaling: My kids always want pictures of the oddest things. They got really excited when the bits of food that fell out of one of our sub sandwiches randomly looked like a face. I love that they get such a kick out of everyday silliness.
Template: MOC 2015 Detailed Template by Sara Gleason
Kit: City Streets Papers and Elements by Kim Jensen
Fonts: The Everyday by Heather Joyce, Patchanka Px by Kemie Guaida, Dirty Ego by Eduardo Recife, Gill Sans MT by Gill Sans
Next up was a scraplift of any layout in the TLP Creative Team gallery. I lifted jenn mccabe's wonderful MOC Day 5 | Finn. Her page:
And mine...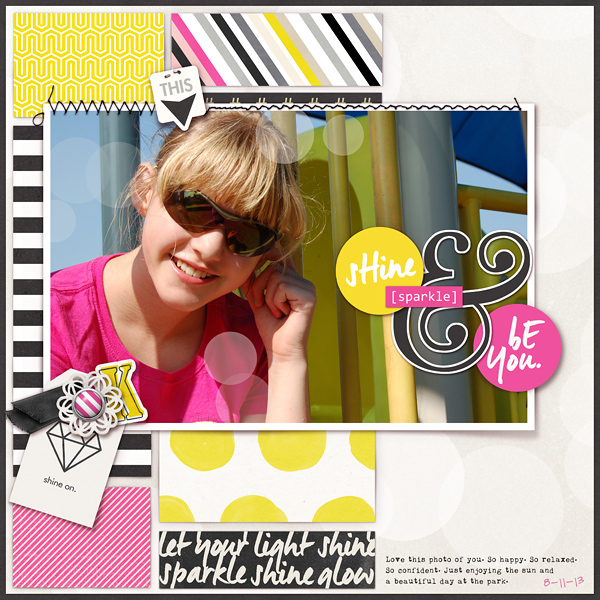 Journaling: Love this photo of you. So happy. So relaxed. So confident. Just enjoying the sun and a beautiful day at the park. 8-11-13
Kit: Shine Bright by Sahlin Studio (some items recolored)
Alpha: Offset Sticker Alpha by Kim Jensen
Stitching: Needed More Stitching by Amy Martin
Fonts: The Dry Ribbon, The Katie M by Heather Joyce
Day 14's challenge was to embellish/alter a provided quickpage. The original had only the creamy background paper and the paper-framed photo opening, small leaf, branch, and tape.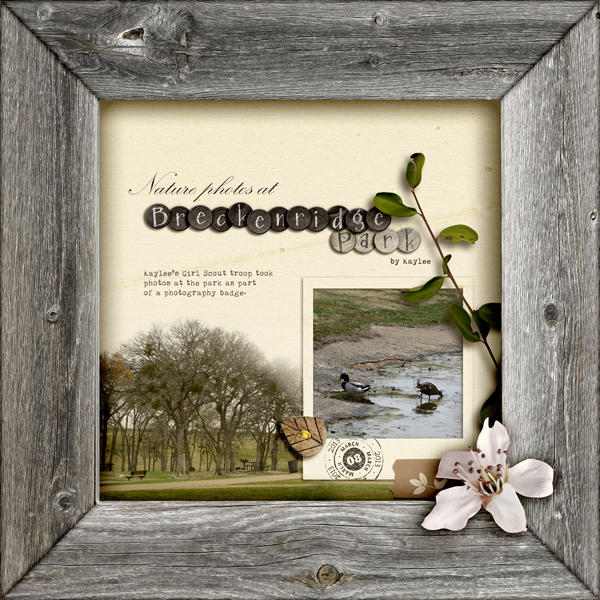 Photos (including extracted flower) were all taken by Kaylee a couple of years ago for a Girl Scout Badge. :)
Quick page: MOC 2015 Quick Page by Amber LaBau
Frame: created from Against the Grain by Kim Jensen
Alphas: Capricious Alphas by Kim Jensen
Date: Date Circles by Designs by Lili
Fonts: The Dry Ribbon by Heather Joyce, Kunstler Script by URW
Finally, we have a technique challenge to use the Puppet Warp tool in Photoshop to reshape an element. I warped both strings – the red one a LOT, the yellow less so, on this page featuring a cute photo of my nephew from a couple of summers ago. :)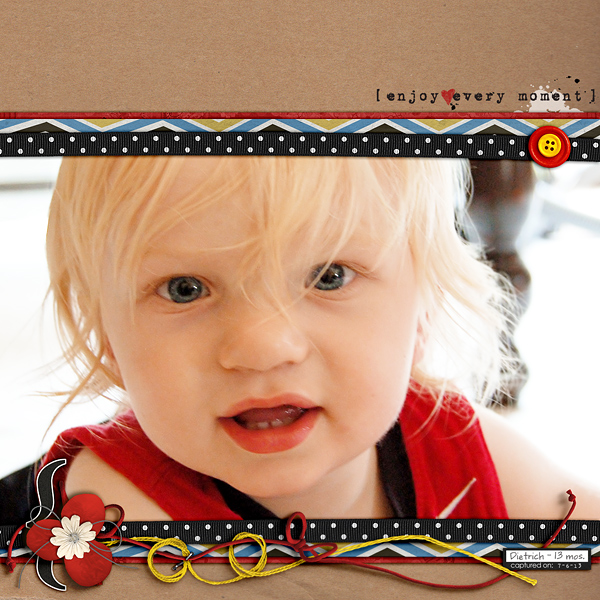 Kit: Enjoy the Moment by Sahlin Studio
Fonts: The Everyday, The Dry Ribbon by Heather Joyce
That's it for today! Thanks for looking! Happy scrapping! :)